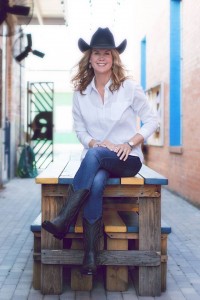 Not all of us have the courage to follow our dreams, but Kat Mendenhall sure did. If you are looking for inspiration, along with 100% vegan Texas-style cowboy boots, you'll love this interview.
Chic Vegan: What motivated you to become vegan?  Was it an overnight switch or more gradual shift?
Kat Mendenhall: Despite being a lifelong workout enthusiast and "healthy" eating advocate, I was approaching my mid-forties with extreme fatigue, nerve issues in my legs, and digestive problems that were negatively impacting my lifestyle. Searching for a solution outside traditional medicine, I just happened to see Alicia Silverstone speaking on a talk show about veganism and her newly released book The Kind Diet. I bought a copy of the book and read it in one day. I was so impacted by her own story and commonsense approach to a vegan diet that I immediately stopped eating all meat and dairy, and a few months later I dropped fish and eggs. Within two weeks time my energy had increased, my nerve issues had vanished, and my digestive system was regulated. The results from eating a vegan diet were so dramatic for me that I've never once considered going back to my "healthy" diet. As I began to study veganism, I realized how much our diet choices impact our own health, the livelihood of animals, and the condition of our planet. It's a win for everyone.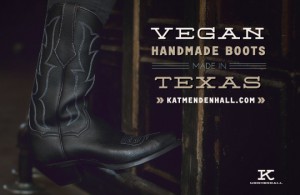 CV: Tell us about your boots.  What inspired you to start the business?
KM: I grew up around farming and cattle ranching and I have always had affection for stylish cowboy boots – and quite the collection to prove it. While preparing to attend the Main Street Vegan Academy (MSVA) back in August of 2013, I was contemplating which pair of boots to bring and doubting if it would even be appropriate. Up to this point I'd been vegan for about 2 ½ years but had never been in an environment with ALL vegans.
I was contemplating all of this as I was driving down a two-lane country road in Arkansas when I found myself behind a cattle trailer. Obviously I'd seen the scenario before but on this particular day I saw it with new eyes and a new heart. I felt the anxiety that I saw on the cow's faces as they wobbled along in the trailer, staring right at me. I knew their fate and it became unbearable to be behind them, so I had to pull over. In that instant I had the moment that so many vegans experience, where we realize that what we put on our body is just as important as what we put in them. I no longer wanted to wear or purchase leather (or any other animal by-product) so I went to the MSVA without the boots.
The deal was further sealed at the Academy when we watched a video that explained leather processing and how toxic, nasty, and life-threatening it is for those involved (usually children). That day at lunch I was sharing my dilemma of not being able to wear cowboy boots any longer with a fellow classmate. She looked at me boldly and said, "Then you make your own; that's what you do!" I laughed at the mere thought of it but that night in my hotel room I Googled to no end to find something comparable in a vegan version. Finding no success, by morning I had made my decision to make my own, and by the end of the day I had a company name, a logo, and a tag line…Kick Butt Boots, giving leather the boot! I re-branded recently to incorporate all my vegan activism, which includes the boots, into Kat Mendenhall.
CV:  What challenges did you face?
KM: Starting a vegan boot business from scratch with no prior experience has definitely had its challenges. Finding the right boot maker – actually finding a boot maker at all – was the first challenge. Once I found the boot maker who bought into my vision (another challenge) I had to search for the right materials, which was the next challenge. I only wanted to use USA products, which seemed like it should be an easy thing to do, but not so much. This by far was the most frustrating part of the process. The other ongoing challenges are figuring out what your customers want, perfecting the processes, and determining the right kind of marketing. Of course those are challenges any business faces.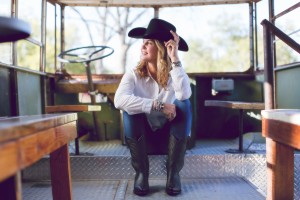 CV: Walk us through a day in your life.
KM: I like structure and routine, but I've learned that starting and running a business requires a lot of flexibility. There's no longer a "norm" for me. I relish in the parts of my day that I can control which are early morning and evening. My cat O. C. wakes me up very early ready to eat, so I feed him and my dog Izzy Girl first thing. Then its coffee and breakfast for my husband and me, while I spend about an hour checking emails, social media and the news before I get down to real business either at home or at my co-working office. The rest of the day is dedicated to specific projects, meetings, writing, collaborating with other vegans, creating new recipes or testing, researching, working with clients or preparing to teach a cooking class or workshop. It never ends!
I try to be disciplined when it comes to social media, only checking or updating it a few times a day. Most evenings you'll find me at home, so I can workout or take a yoga class and cook dinner. I always check email once more before the day is done, but I try to be off all electronics at least an hour before bed. I don't watch TV.  I relax by reading, and then it's lights out by 10:00 or 10:30. I'm an 8-hour a night kinda girl.
CV: What is your favorite vegan indulgence?
KM: Avocados! I tend to stick to a whole-food-plant-based diet, but I also love Beyond Meat and Follow Your Heart cheeses. These companies are definitely game changers.
CV: When people learn that you are vegan, what is the #1 question they ask and what is your response?
KM: I've had this question a lot this year since I've been out on the road promoting my boots. I'd have to say people ask, "Isn't it hard being vegan in Texas?" My reply is, "No, it's not because when you remove the animals from the equation you're left with more room for all the other awesome food that most Texans ignore". I also tell them I sleep a lot better at night knowing my choices are making a difference in my health, in lessening the suffering to animals, and protecting our planet. I'm pretty straightforward and bold.
CV: What vegan product could you not live without?
KM: Cowboy boots of course, and now I don't have to!
CV: In your wildest dreams what will your life look like in 5 years?
KM: My wildest dreams in five years are also what I work hard to make as my reality. That reality is to continue to grow the boots business by offering new styles and designs and adding new products such as belts, wallets and a few other surprises. I also have a new concept I'm currently working on that no vegan entrepreneur has tackled yet. I hope to have this up and running sometime next year with a few locations built out within five. What happens after that is yet to be determined, but you can guarantee I'll think of something!