When I visited Montreal's Lola Rosa on a Monday for lunch, it was packed. Located close to McGill University, its clientele skewed young, though I saw older people, too.
The menu, as Chef Scott Wong tells me, is based on "things that people's mothers would make for them, all over the world." This means salads, samosas, burritos, mac and cheese, tacos and two types of veggie burger. Many of the dishes can be made vegan. Desserts for vegans include apple crisp, banana chocolate pie and matcha cake, which the menu describes as "moist green organic tea cake topped with passion fruits and chia seeds, whipped coconut cream and raspberry coulis.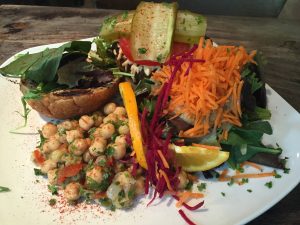 While I waited for my hemp burger, I opened the drawer of the little wooden desk that serves as a dining table. It was crammed full of handwritten notes. Most seemed to be written by students. I gleaned the following bits of wisdom: You're the real MVP. Make good choices," "Don't make decisions when you need to pee," and "Be glam and don't give a damn."
Wong, a native Nova Scotian, has been in Montreal for about six years. Before coming to Lola Rosa early this year, he worked at a fine dining restaurant. He's been mostly vegetarian for about four years, but had to taste food at his former restaurant to keep up quality control. He prefers sampling food at Lola Rosa. "I find it a lot nicer than working with animal products."
The Food
Lola Rosa features complicated recipes for such a casual student hangout. My hempburger had three sauces: a barbecue sauce with a hint of maple, an intense balsamic reduction, and a touch of ketchup. Wong is refining old favorites and developing new specials. He's especially interested in figuring out how to veganize French food. He's been working on soups and quiche, and trying to figure out how to make a tourtiere– the traditional Quebecois meat pie – vegan.
But after about 10 years in business, Lola Rosa patrons demand that their favorite dishes remain on the menu, too. "We sell a lot of burritos," Wong says. Burgers are popular in summer, while lasagna and mac and cheese are winter favorites.
The Making of a Chef
Instead of attending culinary school, Wong's had ten years of on-the-job training. He started as a dishwasher. But even before his first restaurant job, he was interested in food. "My parents tricked me into cooking when I was very young because they both worked," he says. He often made dinner for them.
As he points out, a successful restaurant requires way more than an excellent chef. "It's a really good team right now, very positive," he says of Lola Rosa. "It's one of the most positive environments I've worked in for a long time."