I know I talk a lot about cosmetics and makeup, but the reality is that personal hygiene is the most important step in looking and feeling beautiful. I don't care how much makeup you wear, if you aren't squeaky clean and fresh no one is going to care! I have tried so many different vegan brands and products in my showering routine that I feel like I can write this article with some authority. As always, everyone has different preferences as far as smell, consistency, and of course we all have different hair types. For reference, I have combination skin that is very sensitive, as well as having thick, course, wavy, and generally unruly hair. Aren't I the lucky one?

Clarifying Shampoo: I would say my favorite deep cleansing shampoo would have to be Beauty Without Cruelty's Rosemary Mint and Tea Shampoo. If you don't like the smell of either of those, don't get this. I personally love how fresh rosemary smell, and adding the mint on top of that takes this to another level. It doesn't contain and sodium lauryl sulfate, which dries out and strips the hair of its natural oils. It really deep cleans the hair. I like to use this about twice a week, as it can be a little drying if you use it everyday because its a deep cleansing shampoo. I think its the tea tree oil that really gives it that deep clean feeling.
Everyday Shampoo: I like my everyday shampoos to be gentle and moisturizing. That's why I really love Yes to Cucumbers Color Care Shampoo. The Yes to Carrots line does contain honey, so I don't recommend that line, but Yes to Cucumbers is really great and 100% vegan! It is also readily available at a number of stores: Target, Walgreens, CVS, etc…It has a nice, fresh cucumber scent and it really does moisturize and lather quite well. It is also a sodium lauryl sulfate free shampoo. I can't attest to whether or not it retains color in the hair, as I haven't dyed my hair in a couple of years.
Conditioner: My hair is very unruly, so a good conditioner is key to keeping it manageable. My absolute favorite vegan conditioner would have to be the Dessert Essence Coconut Conditioner. It smells divine, like tropical coco-nutty goodness, and it has several certified organic ingredients. No parabens, sulfates, and its loaded with moisturizing ingredients (almond, sunflower seed, jojoba, coconut, and shea butter).
Body Wash: I have two favorites for this category. My top favorite will always be Dr. Bronner's soap (I love orange and peppermint in particular!) it really lathers up nicely with a loofah, its fair-trade and certified organic, and most of their products are vegan friendly. They can be a little pricy, especially if you are using them for a body wash since they have a thin consistency and you'll need to use more to get enough lather for the whole shower. A nice, less pricey alternative is Dr. Woods Castile Soaps. I adore Dr. Woods Almond Castile Soap with Organic Shea Butter. I can get 32 fl. oz. for $7.36 on vitacost.com…such an incredibly deal! Its pretty moisturizing because of the shea butter and I love the almond scent.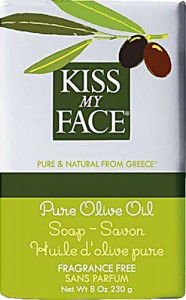 Facial Soap: I personally only use high quality bar soaps for my face because I have acne prone, sensitive skin. My current favorite would have to the Kiss My Face Pure Olive Oil Bar soap. It isn't greasy, but it moisturizes and cleanses my combination skin brilliantly. You don't want to over-dry your skin, because your skin will produce more oil to overcompensate for what was lost, leading to more breakouts. This soap is very affordably priced and is 8 oz., which will last you quite a long time. I like to cut mine into 1/4's to make it last longer, because this soap is very creamy and soft. It only has three ingredients as well! (Saponified olive oil, water and sodium chloride.)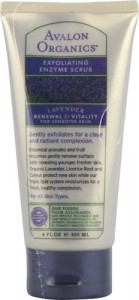 Facial Exfoliator: I used to use those apricot scrubs back in high school before I learned all about what the large, jagged particle sizes can do to your pores. They basically shred and damage them, which is not something that should be involved in any beauty routine. Also, St. Ive's is owned by Alberto Culver who is involved in 3rd party animal testing. No thanks! I personally use and love the Avalon Organics Exfoliating Enzyme Scrub. It can be a bit pricey retail, but I get mine off of vitacost.com for a great price. It has very small, natural botanical granules that do a great job at getting rid of dead skin cells. It also contains antioxidants and fruit acids which help brighten the skin. It is loaded with beautiful extracts and oils like lavender, grapeseed, rosehip, etc…
Shaving Lotion: It can be difficult to find vegan, natural shaving creams that work well. Kiss My Face Cooling Mint Moisture Shave is a shaving lotion, which can take some getting used to. You have to lather it in your hands first, then apply where you want to shave. It really does get a nice, close shave and its very moisturizing. It does contain parabens however, which is a downside, but it is currently my favorite vegan alternative in this category.
I hope this gives you all an idea of how to get clean as a vegan…we are not all dirty hippies that smell like patchouli, I can assure you (no offense to hippies, just poking fun:)