I was first introduced to Hugo Naturals in 2011 when I attended the Natural Products Expo West for the first time.  Hugo and Debra Saavedra, the founders of the company were so warm and inviting when I visited their gorgeous booth.  I could tell from the instant that I met them that they absolutely loved their company and products.  Debra spent a great deal of time with me going over their products and why they were so proud of the fact that they were the first body care company to remove all traces of gluten from their products (certified by the Celiac Sprue Association, or CSA, the largest celiac support organization in the United States).  That really resonated with me.  Never before had it occurred to me that I needed to be careful about the lotions, etc. that I used on my gluten intolerant daughter's skin, but it made so much sense.  Our skin is our largest organ…of course it matters what we put on it!!!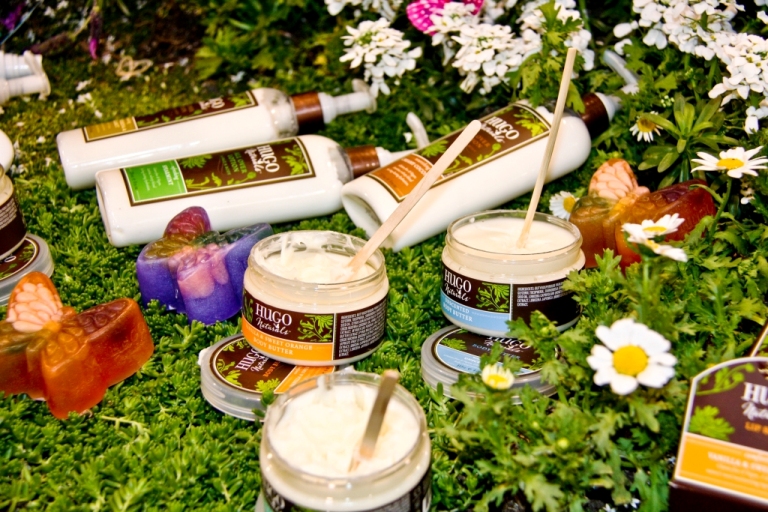 Flash forward to this year's expo and in my opinion, Hugo Naturals once again had the most gorgeous booth in the entire expo.  Hugo walked me around the booth and showed me the amazing soap carvings that had been and were being made before my eyes…gorgeous!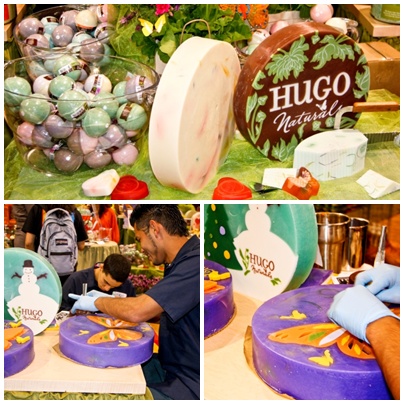 I enjoy their products so much that I regularly give them as gifts to my nearest and dearest girlfriends.  Hugo's fizzy bath bombs are out of this world.  Besides the fact that I thoroughly enjoy their products, I feel good about purchasing them because their entire product line is vegan, and is also certified cruelty-free by the Coalition for Consumer Information on Ingredients (LeapingBunny.org). Hugo Naturals has also completely removed soy (and gluten) from their recipes.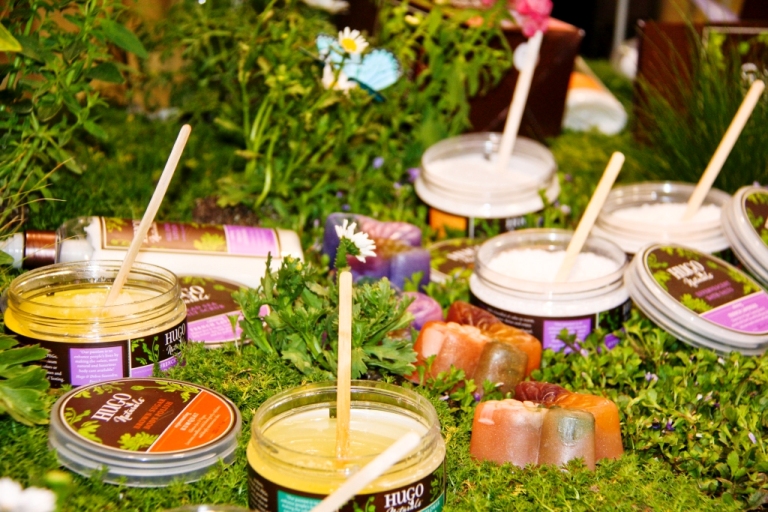 Hugo Naturals has very graciously offered to provide a wonderful giveaway to one lucky Chic Vegan reader.
The following FULL SIZE products will go to one lucky winner: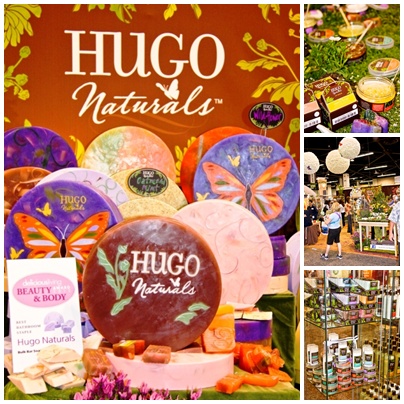 *** ENTRY DETAILS ***
Earn one entry for each task completed:
Become a subscriber of our Sunday Spectacular newsletter by entering your e-mail in the

GREEN BOX

 at the top right of this page (If you are already a subscriber, let me know in the comments)
"Like" Chic Vegan on Facebook (click

HERE

)
Follow Chic Vegan on Twitter (click

HERE

)
Follow Hugo Naturals on Twitter (click

HERE

)
Leave a nutrition question for Julieanna Hever in the comments below.  You never know…your question may be featured in one of her columns!
You will receive ONE ENTRY for EACH task completed.  You MUST leave a comment below stating which tasks you have completed (you can leave it all in one comment if you'd like).
The contest will run through 3/25/12 midnight PST.  The winner will be chosen randomly and must be a resident of the United States (includes Alaska & Hawaii).