In theory, I like the Finnish winter. While it's admittedly harsh, it can also look and feel very atmospheric – and it definitely will give you a kick just for surviving it! Plus no one appreciates those first signs of spring like people who live in winter conditions about half of the year.
In reality though the constant snowing and sub-zero temperatures can be a bit of a pain. To go out with the kids you have to spend about half an hour dressing them in layer after layer of clothing (and they very rarely appreciate this procedure). Then you have to repeat the same on yourself while the well wrapped-up children get more and more uncomfortable and hot by the second – and they don't hesitate to let you know it.
Needless to say it's not a minor detail what you wear either; as my Scottish husband who in the early days of our courting accompanied me on a romantic walk in the winter wonderland of -30 Celsius without his trusty long johns can testify. I can reveal to you that romance was NOT on the cards once we got back!
A good winter coat is absolutely essential for surviving the winter… it has to be warm and weather-proof. And of course it doesn't hurt if it looks good too. If you add to the mix that materials should be vegan and manufacturing ethical, finding the right jacket starts to feel like finding a needle in a hay stack.
This winter, however, I hit the jackpot. In midst of another relentless session spent on computer in search of an ethical jacket, I found myself on Hemp HoodLamb's site. Hemp HoodLamb is from the Netherlands and ALL their products are not only vegan but also ethically produced.  They have collections for women, men and even children.
Their winter gear sports the special Satifur lining. Satifur is Hemp HoodLamb's own invention and is made of hemp, recycled plastic and acrylic. In the pictures above I am wearing their Ladies Long Coat that is lined with Satifur from top to bottom so I can testify that it really does the trick.
So far this winter's lowest temperature here in Helsinki has been around – 20 degrees and for once, I didn't have to add another layer under my coat – the coat itself was warm enough. My coat's outer lining is made of organic hemp and organic cotton and feels very durable. In addition to being really warm and comfy the coat has a few interesting details, like the thumb holes on the sleeves that enable you to go without gloves on warmer days. It also has a secret pocket in the lining – it's actually so secret indeed that it's fairly difficult to find it myself!
HoodLamb does really well on the style front as well. Maybe it's a Dutch thing – they seem to be in general very good at designing practical, comfortable, wearable clothes that also look good (Finnish designers, please take note!). The coats are practical enough to go sledding with the children but chic enough to wear to work as well.
I also really love the fact that you can choose from several colors – so often it seems that you only have two color options for any heavy-duty winter coats, namely black and khaki green. Who wants to wear black in the winter when everything is dark enough as it is? I am very happy with my perky but stylish shade called Ocean Blue.
Speaking of oceans: one HUGE plus point for Hemp HoodLamb is the fact that they collaborate with the marine wildlife conservation organization Sea Shepherd. Part of the sales price of HoodLamb's special Sea Shepherd collection goes directly to the organisation. Hemp HoodLamb also provides the Sea Shepherd crew with their warm hoodies and coats – as you can see from this picture of  Sea Shepherd's Captain Paul Watson in his office!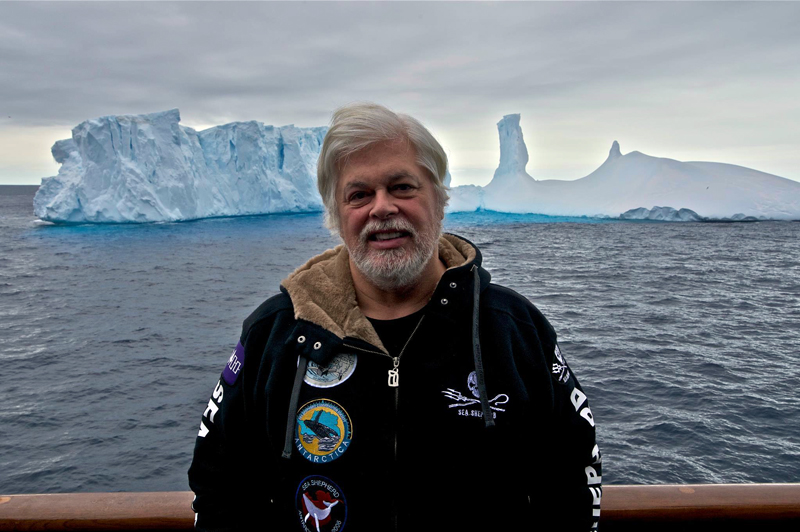 Please do check out the Sea Shepherd info site by the way – in almost eight years they have managed to save the lives of 3600 whales. This year they have an even bigger goal. The campaign that takes place in Antarctica with four ships is called Operation Zero Tolerance. Respect!