We have a really fun giveaway today…
 Canopy Verde was founded in the Fall of 2008 by Linda Wong whose interest in living green started at a young age. As the child of traditional Chinese parents, she learned never to waste—and could often be seen sporting her brother's hand-me-downs to school. This "waste-not" attitude continued through high school in Taipei, where she insisted friends use fewer plastic bags when they shopped and earned her the nickname "bag police."
After settling in the U.S., Linda's bag fixation evolved to include bags of a different variety and led to stints at Cole Haan and Fila. There she learned the nuts and bolts (and straps and buttons) of bag construction and design. After managing the accessories category for seven seasons at Fila, Linda felt the time was right to launch her own brand of handbags – one that reflected her "modern meets earth-friendly" philosophy.
 "In creating Canopy Verde, I wanted to be very thoughtful about any component that was put into the bag as well as the construction methods, "she explains. "Special attention was paid to everything down to the lining and the dyeing process."
While Canopy Verde's old line did contain leather, I have been assured that the new line is completely vegan…yay!
You have the opportunity to win Canopy Verde's Pomelo Clutch in Slate (the handbag pictured in this post) which retails for $79!!!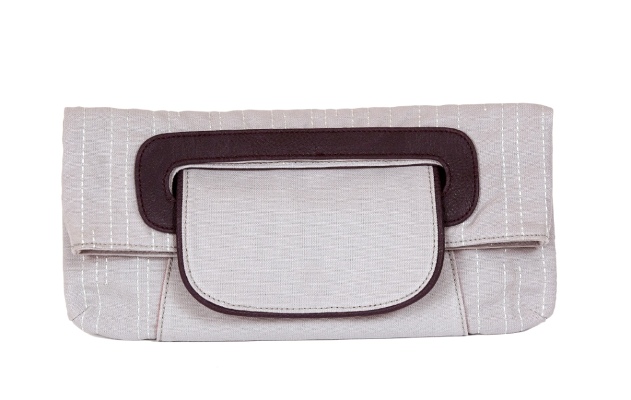 *** GIVEAWAY ***
One entry will be earned for EACH task completed below.
"Like" Canopy Verde on

Facebook

"Follow" Canopy Verde on

Twitter

Tweet, "Check out the awesome @CanopyVerde handbag giveaway on @Chic_Vegan" 
"Like" Chic Vegan on

Facebook

"Follow" Chic Vegan on

Twitter

Become an e-mail subscriber of Chic Vegan by entering your e-mail address in the e-mail subscriber box at the top right of the page under the header image of corn chowder (If you are already a subscriber, let me know in the comments)
You will receive ONE ENTRY for EACH task completed.  You MUST leave a SEPARATE COMMENT BELOW FOR EACH  of the tasks you complete.
The contest will run through 4/29/12 midnight PST.  The winner will be chosen randomly and must be a resident of the United States (includes Alaska & Hawaii).
WINNER MUST RESPOND WITHIN 3 DAYS OR A NEW WINNER WILL BE SELECTED