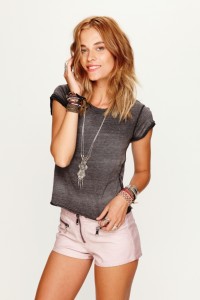 This past July Free People launched into the vegan leather market and the category quickly became a huge success for the company, which says a lot!  The world is ready for more compassion and hopefully other design houses will see that the consumer is more and more interested in cruelty-free alternatives to leather and wants those alternatives to be uber stylish.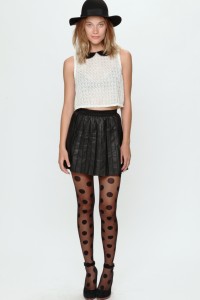 By getting their foot in the door early, Free People has managed to become a trend-setting leader in the category of vegan leather fashions and they just announced their latest round of hot vegan leather updates for Spring. According to Free People:
"The collection maintains a fashion forward aesthetic (tapping into key trends going on in leather) while catering to women who care about animals and the impact of their choices."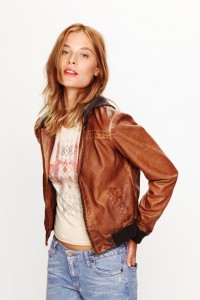 I for one am coveting the Hooded Vegan Leather Jacket…a must have!!!  I can see myself wearing it year-round, with boots in the cooler months and topping off a bohemian dress in the warmer months.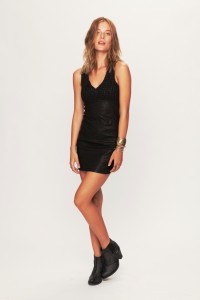 The zipper details on the Washed Vegan Leather Shorts are amazing.  Those who dare to wear their shorts short will appreciate the distressed wash and lightly texturized look and feel.
Free People has definitely covered their bases with this collection displaying playful looks and more refined cuts as well.
The whimsy of the Vegan Leather Pleated Skirt is apparent, though I find it to be very versatile in that it could easily go from the office (we are not talking law firm here, but rather more open-minded office) to a night out with a simple shirt and accessories change.
To view the entire Spring Vegan Leather line CLICK HERE and report back to let us know what your favorites are.