I consider myself an urban girl but at this time of year I can't help the hunter-gatherer inside me raising her head. The forests here in Finland are full of free superfood in the form of mushrooms and berries just waiting to be gathered. I am especially fond of picking mushrooms – they can hide very cunningly so spotting them amongst the moss and leaves feels as rewarding as finding some treasure amongst all the junk in a thrift store! Gathering berries is more tedious and less adventurous so I prefer to pick my berries from the market place in a neat box.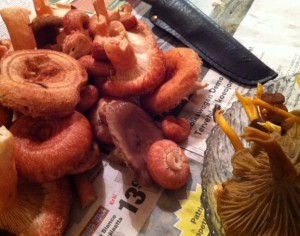 Even if our three year old daughter loves picking mushrooms it's no child's play. There are some bad-ass fungi lurking out there and some mushrooms, although perfectly edible once boiled, are very dangerous if eaten raw. But if you know what you're doing, wild mushrooms can be a great addition to your food cupboard, providing you with lots and lots of vitamins, minerals and trace elements. Some mushrooms like the trumpet chanterelles (right) and woolly milk-caps (left) are even a natural source of vitamin D. And searching for them provides you with plenty of fresh air and exercise! Once boiled, finely chopped milk-caps make a delicious Russian style mushroom salad when mixed with just a little bit of onion, olive oil and salt. And dried trumpet chanterelles fried in oil make an awesome alternative for crisps – a rather frivolous way of getting your vitamins!
In September the wild raspberries, cloudberries and blueberries of the summer months have given way to tangy lingonberries and cranberries – both bursting with flavour and flavonoids. Did you know that eating just 100 grams of berries a day goes a long way to satisfying your body's daily needs for vitamin C and fibre? Our whole family, including our 10 month old son, enjoy berries on breakfast porridge and in fresh fruit salads. The current favorite are lingonberries – especially after I discovered how tasty they are in cookies! if you get hold of lingonberries or other interestingly tart berries like cranberries, try using them instead of raisins in your favourite vegan oatmeal and raisin cookie recipe. Or just borrow mine!
Lotta's Coconutty Lingonberry Cookies:
2 cups wheat flour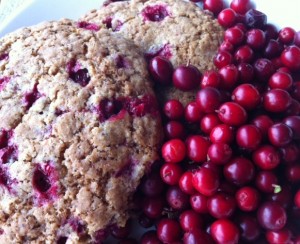 2 cups spelt flour
1 cup rolled oats/coconut flakes
2 cups demerara sugar
1 table spoon corn starch
1 teaspoon baking soda
0,5 teaspoon salt
2 teaspoon cinnamon
2 cups lingonberries
1 cup soy/coconut milk
1 cup virgin coconut oil
Mix together the dry ingredients.  Add the berries into the mixture. Add milk and coconut oil. Work the dough on a floured surface until about half an inch thick. Form into cookies using a large glass turned upside down. Bake at 225 degrees for 10 minutes. Set on a cooling rack and let the cookies cool down and get crispy. Enjoy!