Here are a few shops where you suave vegan gentleman can get your hands on some stellar cruelty free men's fashion. I've also started a board over at pinterest that will give you easy access to all the vegan men's fashion I come across. You can follow it here.
Punk.com
Punk.com is not a 100% vegan shop but it does carry a large selection of über fashionable cruelty free items for the stylish vegan gentleman (and ladies too). These vegan items can be found by either searching vegan or by reading the material composition of the item you're interested in purchasing. Punk.com lists the material composition of each item in their shop very clearly. All the items below are vegan and très chic.

Image Source & Credit: Punk.com
Everyday Apparel
Everyday Apparel is a fashion forward LA based clothing, accessory & shoe line that is 100% vegan, 100% fair-trade & eco-friendly. The line consists of a plethora of stylish items for men (and women). Their unisex shoe selection is utterly amazing. They also donate a percentage of the money from your purchase to a charity of your choosing (they have 5 to choose from).
Alternative Outfitters
Alternative Outfitters is a 100% vegan shop that is a stellar resource for men's shoes, belts & wallets. Their vast selection of cruelty free men's shoes consists of anything from casual hip sneakers to shiny sleek dress shoes. You're bound to find a pair of shoes on AO that suits your unique style to a T.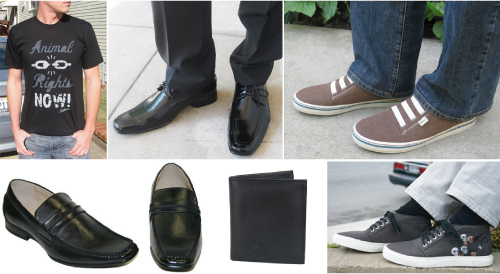 Secret Society Of Vegans (SSOV)
Every stylish cruelty free guy should have a few statement tees in their wardrobe and the SSOV has a plethora of hot edgy vegan tees to chose from.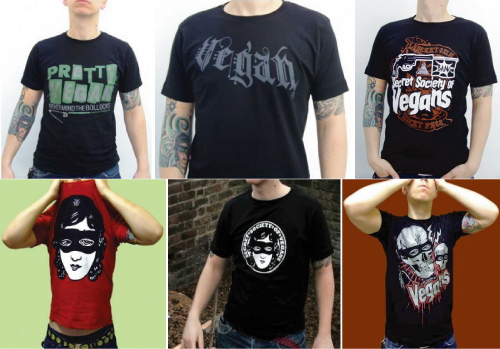 Image Source & Credit: SSOV
Muso Koroni
Muso Koroni a 100% vegan online shop from Austria that sells hip fashionable clothing, shoes & accessories. It's one of those rare shops that sells stylish cruelty free clothing for both MEN & women and luckily enough they ship worldwide! Their men's selection is pretty fantastic. I absolutely love their Drop Fur Or Drop Dead! statement men's tee.
Website/Shop • Twitter • Facebook
"No animal and no human should get exploited for fashion and cosmetics, that's why Muso Koroni offer only products in harmony of humans, animals and environment."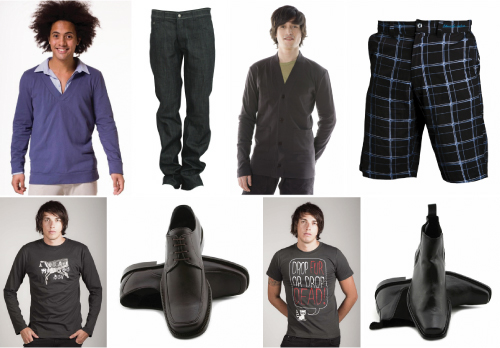 Image Source & Credit: Muso Loroni
The Ethical Man
The Ethical Man is the first 100% vegan apparel shop dedicated solely to men. On TEM you can find vegan coats, neckties, bow ties, belts, wallets, and an original accessory collection. Every item featured in the shop is hand picked by the shops founder Dan Mims who also writes a great blog (Style & Tips) with lots of stellar tips & information on men's cruelty-free fashion.

Vegetarian Shoes
Sneakers, brogues, dress shoes, combat boots, Chelsea boots, loafers, hiking boots and much more, Vegetarians Shoes is a great place to get your hands on men's fashionable cruelty free shoes whatever your style.
Website •  Men's Selection • Facebook
—-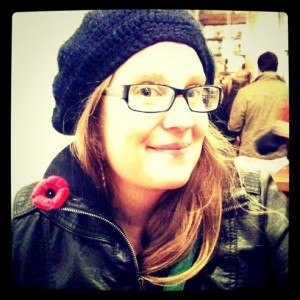 About Moi: Hi I'm Melanie I live in Toronto with my two adorable kitties Mosi & Beanie. I've been vegan 9 years and have also worked in fashion as a graphic/textile designer for 9 years. Almost two years ago I started a vegan fashion blog called The Streets I Know. I started this blog out of my love for vegan fashion and my need to share it. My blog and I were recently featured in the fabulous book The Vegan Girls Guide To Life. I'm super excited to now be sharing some of my vegan fashion musings with you here on Chic Vegan. You can also follow my fashion musings & tips on Twitter & Facebook.