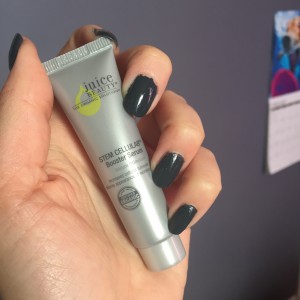 Beauty boxes are a great way to discover new products and brands at a fraction of the cost, and Petit Vour is no exception! They're an entirely vegan, cruelty free and non-toxic subscription service and for $15 per month ($23 for our Canadian friends) you get 1 full size and 3 sample size products in a great mix of skincare, makeup, hair care and body care.
I just opened up my February box, and I'm so excited for all these goodies!
Juice Beauty Stem Cellular Booster Serum (sample size, $19)
This serum is packed with fruit stem cells infused into Vitamin C with the goal of brightening your skin tone and improving its texture. So far I've only used it once, and it had a texture similar to a foundation primer – very gel-like. After I washed and toned my skin, I applied this serum with my fingertips in circular motions, and then applied my moisturizer. I haven't gotten any acne, which is a huge win for me, and it made my skin feel so smooth. It'll probably take some more time before I see any brightening effects, but this serum feels gorgeous!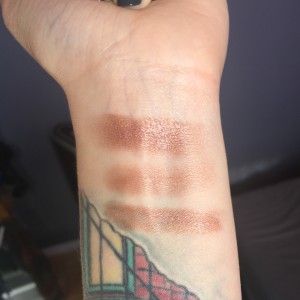 Han Skin Care Cosmetics Taupey Plum Eyeshadow (full size, $13)
Non-toxic eyeshadow – yes please! This color is absolutely beautiful, and it's rice powder based. I received Taupey Plum, but other colors in the boxes were, Chocolate Bronze, Cool Coconut and Golden Glow. It applied best with my fingertip, but not very pigmented with my eyeshadow brush. Once I wetted my eyeshadow brush with some Kat Von D Tattoo Lock It Setting Spray it came out better. Not as plumy as I expected, but still a gorgeous color.
Ultimately this will come down to how it applies and wears during the day. Follow me on Instagram for an upcoming #motd using this color!
Christy Organics Trance Natural Perfume (sample size, $5.25)
This perfume is a mix of Jasmine, Bergamot, Cedarwood and Ylang, Ylang with jojoba as the carrier oil. Apply this to your pulse points like behind your ears, on your wrists, inner elbow and neck and the heat of the skin activates the fragrance.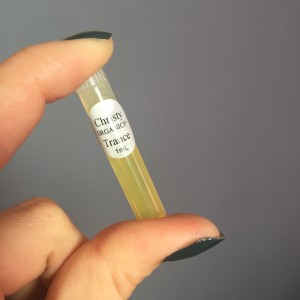 It smells mostly like Jasmine to me with a hint of Ylang Ylang. While I love Jasmine in my tea, it's too flowery for me in a perfume. I prefer citrus, woodsy and herbal smells over flowery and sweet. However, if you know someone with a love of flowery perfumes, I think this scent would be an amazing, luxury (and non-toxic) gift!
Clinical Luxury Graydon Hair Smoothie (sample size, $2.50)
Out of everything in this month's box, this is probably my favorite. It has the most delicious smell from a mix of parsley, sage, rosemary and thyme (does anyone get the joke here?). It's very creamy without feeling heavy, which is important because I have very fine hair and too much moisture just causes it to look greasy and limp.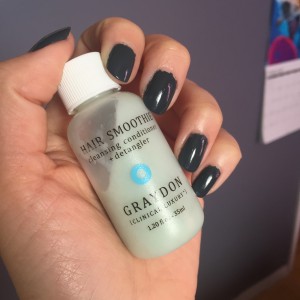 Now let me tell you, I just got back from vacation, and my hair was a wreck. I spent a ton of time in the sun and ocean, and it was dried out, frizzy and not in the best condition. After leaving the hair smoothie in for 2 minutes after shampooing, it left my hair feeling amazingly soft and smooth without feeling oily or thick like some conditioners. It also detangled my hair better than any other conditioner or treatment I've ever used! They mentioned you could also use this as a leave-in conditioner on the ends of your hair, which I'll probably try soon.
This month's Petit Vour box is worth $39.75, which is an amazing value for only $15! Out of everything I've tried so far, the hair smoothie and serum are my favorites. If you subscribe to Petit Vour, let us know what you think of the February box!