Summer is almost here! And what is everyone's favorite summer time activity?  Why, laying on the beach or sitting poolside and leisurely doing nothing, of course! When we are enjoying the lazy days of summer, (.. the wind in our hair, the sun on our cheeks..) why not look ultra cute at the beach or pool even though you know your going to end up sandy, salty and disheveled? Here are some choice looks to help you unleash the sun goddess within!
Retro Bombshell
Show off your modest sexiness and flatter your curves with this retro one-piece swimsuit from Pin Up Girl Clothing. Shield yourself from harsh UVs with this glam floppy hat and sunglasses from Amazon. Enjoy your me-time with a good book. My suggestion? The Fountainhead by Ayn Rand. Nothing says "day at the beach" like a masochistic romance.
Shiny Diva
Who says you can't be fabulous at the beach? Stand out in a sparkly bikini from Victoria's Secret and some shiny shoes from Target. Protect your eyeballs with these sunglasses that look like they have a heavy price tag, but totally do not. Rock out to some Gogol Bordello on your ipod. (Hey, nobody said your music had to be glam.)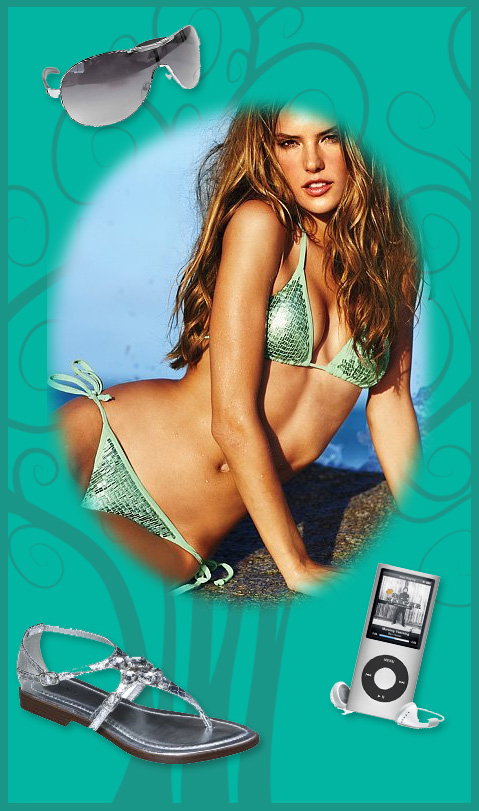 Girlie Perfection
Harness your inner Lolita with this adorable polka dot bikini from Pin Up Girl Clothing. Add some funky flair and keep the sun away with this ADORABLE parasol from Modcloth and heart shaped sunglasses from Amazon. The best accessory for this ensemble would be a lollipop..yes? Carry around all of your candy, rainbows and butterflies in this adorable Hello Kitty cupcake tote.