Right now, I'm spending a few months in Charlotte, NC (you can read about my cross country trip here).  I will be spending the Fall and a majority of the Winter here in the dirty south.  Before leaving Portland I packed most of my stuff into storage and stuffed my suitcase with as many clothes as I could. Being the shortsighted lady that I am, I hardly brought any clothes for the colder months! Somehow it made sense to only bring 3 sweaters and 6 scarves.  At least my neck wont get cold!
Needless to say, I have to buy some clothes to get me through the Fall and Winter.  I don't have much money to spend on clothes this season, and it seems wasteful to spend tons of money on new clothes when I have plenty in storage back in Portland.  So I have come up with an easy solution – this Fall I will be buying all of my clothing second hand.
I'm calling this a challenge, but it is really not a challenge for me at all.   It will just be a departure from the way I've been doing things the past few years. I am just creating a concrete rule for myself that I have to obey. I LOVE vintage and thrift shopping. The thrill of the hunt.. the exciting finds… the savings! What's not to love?  But, sometimes it is easier to just go and buy from a shop when you know exactly what you want. This is where the challenge will lie.
Why am I doing this?
Other than my forgetfulness, there are a few other reasons why I am choosing to do this.
Less waste – While I love bamboo dresses and hemp shoes like any other girl – production creates waste even if it is "green". There is always a byproduct and energy waste in the production of anything. Meanwhile, the average American throws out 68lbs of clothing every year.  In my mind, buying new clothing when used clothing is available is comparable to buying a puppy when there are plenty of good dogs at the pound.
 Not supporting the abuse of women and children – There are plenty of wonderful companies that do not employ the use sweat shops. However, that clothing is typically not cheap. While that is well and good and I have no problem supporting companies that choose an admirable ethical path – times are tough! I know a lot of you are on the same page as me here. Sometimes the budget does not allow for $50 shirts and $200 dresses – no matter how much you admire a company. The result is shopping jaunts at Target and other bargain stores that sell fashionable clothing for cheap. I am done supporting these companies.. and you shouldn't either.
An excuse to get creative – I love finding clothing and thinking of unique ways to refashion them. I like dreaming up different outfits with the random pieces I have found. And some days I like throwing things together until I look like a homeless gypsy.
Going new places and exploring – This will give me an opportunity to go new places with a mission and explore the city. I've already had my eyes on the local Buffalo Exchange and an antique mall with a crazy huge consignment shop.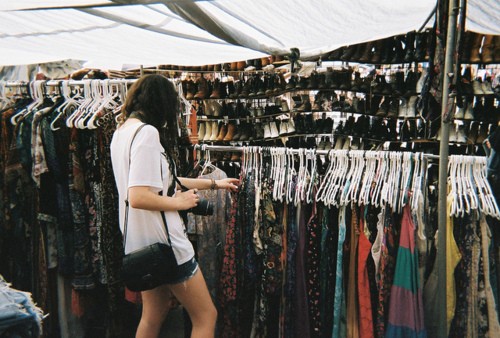 So..What's the plan?
It's pretty simple. Starting this week I will only be buying used clothing. My underlying goal is to create a core wardrobe with what I buy, that way all my basics are covered and I can have fun with anything else I manage to find. I also want to get crafty with certain purchases and hone my sewing skills (is this possible without a sewing machine?). If all goes well, from here on out I will only buy thrift clothing or clothing from independent businesses like those on Etsy.
Care to Join?
I think the message of reducing waste by thrift shopping is an important one and is often overlooked on Eco blogs and other "green" musings. It would be exceedingly amazing if you would also publicly commit to only buying used this season and share your findings with me! How cool would that be? I'll be posting my updates every time I get a score, and you should to! What do you think?