Don't you just hate it when you are out at a restaurant or a bar where the lighting is minimal at best and you go to your handbag to try to find something and you can't see a thing?  Me too.  Well no need to go rummaging in your handbag any longer ladies.  Let me introduce you to FABRIKK, a company that created the Vela vegan handbag, which os made from cork and lined with a unique LED fiber optic textile.  That's right, when you open up your bag, you are greeted with a soft LED light that will help you locate whatever it is that you are looking for.  Check it out!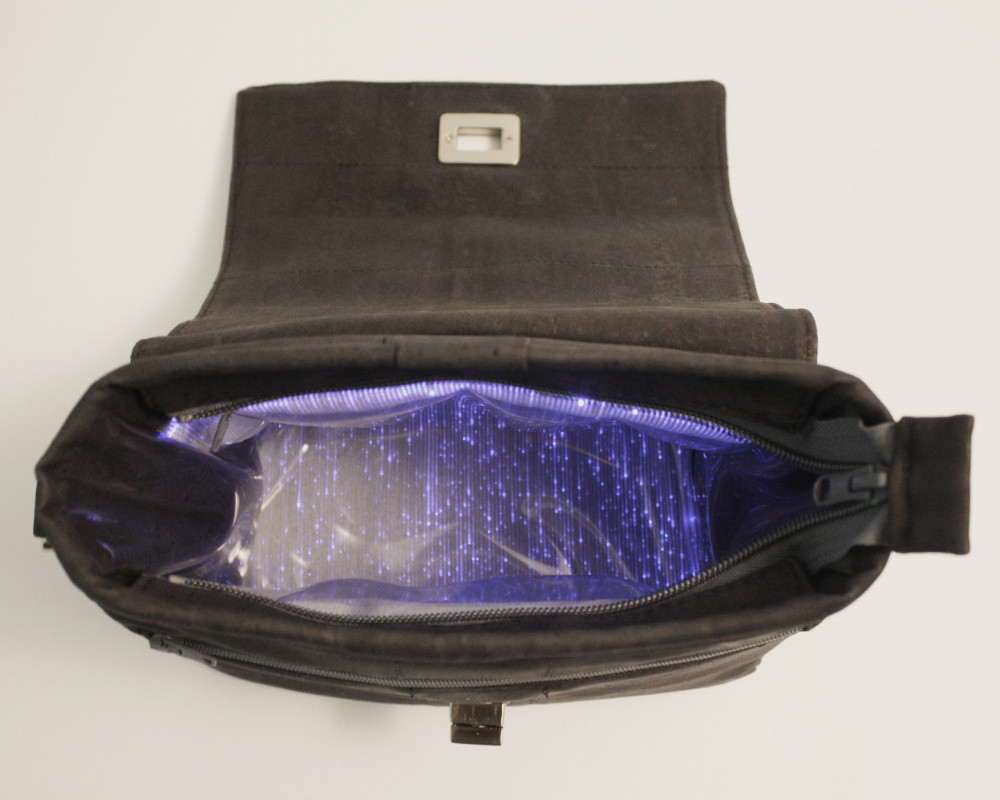 According to the people at FABRIKK,
LED fibre-optic textiles are a brand new development; one of the amazing new materials that helped to inspire the birth of Fabrikk. Light travels through the light-emitting fiber optic threads woven into the material creating an amazing light-up effect. These threads automatically switch on when the bag is open, illuminating it with a subtle glow to help you find your things in the dark.
Super cool, right?  The light is powered by three AAA batteries in the bags discreet battery pack which will keep it powered for up to six months.  If you want to add some variety into your accessory game, you can even change the color of the light with one of the attachments available on Fabrikk's site.
So now let's get to the good stuff, the Vela bag!
This bag has a great, structured, classic design that will never go out of style.   With a zipped front outside pocket that is covered by a flap with a turn lock closure, you can feel confident that your belongings are safe and secure.  The Vela also has an illuminated zipped internal pocket with two credit card slips and comes with two detachable straps so you can wear it as a shoulder bag or as a cross body.   Now let's check out the cool colors that this tech-savvy bag comes in.