Every corner you turn in Philadelphia, you see approximately five historic plaques and one vegan restaurant. History-loving vegans will be at home in this town. I also found that omnivore restaurants had a good handle on vegan and vegetarian diets, and could whip up successful off-menu dishes if necessary. My visit was brief, so I didn't get to try all the places I wanted. But here are some of Philadelphia's noteworthy places to get a good vegan meal. Welcome to vegan Philadelphia!

Goldie
This upstairs vegan falafel spot was a little hard to find, since I was focused at street level. But it's well worth looking up. The menu is simple – mostly falafel sandwiches and falafel salads. I opted for the lighter salad because I'd come for a vegan tahini-based milkshake. This was one of the most delicious things I've ever consumed. I would love to drink one every day but then I probably wouldn't make it up the steps to Goldie. The shakes come in original, banana, coconut, mint chip and Turkish coffee. I had the coffee flavor, but I need to return to Philadelphia to try the mint chip. The salad was good, too. However, everything I ate in Philadelphia was dwarfed by that shake.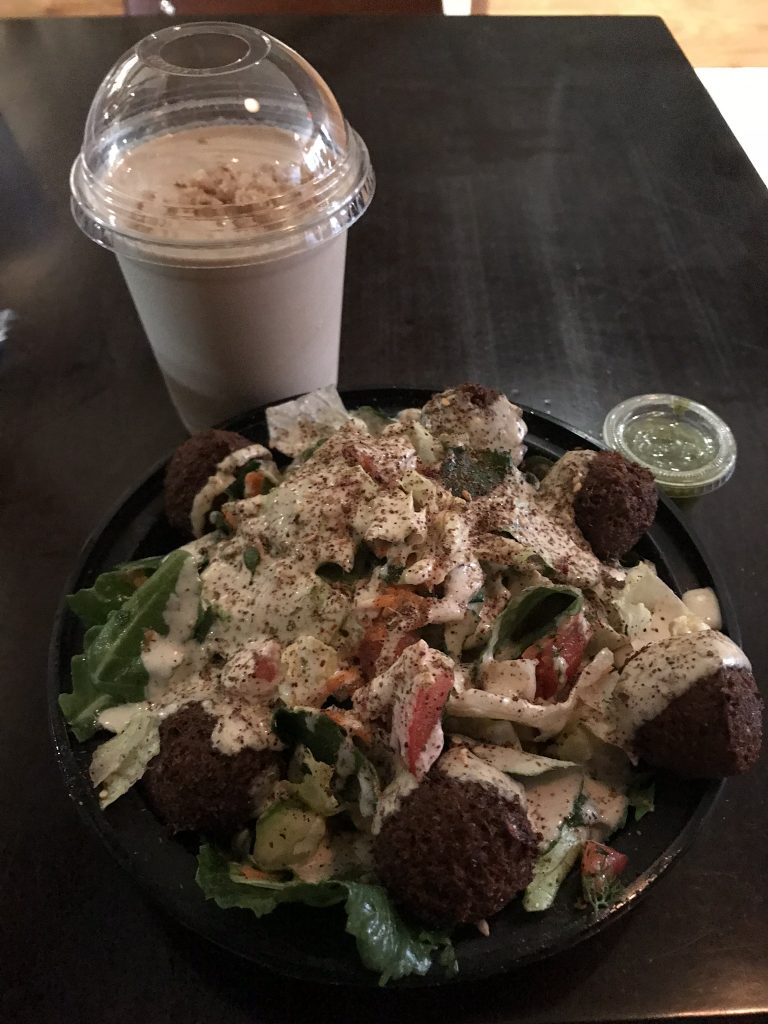 Vedge – Heart of Vegan Philadelphia
I probably first heard of Vedge, one of the most famous vegan restaurants in America, about five years ago. The reviews are so rave that I made my reservation for one a week in advance. It's an elegant, upscale place that specializes in small plates. As it turned out, not really the best place to go by yourself, because it felt a little weird to be the only single at a table. And the romantic lighting makes it impossible to read while you wait for your food. A local later told me that she comes alone and sits at the bar for a more convivial experience.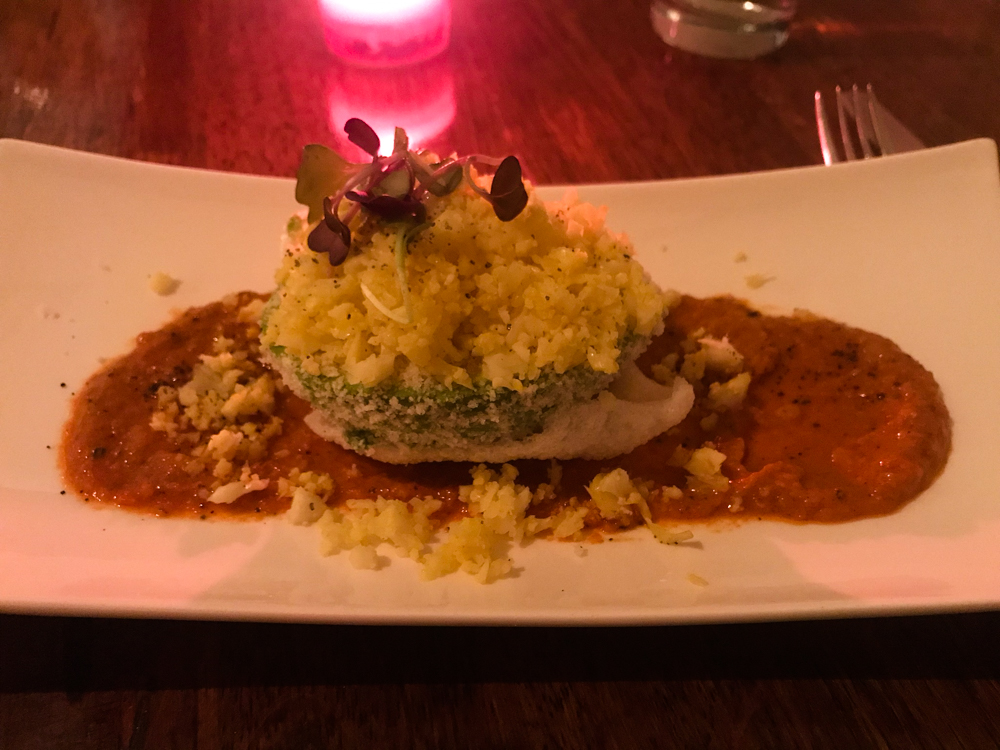 The small plates run $12 to $18 each, so it would have been more fun to share with a group and try more things. I ordered the stuffed avocado (described as romesco, pickled cauliflower, "fried rice," black salt) and the charred Brussels sprouts with kimchee glaze and pickled mushrooms. The Brussel sprouts tasted as good as they sounded – charred and spicy, which I love. I think my expectations of Vedge were overinflated. Still, it's a must-visit for travelers who like to hit all the vegan hotspots on their travels.
Bar Bombon
This bar/vegan Puerto Rican food restaurant looks awesome. I poked my head in on a Sunday afternoon and it was packed. The menu features empanadas, Spanish meatballs, plantains, guacamole and buffalo cauliflower tacos. There's even a vegan tres leches cake!
Philadelphia Chutney Company
Since Bar Bombon was a little too crowded for me – I was sure I'd knock somebody's taco off their table with my backpack and winter coat – I looked for a quieter late lunch option. Nearby Hip City Vegan and Mama's Vegetarian were also packed (yes, all within a few blocks of each other!) so I wound up at the Philadelphia Chutney Company. This is not a veg place, but has lots of vegetarian and vegan food. The Chutney Company specializes in dosas, those South Indian crepes made from lentil flour. I opted for the Mysore masala dosa, which is curried potatoes in a spicy lentil/rice crepe served with chutney and a cup of sambar, or lentil stew. This restaurant's big windows and green and orange interior looked more like a fast casual Mexican restaurant than an Indian restaurant. They took a modern twist on the dosas by offering lots of add-ons, including spinach, avocado and Portobello mushrooms. Posters on the walls explained what dosas are and their health benefits, as though the owners are dosa evangelicals. But I guess I'm a dosa evangelical, too. And if you've read this far, you might have noticed I appreciate a good value. This dosa was bigger than my forearm and cost $9.99.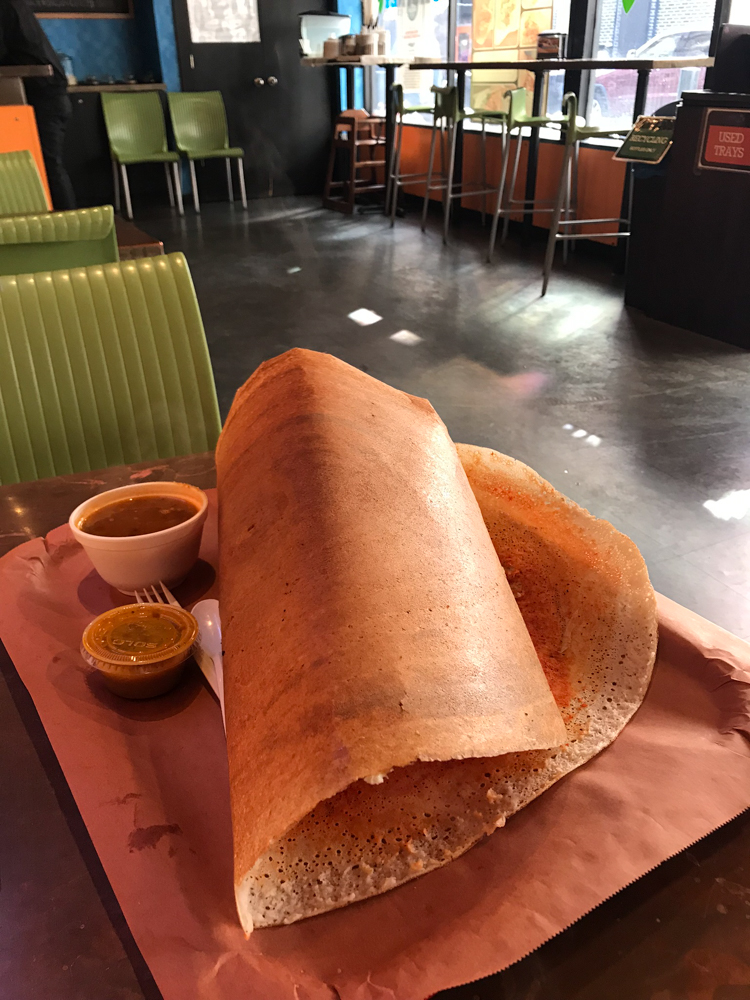 Another visit required
It would probably take a month to visit every vegan and veg restaurant in the Philadelphia area. Alas, more research – and more tahini shakes – will be required to write the comprehensive Philadelphia vegan guide.