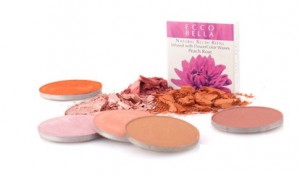 Even though I have sensitive skin, and I'm always on the hunt for the "perfect" moisturize to calm and pamper it. So, when Ecco Bella offered to send me some of their skin care products to try, I jumped at the chance!
Inspired by compassion for all living things and formulated with the purest of ingredients, Ecco Bella creates products that beautify and protect both their customers and the planet. Their products are made with natural ingredients such as flower wax, sunflower oil, aloe vera, essential oils, green tea extract, kaolin, and cornstarch. You'll never find any nasty ingredients like parabens, petroleum byproducts, or phthaletes in anything they produce.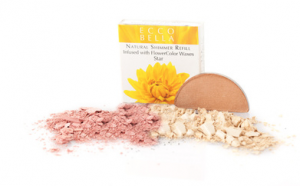 Ecco Bella's products include skin care products, body care products, cosmetics, perfume, and hair care products, so your beauty routine can be taken care of from head to toe. All of their products are vegan with the exception of their pink lipsticks and lip glosses, which contain carmine. Let's hope they're able to find a replacement for the carmine soon, so they can ditch animal products altogether and go completely cruelty-free!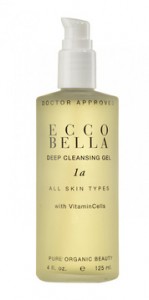 Ecco Bella's Anti-Aging Skin Care line consists of several different products, which include a daytime skin cream, a deep cleansing gel, a nighttime rebuilding cream, a spray toner, an eye cream, a blemish remedy, and a facial serum. All of these products are enriched with vitamins such as lutein, lycopene, astaxanthin, CoQ10 and Vitamins C & E, which protect and rejuvenate the skin and protect it from stress, sun, and environmental aging.
I've been using the night cream, the eye cream, and deep cleansing gel for several weeks now. I'm not sure if I've seen any of the anti-aging affects, but my skin has felt fresh, clean, and moisturized. Ecco Bella's Natural Deep Cleansing Gel is keeping my skin squeaky clean without striping or drying. My skin usually starts to dry out and even peel in the harsh cold air of winter, but the Natural Night Rebuilder Cream is ensuring that I don't have to experience that this year.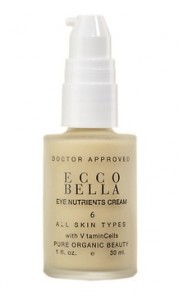 I'm sometimes leery of trying new eye creams, because the skin around my eyes is especially sensitive. Some creams can cause my eyes to water, or even cause painful breakouts, but Ecco Bella says that their Natural Eye Nutrients Cream works well on sensitive skin, and they promise that it doesn't cause breakouts, so I gave it a try, and I'm happy to report that it lives up to the promises. The skin around my eyes has remained soft and blemish-free.
I like that Ecco Bella keeps the environment in mind with their eye shadows and blushes. They can be purchased in little pots, which fit into their refillable compacts. This means that I'm not throwing away plastic contains when I run out of something. I love that I can customize my own compact, because that means that I'm not stuck with an eye shadow quad with empty sections because there were a few colors that I use more than others.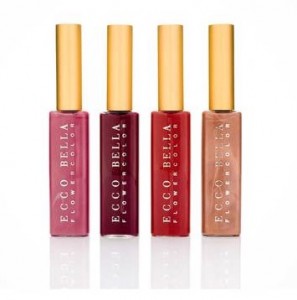 I really love Ecco Bella's Good for You Gloss, because it glides on smoothly and keeps my lips moisturized without leaving them feeling sticky or greasy. I also love that the tube has a build in mirror, which makes reapplying super easy. Only two of the lip gloss colors are vegan though, so be sure to read the ingredients before buying.
If you're looking for high-quality natural skin care products, look no further than Ecco Bella!