I heard the news in November: Salem, Oregon, our state capital, just got its first vegan restaurant. When I finally got down to visit last month, I was impressed by the food, the friendliness of The Space, and especially the owners. Doug Hoffman, one of three co-owners, summed it up: "The vision is to change the world in our own backyard. I want to brainwash people to love and be accepting and community-oriented."
The Space is both vegan restaurant and music venue. In addition to helping run The Space, Doug is a drummer and has a radio show called Sons of Salem, which showcases local music. When I visited on a quiet Wednesday night, a few people were eating dinner or having drinks, and a few were there for a vinyl record swap. The room is friendly and plain, looking more music venue than restaurant, with low ceilings reminiscent of a house show in somebody's basement.
Stan and Summer Keightley are The Space's other co-owners. Stan is in charge of running sound, and Summer is a vegan chef and the author of The Glad Cow Cookbook. She slipped out of the kitchen to tell me her vegan story. Summer went vegan in 2001 and is especially interested in cooking for people with allergies, a journey partly inspired by her son's dairy intolerance. Her vision for The Space is somewhere that everybody can eat together, regardless of diet. "We're always striving to have it be like a bar or restaurant where you'd walk into anywhere. And everything would be there, but a vegan version." Indeed, the menu features burgers, kielbasas, tacos, bowls, nachos and wraps. You have to look a little closer to realize that's field roast, not beef. The fully loaded nachos weigh two pounds, my server tells me proudly. I ordered the mini plate, which was still huge.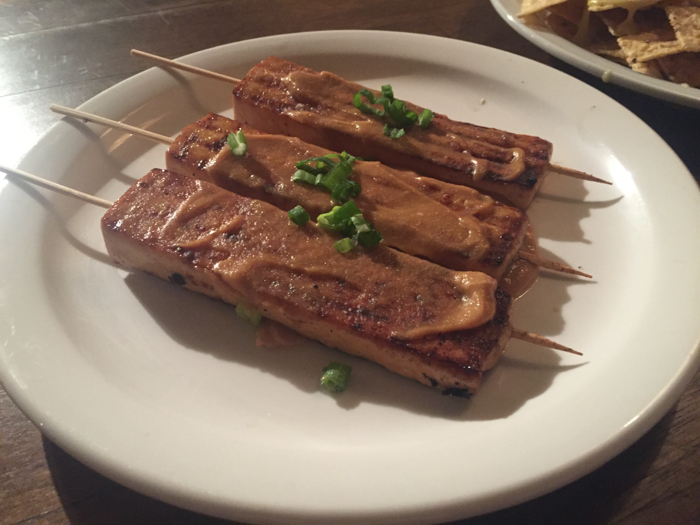 Sure enough, people who wouldn't ordinarily eat a veggie burger are enjoying The Space's version. "When you're out at a show or having a drink with friends you're more apt to try something new," Summer says. "People have been so receptive. People have embraced what we're doing and are glad to give it a try."
Summer has worked hard to ensure that the bar is also vegan, from the beer to the bitters to stocking bloody Mary mix without anchovy-containing Worcestershire sauce. She's just found a new almond-based Irish cream.
"There's never been an all vegetarian restaurant in Salem, so we are really excited to fill that void," she says.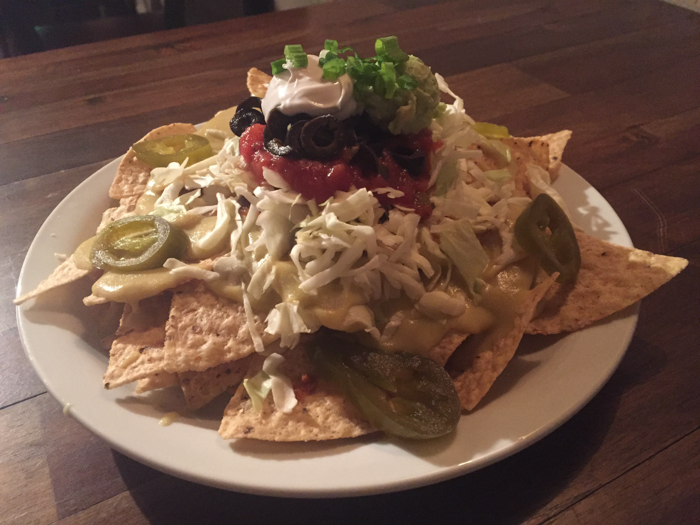 Taproot Lounge & Café
The Space is open for dinner, but what about other meals? I found the Taproot Lounge & Café in downtown Salem to be another excellent choice for vegans. From the outside, it still looks like a 60 year-old dive bar. But inside, owner Christopher Holland has completely overhauled one of Salem's old watering holes.
Here's how Chris describes the place when he took it over: "Very rundown. Dirty, low ceilings. Dark. Narrow. Gross. Way gross."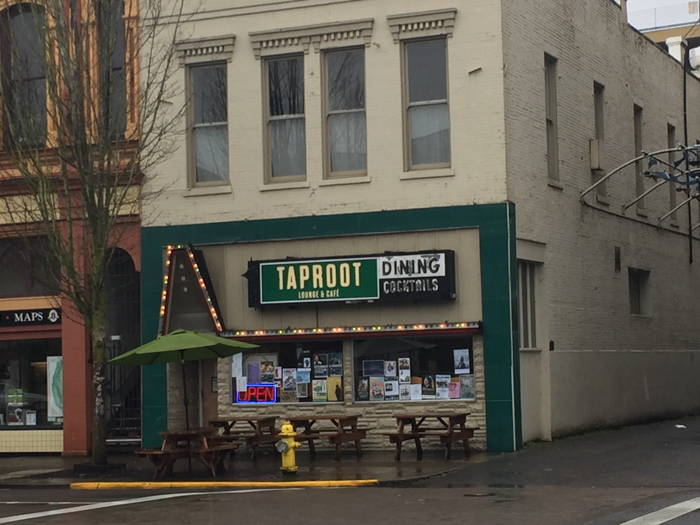 But after ripping out the insides and doing tons of manual labor, it's bright and inviting, even for lunch. Big, bright abstract paintings hang on an old exposed brick wall, and strings of lights crisscross the ceiling. A back room features cozy couches, a library and reading lamps.
As a kid, Chris loved coffee shops. "I enjoyed how people felt going there," he says. Later, he discovered the sociability of bars, but didn't like the seediness. He decided to blend the best of the two worlds. "I wanted to go out and socialize, have a good time but not feel bad about the food I ate." Taproot features the drinks you'd expect in a bar, but also offers such non-standard bar fare as cold quinoa salad, healthy bowls and an extensive juice and smoothie menu. "The high profit margin of the bar allows us to serve good food," Chris says, adding that they don't make much on the juice bar. Alcohol sales subsidizes smoothies.
I enjoyed the fact that many of the dishes on the menu are vegetarian or vegan, with the choice to add meat. How many times have I ordered a dish, "without this, this and this?" I like the psychological shift that takes place when meat is something people have to ask for, rather than it being the norm.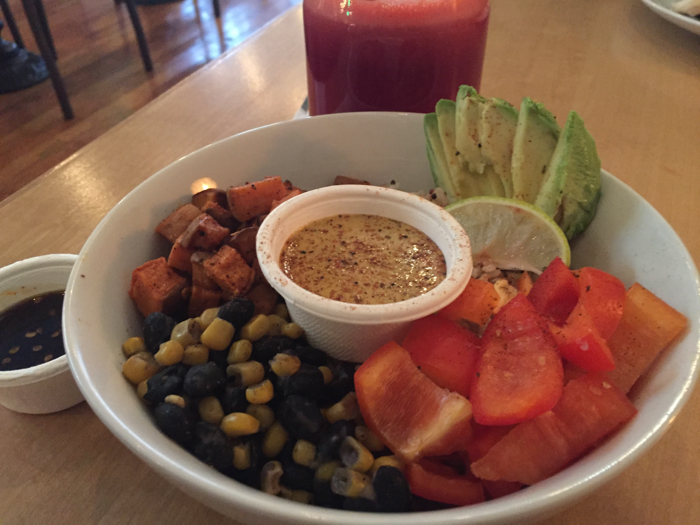 I had the desert bowl, which consists of roasted corn, red pepper, avocado, black beans, yam, roasted lime, adobo, and vegan chipotle ranch sauce. But they had so many appealing menu items, it was hard to decide.
Venti's
I was only in Salem 24 hours, so I didn't get to eat everything in the city. But if I would have stayed longer, Venti's is the next place I would have hit. This downtown café has an entire separate vegan menu featuring salads, burgers and curries. The menu even indicates where a shared fryer is used, which I don't think I've ever seen noted before. The curried tofu strips with cilantro-coconut dipping sauce look especially good.
Century House B&B
As you can guess from the name, the Century House is more than 100 years old. This beautifully restored Salem B&B is owned by the delightful Jean Brougher. The house impressed me with its beauty, antique dishes, and the countless thoughtful touches. Jean impressed me with her friendliness, curiosity about people and places, and dedication to touring every state by bicycle. Soon she'll be rolling through Arkansas, Louisiana and Mississippi.
Century House has three bedrooms and a playroom upstairs, each decorated according to a different season and featuring prints by the London artist Sam Toft, who specializes in whimsical critters and bikes. I had the huge downstairs room, which came complete with a pristine clawfoot tub and a bike-themed library.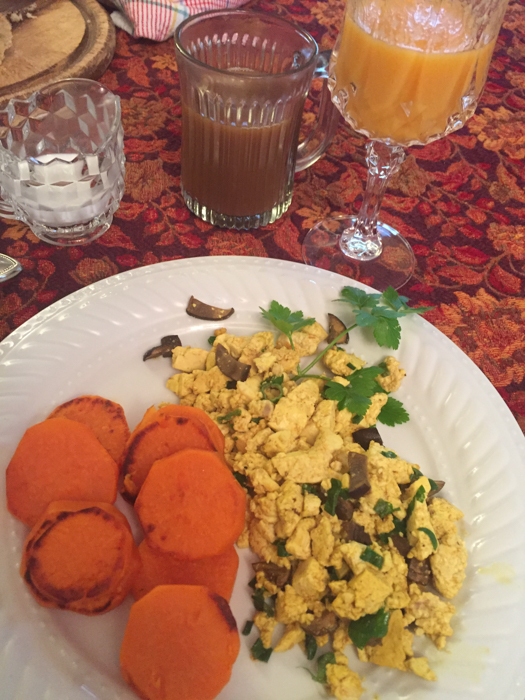 Another thing about Jean: She's devoted to making her guests happy, whether that means cooking pescaterian, Paleo, gluten-free, or, in my case, vegan. I would have been grateful to get a bagel and a banana, but Jean went all out in preparing a feast just for me at eight am. First she brought out a fruit salad with mapled walnuts. Then came homemade bread fresh from the oven! With sunflower nut butter and fig preserves! After all this, she asked if I was ready for the main course, which was a tofu scramble and yams cooked in coconut oil. All served on beautiful old plates. At Century House, I felt like vegan royalty. If you visit Salem, this is definitely the place to stay.