Finding a restaurant with good food and a pleasing atmosphere is always great – finding one where I can eat every delectable item on the menu is priceless!  A little over three years ago, I made the life-changing decision to stop eating and buying all animal products.  Lucky for me, New York City and its surrounding areas have tons of options available when it comes to finding food that is animal-product free.  However, that definitely does not mean that all vegan restaurants are created equal and I still get really excited when I hear of a new restaurant opening or about one that I've never eaten at before.  I get especially excited when someone that isn't vegan, or vegetarian for that matter, recommends a place for me to eat.   And so, after listening to one of my best friends brag about the delicious meal she ate at Peacefood Café a few weeks ago, I was dying to try it out for myself and on a recent Saturday night, I convinced my husband to take me there on a date.  With high expectations, we sat down for a nice dinner and we were not disappointed to say the very least.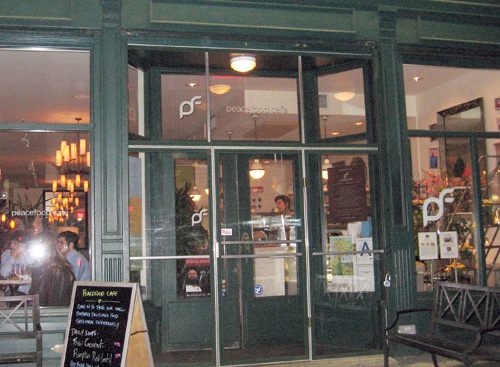 The restaurant is located on the upper west side of Manhattan and is a cute looking spot from outside but something you may walk past if you aren't looking for it.  The inside has a classy, clean look to it with a few vegan artifacts scattered around (i.e. the glass case of vegan/vegetarian cookbooks).   With friendly and helpful waitstaff, I had a great overall experience and a really nice dinner date.
Because we couldn't narrow it down to one, we ordered the vegetable tamale (because I've never had a vegan tamale before) and the chickpea fries (because these were noted a standout menu item by the NY Times) as appetizers.  Both were great choices, but I have to say the chickpea fries were the winner.   Crispy on the outside, with just a hint of spiciness, they came with a house-made creamy dipping sauce that balanced out the heat perfectly.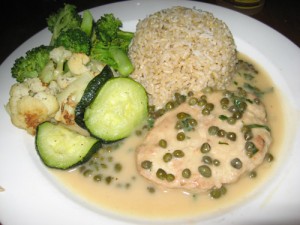 For dinner, I went with one of the specials, the pan seared unchicken filet with lemon caper sauce.  The light sauce was just enough on the citrusy side and was contrasted (but in a very good way) by the saltiness of the capers.  It was so yummy that I basically soaked up all the extra sauce with the brown rice and steamed vegetables that came on the side.  My husband decided on the penne pasta with homemade tomato basil sauce, ground soy protein and roasted vegetables.  The sauce was actually unexpectedly a little creamy and the soy protein crumbles mixed in turned this pretty standard vegetarian dish into something worth coming back for.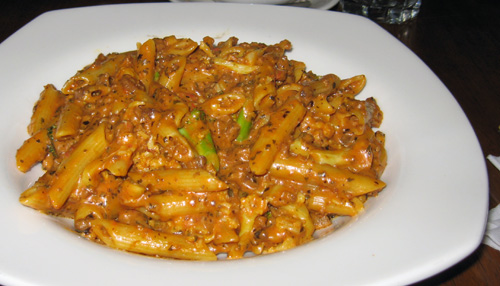 One thing you must remember when eating at Peacefood café is to leave room for dessert.  I know that the main menu may divert your attention but I'm warning you, do not forget about that glass case you pass when you walk through the door.  Muffins, scones, strawberry shortcake, cheesecake, cupcakes, cookies….the list goes on.   We ended up with a tremendous slice of chocolate ganache cake (and a chocolate chip cookie and oatmeal raisin cookie to go) that was perfect.  The cake part was moist and light (not dense like some vegan cakes tend to be) and the ganache icing was creamy and not too sweet.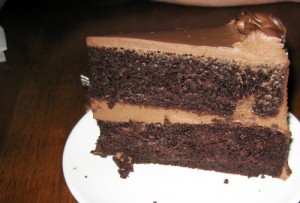 The bottom line is, if you are vegan and happen to live in or be visiting New York City, this is one restaurant not to be missed.  They have also have gluten free and raw options noted on the menu in addition to an extensive list of smoothies and teas.  The only advice I would give is to make sure you go there with an empty stomach because when you see the menu, your eyes may be bigger than your belly.
—-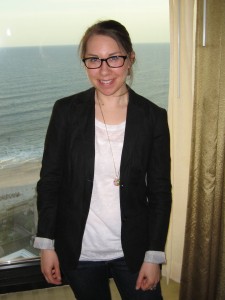 A native New Yorker, Tracey presently works in Manhattan in commercial real estate finance and lives on Long Island.   She made the decision to give up eating, wearing and buying all animal products in January of 2008.  Though her work schedule is pretty demanding, she strives to maintain a fashion-forward appearance while not compromising her beliefs and strong values about remaining cruelty-free.  She is passionate about discovering and spreading the word about new businesses, companies, restaurants, etc. in the New York area that cater to her set of values.  Currently, she is the admin of her own recently-started blog on cruelty-free and eco-friendly fashion at compassionforward.com.  In her spare time, she also enjoys snowboarding, mountain-biking, reading, music, running and spending time with her husband and two cats.  Stay tuned for her e-boutique, set to launch in August 2011, which will offer an array of hand-picked, stylish shoes, bags and other accessories that are produced without unnecessary harm to animals or the environment.