As much as I love fashion, I am not a fan of its negative impact on the environment.  The textile industry is one of the largest polluters in the world, causing serious harm to our air, land and water.  The good news is that there are people out there who are trying to change this, like the folks at Recover who make all of their garments from recycled plastic bottles and recycled cotton.
By utilizing plastic bottles and discarded scraps of cotton to make their clothing, Recover helps the environment by keeping these products out of landfills.  However, they take it one step further.  Because dying of fabric is one of the most toxic parts of the textile manufacturing process, Recover doesn't dye their clothing.  That's right!  They are able to create beautiful colors by pre-sorting both the plastic bottles and recycled cotton by color, which saves them from dying the fabric during the manufacturing process.  This eco-friendly process results in:
35% reduction in greenhouse gas emissions
66% reduction in energy consumption
55% reduction in water consumption
8 plastic bottles = 1 shirt!
How awesome is that!?  Well, it get's even better.  According to Recover, "…it's not just about the planet, it's about the people" and they mean it.  They work with partners in the United States, Haiti, and Guatemala to make their products.  Some are made in the good ole U.S.A. in North Carolina, while others are made through work co-ops in Haiti.  Helping the environment and helping people.  This is good stuff goin' on here.
So I bet you are wondering right about now how these eco-friendly products look and feel…right?  Well lucky for you, the kind people at Recover sent me two t-shirts to try out!
The first one that I took for a test drive was their Women's V-Neck Recover Sport Tee in lovely heather green (below) which also comes in heather blue and black.  I wore this to the gym for an hour-long boot camp session and it was great.  The fabric is extremely soft, wicks moisture and has a really flattering cut…I particularly like the v-neck.  This t-shirt kept me dry and comfortable throughout my entire workout and trust me, I sweat a lot.  With fall right around the corner (I hope!) I've been eyeing up their crew neck long sleeve version available in heather grey, below, and heather blue.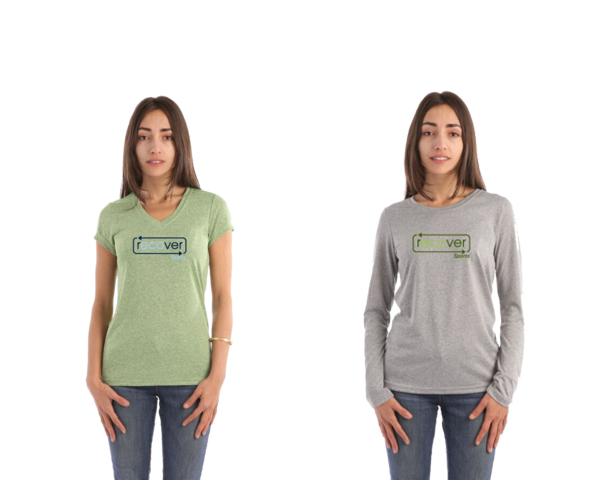 The second shirt that Recover sent me was this cute Women's Range Tee.  I really liked the feel of this shirt with its 50/50 cotton/polyester blend and the cut was flattering but not too fitted.  It was great to wear on a hike with my dog or just out and about in the city.  This shirt also comes in the color pilsner which is a lovely yellow/gold.  Recover has several other cute prints to choose from like the Women's Recover Van Tee or the  Women's Mill Tee.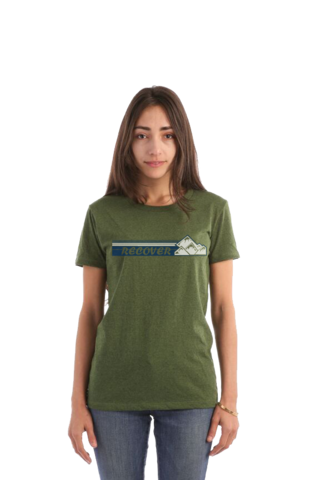 Logos not your thing?  That's ok because Recover has a really nice selection of plan t-shirts available in both crew and V-neck with a wide assortment of colors, a few of which I've featured below.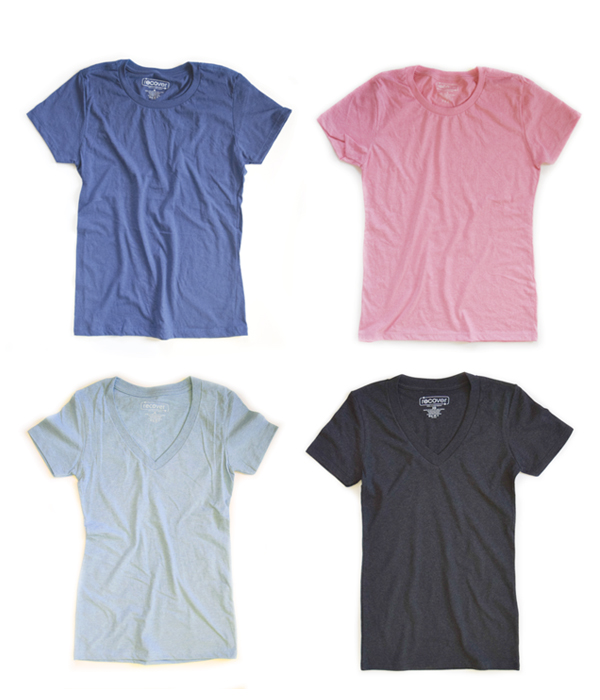 Don't worry guys, Recover also offers a wider assortment of men's t-shirts, hoodies and polos, all made from 100% recycled fabric.   Looking for a good gift?  Recover has got you covered.  From drink coozies to coffee mugs and everything in between, they have an awesome selection of cool accessories for all of your eco-loving friends and family.  So if you are looking for a high-quality, eco-friendly product made by a company that is committed to being socially responsible, go check out Recover…you won't be disappointed.