Meet a potential new addition to the Chipotle family!  In mid-February, the popular restaurant chain Chipotle Mexican Grill began testing a new vegan menu item, Sofritas, at some of its San Francisco Bay Area locations.  Sofritas are an aromatic and spicy blend of shredded tofu braised with chipotle chilies and roasted poblano chilies.  Hodo Soy Beanery, Chipotle's tofu provider, is also based in the Bay Area (Oakland) and has gained popularity at restaurants and other local venues for its artisanal methods of production and the high-quality organic and non-GMO tofu that results.
What's the idea behind this new menu item?  Steve Ells, Chipotle founder, chairman and co-CEO, states that
"[Sofritas were] really conceived with vegetarians and vegans in mind, but it's so delicious that we believe it will have a broad appeal on taste alone." 
Chipotle already offers vegetarian and vegan-friendly options with their fajita vegetables, black beans, four types of salsa, and top-notch guacamole, but this would be the first "meaty," protein-packed filling that is not animal-derived.
To find out first-hand how this appealing new product tastes, I recently made a trip to the Palo Alto Chipotle location—one of the seven restaurants currently offering Sofritas—with a non-vegan friend in tow.  We decided to try the Sofritas in both a salad and traditional burrito format.
My first impression was that WOW, the Sofritas sure pack a kick!  Spicy food lovers will appreciate the layers of chili and seasoning, which come through a bit more in the salad than burrito format.  Both the spices and the chewy, dynamic texture of the Sofritas pair especially well with Chipotle's rice and their divine guacamole (which I love, if you can't tell!).  Despite this, I must admit that the Sofritas did not totally hit a home run for my friend and I.  We enjoyed its texture and spices, no doubt, but the flavors didn't seem to be totally or evenly absorbed into the tofu.  The result was a very strong initial chili taste, which then made way to a less flavorful, markedly salty base that kept me grabbing for my water.  In addition, despite having the potential to act as an alternative/compliment to Chipotle's "carne" offerings, the Sofritas are very finely shredded and therefore seem to act more like a topping or condiment, rather than the main event.  This actually worked out quite nicely in my salad, but made the Sofritas harder to detect and appreciate in the burrito.
Chipotle is very good about providing ingredients and nutritional facts about their products to customers, and in terms of nutrition, the Sofritas stack up pretty well!  A 4oz serving of Sofritas is less caloric than Chipotle's equivalent meat offerings (145 vs. 170-190 calories), has significantly less saturated fat (1.5g vs. 6.5-8g), is free of cholesterol, and happens to be protein and fiber rich (10g and 3g, respectively).  Each serving is, however, quite high in sodium (850mg), which explains why they made me so thirsty!  As for the price, getting a Sofritas-filled meal costs the same amount as the cheapest entrees on the menu (Veggie and Chicken), so that's a definite win.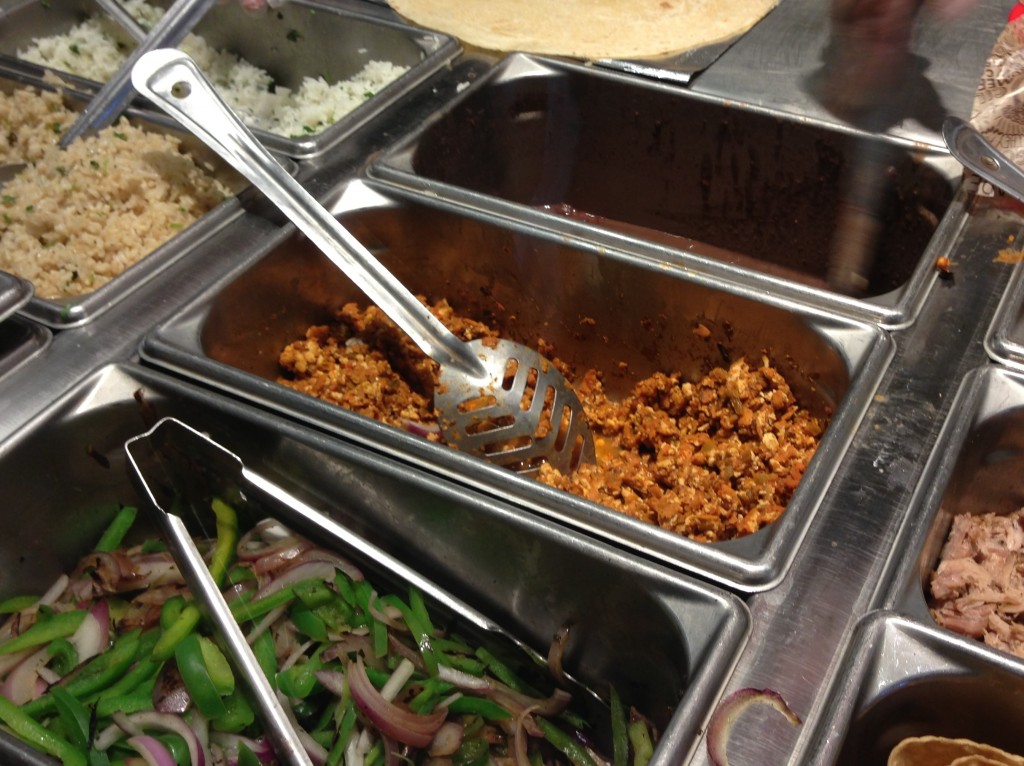 Bottom Line?  I find it admirable and exciting that a chain as popular as Chipotle is continuously and actively striving to appeal to a wider range of customers.  Filling, fun, and distinct animal-free items like the Sofritas are definitely a welcome addition, and one that will hopefully encourage people to introduce more vegan items into their repertoire.  For me, personally, Sofritas aren't necessarily going to replace my typical order of Fajita Veggies, beans, and guacamole, but I can definitely see it being a hit for a lot of people, vegan and non-vegan.  It's also nice to know that if I'm ever craving yummy and convenient Mexican food bursting with chili flavor, my closest Chipotle will have a hot, fresh plate of it waiting for me!
If you happen to be or live in the Bay Area and would like to try Sofritas for yourself, the following locations are currently offering it:
525 Market in San Francisco

121 Fourth St. in San Francisco

126 New Montgomery in San Francisco

2019 Chess Drive in San Mateo

251 East 3rd Ave. in San Mateo

180 El Camino Real in Palo Alto (Stanford Mall)

135 El Camino Real in Millbrae
If you'd like to encourage Chipotle to keep the Sofritas and/or bring Sofritas to your area, please contact them and let your voice (and growling stomachs) be heard!