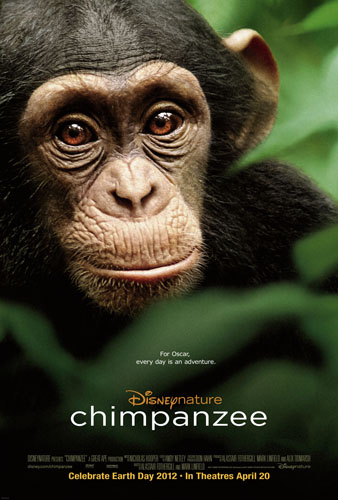 Just in time for Earth Day, Disneynature's new film, Chimpanzee, is a lovely and fascinating look into the lives of a young chimp named Oscar, his primate family, and a hero named Freddy.   Directed by Alastair Fothergill and Mark Linfield, the team behind the nature documentary, Earth, the story follows little Oscar who lives deep in the forests of Africa.  During the film, a rival band of chimpanzees confronts Oscar and his family, separating them.  Oscar is left with Freddy, the leader of his family's group, and the two develop an unexpected bond.
For this film, Disneynature has joined forces with the Jane Goodall Institute in their efforts to bring attention to the plight of chimpanzees and the environment.  For every moviegoer who sees Chimpanzee during the film's opening week (April 20-26, 2012), Disneynature will make a donation to JGI through the Disney Worldwide Conservation Fund in order to protect chimpanzees and their habitats, now and into the future. For more information about this collaboration and to join the cause, please visit "See Chimpanzee, Save Chimpanzees" on Facebook.
For more information on the Jane Goodall Institute, please visit www.janegoodall.org.
Chimpanzee opens in theaters on April 20, 2012!
Images courtesy of Disney.