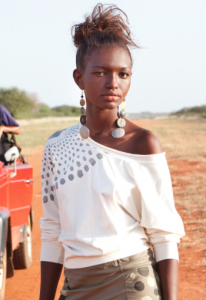 I love to be comfortable in my clothes. As much as I love fashion, frankly, if I could get away with wearing my yoga pants & t shirt every day, I would. But, when I can dress that way, it's still gotta be cute!
Chic Vegan asked me to review a clothing line from Wildlife Works. I was kind of expecting the basic "swag" t shirts with the company logo, but I was very wrong! Not only are the clothes lovely, they are part of an entire sustainability program in Africa.
Wildlife Works goal is to sustain biodiversity & offset global warming. They do this through supporting community development in rural areas around the world. People are employed to make these products, giving them alternatives to jobs like poaching and deforestation. I really admire the founder's vision, of recognizing the need to balance saving wildlife animals with the humans' need to work & support themselves. It's completely inspiring to see a solution where everyone wins. You can read more about that here. But I want to talk about the cool fashion they offer. So let's get to the fun part!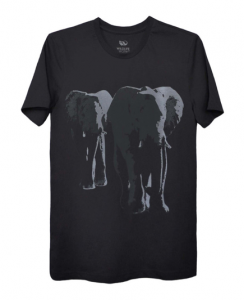 Wildlife Works' clothing is far from your average swag to promote awareness of and raise money for the company. There is real design and style knowledge in their construction. Everything is handmade and hand printed by people in the supported communities in Kenya. You can see the care taken in the work, right down to the professionally finished stitching. They offer a diverse selection for women, men and kids. They even have a "curvy" collection, which is a welcome nod to all kinds of diversity!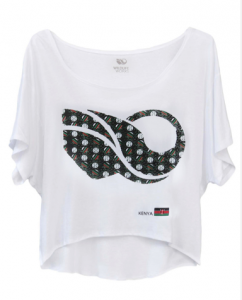 The company was kind enough to send me a few of their boxy-tees and tanks with animal graphics as well as a pair of beautifully printed leggings. I found everything to be super comfortable and breathable, organic cotton. Clearly, they understand dressing for hot weather! My tees are also printed with elephants (my fave) so I'll be wearing them often! I like that their prints aren't too youthfully cartoonish. They feature sophisticated animal drawings or patterns, bringing an elegant feel to some of the more casually loose & flowing shapes. I also like that they are mostly designed in neutral tones, so you can wear them with anything.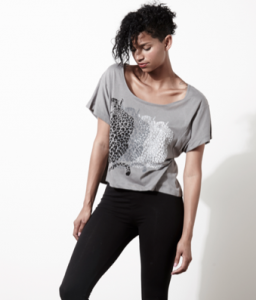 A tip from the stylist: If the boxy, cropped design is too short for you ladies, pair it over a fitted tank top that can peek out on your shoulder and cover more of your mid section. The boxy shaped tee will balance out, for example, a tight tank & leggings, so you don't look like you just stepped out of an Alvin Ailey rehearsal. (We wish, right?) Use a bright color if you're in a "Flashdance" kind of mood. (Just maybe don't go too far). But, if an overall body conscious style is more your thing, they have great looking, fitted, v-neck & scoop neck shirts…and check out this HOT tunic!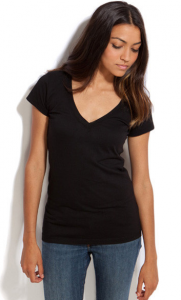 These styles are perfect for yoga class, a warm weather walk in the park or a casual shopping day. Since it's the middle of winter in NYC right now, I'm enjoying my leggings & elephant print tee on the weekend, relaxing at home, curled up on the couch with a cup of tea, catching up on General Hospital. I know I will absolutely live in these everywhere, over the summer!
The people at Wildlife Works also make beautiful gifts like glass beaded charms, baskets, and tote bags – all organic, fair trade and carbon neutral.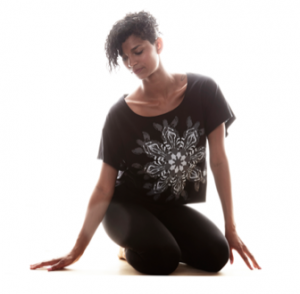 Check out their website and pick out some beautifully designed new tops, a jacket or a tote for yourself and the whole family. You will be seriously styling while supporting humans and animals alike. This is a powerful way to show the world that caring about the health of our planet is in fashion!