We are a month into summer and if you haven't been camping, yet, don't worry because there is plenty of time left in the year.
Our family of five tries to camp at least two or three times a year, but it has become increasingly more challenging to accomplish, having three teenagers who seem to be attached to their electronics as if their phones were their lifeline. Nevertheless, we drag them out to partake of nature and reconnect with the family a few times every year.
Reasons why camping is beneficial ranges from enjoying nature to unplugging from technology that seems to have us firmly wrapped around its little finger. Little known factoid is that camping without electronics for a whole week resets your biological clock and returns your melatonin's ability to help you fall asleep at a decent hour. I'm privy to the difficulties of proper sleeping patters because, as I've stated, I have three teenagers. They live by the rule that when the sun goes down, their day is just beginning.
Before you assume that I have or am able to haul three teenagers on a camping trip without their cell phones for an entire week, let me come clean. That's never happened, and if any of them happen to be reading this, I assure you, it never will. However, we do continue to spend a few days of life without lights, a clean bathroom and a decent bed. And that is the other wonderful reason to go camping: the return home is complete bliss. In order to really appreciate your soft bed and private facilities, nothing beats being without them for a few short days.
To make camping as easy as possible, pack a large tub with your camp kitchen stuff, a large tub with your toilet, hygiene, first aid and fun stuff, make sure to use air beds (this is important) and use a few smaller tents in lieu of the larger more palatial shelters which are a pain to set up and break down.
Check here [PDF] for ideal Kitchen Supplies and here [PDF] for Camping Equipment to take with you. The more streamlined your gear is, the less hassle your trip will be.  A couple of foldable or compact wagons will make hauling your equipment to the site much easier and remember to use a few smaller coolers instead of one large cooler, which makes locating a specific ingredient difficult. Also, designate one cooler for each day of your trip. Packing each day's food needs separately will make mealtime even easier.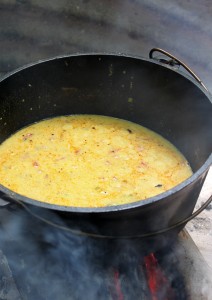 Which brings me to the most important aspect of camping – the FOOD.
Besides exploring nature, appreciating the fresh air, spending one-on-one time with the family and indulging in one of the cheapest vacations available, camping is about great food. At least that's one of the cards I play when the teens begin to moan about the coming trip: we'll have great food!
As a cookbook author, I tend to have food on my mind practically all the time, but my family knows that there are plenty of times that my "experiment" in the kitchen goes awry and dinner won't be something to look forward to. That's where camp food is different – I only make stuff they like and leave the recipe development for home. I call it positive association. Hate to think of it as bribing.
Whether or not food is your primary (or sole) reason to go camping, vegans might think that camp food is either all processed, as in veggie dogs or veggie burgers, or difficult and time-consuming to prepare at camp.  I've always included veggie dogs or veggie burgers for one meal during the trip because it is so nostalgic, but I also make sure that we have whole foods to cook and eat for the remaining meals.
Although I am not one to indulge in fancy camping food, I am also a big believer that camp food should not be boring, but at the same time should be quick and easy to prepare. There were a few times, many moons ago, when it seemed as though I had transplanted the entire kitchen and the fridge to camp, but I quickly learned that chopping and slicing on a rickety camp table was not my idea of fun.
In order to delight in your time hanging around the camp fire, prep as many of your recipes as you can at home. Zip top bags become your new best friend and a sharpie your new soul mate. Here is an example:
One trip we made Creamy Summer Chowder. I chopped the veggies that needed to be sautéed in the Dutch oven and packed them in a quart zip top bag. I labeled it "Chowder #1. Cook in 1 Tbs. oil." Then I assembled the liquid ingredients, blended corn, seasonings and potatoes in a second bag and labeled it "Chowder #2. Cook till potatoes tender." I placed both bags in a large gallon bag to keep them together and easy to locate. Now I literally had nothing to do but simply cook the soup. These bags are reusable, so don't forget to wash them and dry them thoroughly. Just rinse them at camp and clean them properly when you get home.
And I am a huge proponent of planning, so you can find the Camping Menu right here [PDF] and a sample menu here [PDF].
Other absolute camping food musts are s'mores, GORP (Good Old Fashioned Raisins and Peanuts – a Girl Scout thing) and pie irons (cast iron cooking vessels that make grilled sandwiches and pies). The pie irons do indeed take up valuable space, but since our camping equipment is streamlined, I allow this one uni-tasker because it is so much darned fun! It makes a killer grilled cheese sandwich and a great simple pie, as long as you remember to bring a can opener. It's on our list now, but there was that time before we had our handy-dandy list.
Other considerations as vegan campers, are the location and the time of year. We love water activities – kayaking, surfing, swimming, etc.- but there are a lot of places where fishing is also allowed, so check to find out if the lake you want to camp at is "well-stocked with fish" as this might ruin your trip, like it did for us one year. Seeing animals being killed was not our idea of a peaceful and relaxing time and we wound up cutting our trip in half. Ditto for hunting season, which is downright dangerous for all animals, including humans.
Some great camp foods to consider are below, but plan to cook and eat pasta meals sooner rather than later; cooked pasta does not keep for a long time:
Veggie dogs and veggie burgers
Chili
Chowders
Stews
Hashes (Par-cook potatoes at home)
Tacos
Rice and Beans in individual foil packets
Sandwich fillings, such as no-egg salad, no-chicken salad, etc.
Vegan Gyros
Marinated Tofu Slices
Bean Salads, Potato Salads, Macaroni Salads
Spaghetti Bolognese (cook noodles at home, toss with little bit of oil)
Breakfast burrito. (Cook all the ingredients in a Dutch oven. Roll in warmed tortillas when heated through.)
Corn on the cob
Baked potatoes with fixings
Kabobs
Baked ziti in individual foil packets
Corn bread (pre-mix ingredients at home)
Fruit Cobbler or Fruit Crisps
Brownies
S'mores