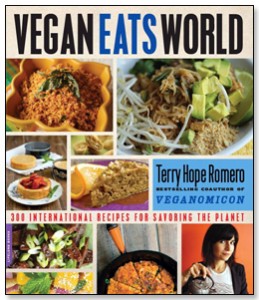 Vegan Eats World (now available in paperback) by Terry Hope Romero is a wonderful addition to your cookbook collection. Not only does it have delicious recipes, it also has variety, which is something I enjoyed. The book is not hard to follow, and as a novice cook, I appreciated the easy to follow directions. There are no scary terminology or techniques here. What I love about this book is that it is accessible and approachable. It is not, by any means, uninteresting just to read, too. I tend to find cookbooks intimidating and boring but this one changed my mind about them, I am going to try to cook up some of the recipes I have in my other two cookbooks.
The photography in this book is amazing. The food itself is incredible. I loved the kimchi, especially. I also became a huge fan of the scrambled tofu recipe in this book. It is so good, healthy, and easy to cook. I have not dared to try the desserts, yet. But I am looking forward to trying the pumpkin churros!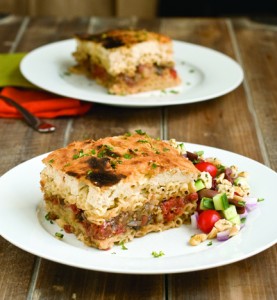 Another lovely aspect of this book is the diversity of the ingredients and the entrees themselves. I don't have access to a lot of ingredients, since I live in a moderately conservative area and veganism is not common (it is getting better, though! I can easily find tofu now in any store as well as soy and almond milk. It is a huge improvement).
This is a great book and I think it is adds a little oomph to your meals. It is not a collection of boring, stale, canned recipes that are repetitive, that you have seen a million times before. This is a collection of exciting delicious recipes that will make your tummy happy.
Bon appetite and happy cooking!