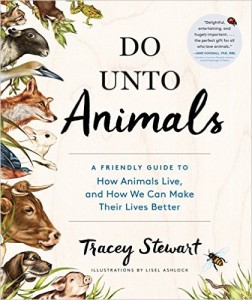 Like many people, I was pretty upset when Jon Stewart announced that he was leaving The Daily Show. But then I found out that he and his wife Tracey had purchased a farm in my home state of New Jersey, and they were planning on turning it into a sanctuary for farm animals, and that softened the blow. I hadn't realized just how much the Stewarts love animals until I read Tracey's book Do Unto Animals: A Friendly Guide to How Animals Live, and How We Can Make Their Lives Better.
Do Unto Animals is full of interesting facts about animals, as well as tips on how to speak their language, and happily live along side them. There are fun projects, such as how to make a simple bird feeder, how to craft your own cat toys, and how to bake your own dog biscuits.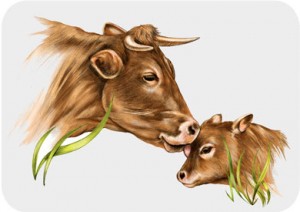 The books animals are divided to sections according to where you might find them. "Animals at Home" contains fun facts and stories about cats and dogs. "Backyard Wildlife" is chock-full of information about insects, birds, bunnies, raccoons, frogs, turtles, bats, and more. In "Falling in Love on the Farm", you'll learn about cows, pigs, sheep, horses, chickens, and turkeys – as well as some of the gruesome stuff that goes on in factory farms.
Intertwined throughout the book are Tracey's own stories, which show off her love of animals. Some will have you laughing out loud, such as the story of Stanley, the cat Jon lived with when she met him. Others will bring tears to your eyes, like the story of Sparkles the bird.
Do Unto Animals is written with humor, but it's also knowledgeable and thought provoking. In addition to Tracey Stewart's wisdom, it's also full of beautiful illustrations by Lisel Ashlock.
If you're animal lover, Do Unto Animals is the book for you! It's makes a great holiday gift too. A portion of the book's proceeds will be donated to Farm Sanctuary.
Illustrations by Lisel Ashlock.