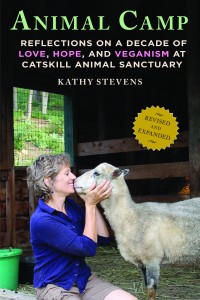 As an animal rights activist, I tend to read books on the subject of animals and then promptly get depressed at the state of things. That's not the case when I read a book by Kathy Stevens, founder and director of Catskill Animal Sanctuary. Kathy's books are uplifting and life affirming, and her message of compassionate veganism is subtle. She tells sweet stories about the lives of the animals that she knows, rather than rehashing horrific factory farm narratives that we've read in other books. Her books are a reminder that we should focus on what we want more of, rather than what we would like to eradicate.
After visiting Catskill Animal Sanctuary last year, I declared it "The Happiest Place on Earth", because Disney has nothing on this place. Animals like Jimmy the goat and Lambert the sheep run around freely, hoping for belly rubs and ear scritches, and they get to hang out in fields with their friends and play to their hearts' content. There's no stress or fear, and these critters live life the way it should be. I'm lucky enough to live just 2 hours away, but if you're in a different area of the country, you can visit the sanctuary vicariously through the tales in Kathy's books. I bought her first book Where the Blind Horse Sings: Love and Healing at an Animal Sanctuary a few years ago after seeing Kathy speak at the New York Vegetarian Food Festival. I devoured it in two days and then immediately ran out to buy her second book Animal Camp: Lessons in Love and Hope from Rescued Farm Animals. Kathy just released a revised version of her second book, called Animal Camp: Reflections on a Decade of Love, Hope and Veganism at Catskill Animal Sanctuary, and I just couldn't wait to get my hands on it once I heard about it.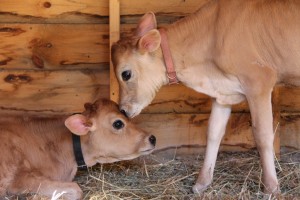 The new edition of Animal Camp corresponds with the 10 year anniversary of the sanctuary. It's been revised and expanded, so if you already read the first edition, you'll still want to read the new version. The book is organized into three sections and the stories are organized by theme rather than in chronological order. In "What We Do", Kathy shares her experiences in animal rescue and life on the sanctuary. In "Why it Matters", she talks about agribusiness and factory farming – subjects she only skimmed in the previous version of the book. "When We Smile" is full of essays about the wonderful animals that call Catskill Animal Sanctuary their home.
Kathy is truly a master at story telling, and she loves to talk about the personalities, likes, dislikes and loves of the cast of characters who live at CAS. I loved reading about the Underfoot Family (the animals that roam the sanctuary freely), Barbie the hen who likes to sit in Kathy's lap, Franklin the pig who loves belly rubs, and Rambo the late great patriarch of the bunch. While there's plenty to smile about, there is tragedy in Animal Camp too. Stories like "Rambo's Last Day" and "Moments of Glory" had me in tears, as saying goodbye to beloved friends is never easy, even when you know that the lived out their lives as happy as they could be. Rescue stories such as "The Little Horse That Could" and "If We Can Get Them Out" recount animal abuse and neglect so horrible that they're far beyond anything I could have imagined on my own, but once the animals arrive at CAS and begin to recover thrive, it's easy to see why Kathy does what she does.
Kathy Stevens is such a wonderful storyteller that I fear my own words can't do her books justice. While reading Animal Camp, you will laugh, cry and fall in love with the animals. You'll also regain some of the hope that activists can sometimes lose when doing this type of work for so long, because you'll see that the world is a better place because of the work that Kathy does.
Animal Camp by Kathy Stevens is available from Amazon.com, BarnesandNoble.com, and directly through the Catskill Animal Sanctuary website.
Photographs provided by Catskill Animal Sanctuary.