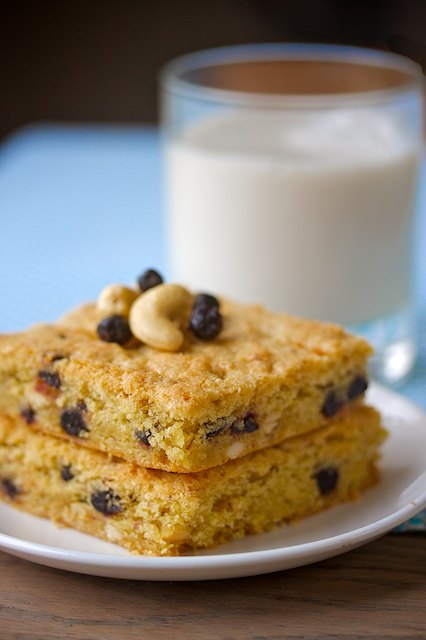 Blueberry Cashew Cookie Bars ~ Vegan and Gluten Free
These cookie bars have a delicate cookie crumb and a subtle heartiness from the addition of chickpea flour. I'm personally a huge fan of chickpeas, no matter what form they come in, but buckwheat or sorghum can easily be substituted for the besan if the taste is too harsh for your liking. Delicious hot from the oven and served alongside a nice cold glass of almond milk.
Ingredients:
1 cup vegan margarine
1 cup organic sugar
1 tsp scraped vanilla bean pod or extract
2 tbsp flaxseed meal mixed with 4 tbsp water
1 cup besan/chickpea flour (168g)
1/2 cup potato starch (75g)
1/4 cup finely milled brown rice flour (30g) + extra for dusting
1/4 cup tapioca flour (30g)
1/2 cup dried blueberries
1/2 cup crushed dry roasted cashews
Directions:
Preheat oven 350 degrees. Grease and lightly dust a 9" rectangle-baking pan with brown rice flour.
Cream together margarine and sugar and vanilla beat until smooth. Add in prepared flaxseed meal.
Combine chickpea flour, potato starch, brown rice flour, tapioca starch, and baking powder together until well mixed.
Gradually add flour mix into wet ingredients and mix well until clumpy.  Fold in blueberries and cashew pieces and spread into prepared baking dish.
Bake in preheated oven for 25-30 minutes, or until light golden brown. Let cool briefly and then cut into squares.  Store in airtight container.
—–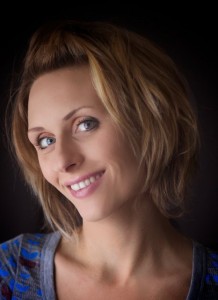 Allyson Kramer is the founder, recipe developer, and photographer behind the food blog Manifest Vegan. Her focus is on providing recipes that are vegan and also gluten free. Delicious food is her passion, and she's determined to show people that eating compassionately while being gluten free is easier than it sounds. When she's not in the kitchen, you can find Allyson snuggling on the couch with her animal pals while poring over her vast collection of cookbooks.