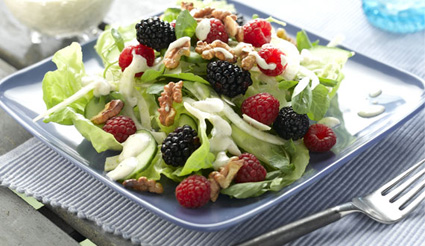 This is the perfect late summer salad. Good for when you want something light and delicious, but you really don't want to spend the whole day slaving over a hot stove (honestly, who ever wants to do that?).
Ingredients:
Salad
50g walnuts
¼ cucumber
½ fennel, very thinly sliced / shredded
85g watercress, thick stalks removed
1 round green lettuce, washed and dried
150g blackberries, washed and dried
150g raspberries, washed and dried
Dressing
150g silken tofu
5½ tablespoon good quality French dressing
1 slightly rounded tablespoon caster sugar
Method
1. Preheat oven to 200C / 400F / Gas mark 6. Spread walnuts out on a baking tray and put in hot oven for about 4 minutes until lightly roasted. Remove from oven and cool.

2. To make the dressing: Drain the silken tofu by putting it in a bowl lined with kitchen paper and patting dry. Transfer French dressing to a small liquidizer together with the silken tofu and the caster sugar. Blend for about 30 seconds until creamy. Put into a bowl ready to serve.
3. Continue with the salad: Cut the cucumber in half lengthways, and then thinly slice to make half-moon slices. Mix these with the fennel and watercress.
4. Arrange whole green lettuce leaves on four plates, and pile the cucumber mixture on top. Scatter with the blackberries, raspberries and roasted walnuts and serve, passing the dressing round separately.
For best result, use organic, locally grown produce.
Recipe and image © The Vegetarian Society.
Check out the Veg Society's Season to Taste. They feature a seasonal recipe every month.