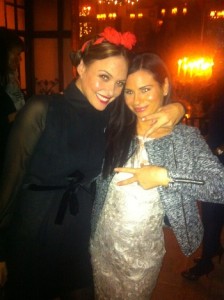 When I first became vegan, I was so focused on food, that I didn't really think about the other areas of my life that I might want to change as well. The first one that emerged after the food switch, was makeup and beauty products. Before my current career as a psychotherapist, I was in makeup product development for a major cosmetics company where I got to play with makeup all day long. Since making the switch both in career and in lifestyle, I have found myself struggling at times to find amazing replacements for my non-vegan products. Luckily for me, my beautiful and talented friend Marisa de Sa has always been my go-to beauty guru who is always willing to text me at 10pm to discuss a possible BB Cream online situation.
Besides being my good friend, Marisa de Sa is founder of Cosmetic Concierge, a New York based beauty consulting and personal shopping company devoted to helping women navigate the sea of skincare and cosmetic products that bombard them on a daily basis. Known by those close to her as the "product guru," Marisa offers unparalleled knowledge of the beauty industry and expert advice to her clients, keeping them abreast of the latest product launches, newest innovations, and latest tips & trends. Marisa's relationships with industry insiders, dermatologists, and top makeup artists and stylists keep her "in the know" and she passes this valuable knowledge on to her clients. Marisa enjoys accentuating women's' most beautiful features, and takes pride in helping them feel and look their best. She believes that every woman deserves to feel great and it brings her joy to help them do so, while having FUN in the process!
I was lucky enough to interview Marisa and pick her brain to get all of her current favorite vegan makeup products:
CV – Tell us a little bit about how you became interested in vegan beauty products:
MDS – I became interested in vegan products when I started researching ingredients found in popular cosmetics and realized how potentially harmful a lot of them can be. There are actually known carcinogens in some popular beauty products on the market today! I started finding amazing skin care and makeup products that were luxurious and effective, but without the yucky ingredients. It was particularly important to me during my pregnancy to be mindful of what I was putting not only in, but on my body and face.
CV – What do you think are the biggest stereotypes and misconceptions about vegan makeup?
MDS – I think some of the biggest stereotypes and misconceptions about vegan makeup is that it's all "crunchy" and "granola" and doesn't perform well. This is certainly not the case. There was a time when the only place you could find vegan makeup was on a dusty back shelf in your local health food store, and it was often formulated poorly and most of the colors were bizarre at best. Things have changed considerably and now luxury brands are offering an array of amazing products using cutting edge technology, innovative formulations, and rich pigments. There are so many amazing vegan products on the market now!
Marisa's Best of Vegan Makeup List:
Hourglass Mineral Veil Primer, SPF 15: an amazing mineral-based, water resistant primer with a satin finish that neutralizes redness, virtually erases pores, minimizes shine, and softens imperfections and fine line. Creates the perfect canvas for makeup that will last all day. gluten free!
Hourglass Oxygen Foundation Mineral Powder: weightless, natural coverage that allows skin to breath, absorbs excess oil, and imparts a soft matte finish. Contains soybean complex, a unique oxygen-delivering agent that helps promote overall skin health. Also contains vitamin E to condition the skin.
Urban Decay Naked foundation: A liquid foundation that imparts a semi-matte finish while illuminating the skin with light-diffusing spheres. Buildable coverage allows you to customize your look. Comes in an impressive range of shades and contains powerful anti-aging peptides and the antioxidant green tea.
Tarte Amazonian Clay Concealer: An extremely hydrating full-coverage concealer ideal for the delicate skin under the eyes. Great staying power and contains their star ingredient Amazonian Clay, which nourishes skin while hiding imperfections.
Too Faced Shadow Insurance eyeshadow primer: Prevents creasing, fading and streaking while allowing your eye shadow read the true color. Eye shadow stays in place all day.
Too Faced Natural at Night Eye Shadow Collection: 9 beautiful warm, wearable shades ranging from matte to shimmery that take you from day to night. includes a sample of the shadow insurance and easy how-to guides to create looks ranging from classic to edgy.
Josie Maran Argon Magic Marker Liquid Eyeliner: Perfectly shaped felt tip makes for precise application. Can create looks ranging from minimal to dramatic, will stay put and wont smudge or run and is of course infused with skin-loving Argon Oil.
Tarte Lights Camera Lashes 4 in 1 Mascara: A Mascara that truly does it all; legnthens, curls, volumizes, and conditions lashes. Also clinically proven to increase lash volume!
Tarte Amazonian Clay Shimmering Powder in Champagne: Illuminator that you can use anywhere, adds a luminous, ethereal glow to eyes, cheeks, decolletage. Highlights beautifully without being disco ball, has amazing staying powder.
W3ll People Natural Lover Kit- Universalist Pot Duo and Deluxe Brush Set: Moonstone glow color is a universal champagne color, or Peachy Pink Bronze- which is the perfect corally color, perfect for roll out of bed Sunday brunch. Good for those minimalists looking for a natural flush of color on lips and cheeks. Can even use on eyes! Brush is great quality.
Josie Maran Magic Marker Lip and Cheek Stain: Winner of one of Allure's coveted "Best of Beauty Awards" for 2012, and with good reason. Gives lips and cheeks a pop of lasting color and contains hyloronic acid and sugar extracts to soften and plump lips. For a vivid pop of color in the summer, go got "Jive", a coral-pink. For a more subdued pout, choose "Cha Cha", a mauve-rose.
Obsessive Compulsive Cosmetics Lip Tar- Highly concentrated lipstick concentrates that come in these adorable vinyl carrying cases with mini lip brushes, applies like a lip gloss but has unbelievable staying power, includes essential oils like hemp and peppermint, comes in a wide range of colors and you can customize by mixing and matching. And Marisa finds the pinks (there are a bunch of them) to be particularly addictive.
While I have many more questions to ask Marisa about skincare and bodycare, I will save those for future articles. If you are lucky enough to live in or near New York City, and would like to book a consultation with her, you can reach Marisa by email at marisadesa@ymail.com or by phone 516-808-5137.
.
Image courtesy of Flickr's The Commons and stopsign