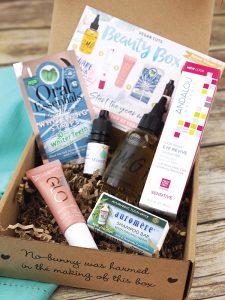 The beginning of a new year is always a good time to try new things. And the Vegan Cuts Vegan Beauty Box is always full of new things. I've been receiving the Beauty Box monthly for several years now, and I'm constantly surprised by the variety of products that arrive on my doorstep each month.
The Vegan Cuts Vegan Beauty Box is a subscription service that delivers a box of cruelty-free cosmetics and skin care times to your door every month. It's a great way to find new products that you might not of heard of and as well as a good way to support new vegan brands. It's also perfect for new who vegans to get started in the world of cruelty-free beauty.
The Beauty Box is stocked with 4-6 cruelty-free beauty, hair-care, and cosmetic samples (and sometimes full-sized products!). I've discovered some new favorites with the Beauty Box, and I look forward to its arrival each month.
The January Beauty Box was full of items to help beat the winter doldrums. It was stocked with cruelty-free beauty care products to help pamper and protect skin and hair during the coldest of months.

The January Vegan Beauty Box Contained: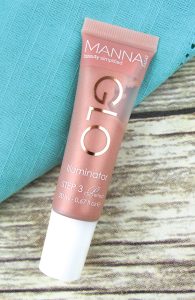 Manna Kadar Cosmetics Glo Illuminator – This pretty pink shimmering highlighter is great for contouring and the face while giving skin a dewy glow. It can be used alone on select points of the face or mixed with foundation to create an overall luminous affect. I've been wearing it on my cheekbones, and I love the slight shimmer it creates. It's paraben-free, which is a huge bonus in my book.
Auromere Shampoo Bar – I will admit that I was a little skeptical of bar shampoo, but after using this for a few days, I'm a believer! This little bar is formulated with ayurvedic herbal extracts to naturally cleanse the hair and scalp while also nourishing and rejuvenating. It's made with coconut oil, vitamin E oil, neem, holy basil, and other natural ingredients. It's non-gmo and free gluten, sulfates, and palm oil. It can be used on face and body, too, and it's great for travel.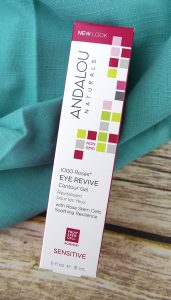 Andalou Naturals Eye Revive Contour Gel – My puffy morning eyes have been very thankful for this soothing eye gel. It's made with rose stem cells, aloe vera, pomegranate and other natural extracts, and it's formulated for sensitive skin, which I appreciate, because my skin can be hyper sensitive. It gently revives the delicate skin around the eyes while reducing fine lines, and under-eye circles. It reduces puffiness almost instantly. It's also non-gmo and gluten-free.
Heritage 1933 O.M.G. Seal & Moisturizing Oil – This moisturizing oil is made with natural plant oils such as olive oil, peppermint oil, and rosemary oil. It's created to seal in moisture and stimulate hair growth when massaged into to the scalp. It can also be used to lock moisture into your locks, and it can be used on skin as well. It has a fresh, minty scent that will wake up on cold dark mornings, too!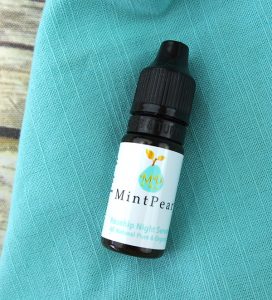 MintPear Rosehip Night Serum – Despite its name, I've been using this serum twice a day, because my skin has been try enough in the winter cold to need it twice a day. It's made with rosehip seed oil and can help repair and rejuvenate skin. It's definitely helped my face look softer and fresher. It can also help reduce dark spots, improve the appearance of scars, and reduce wrinkles and fine lines.
Oral Essentials Whitening Strips – I didn't realize that there was such a thing as vegan whitening strips! I thought that only those big-name, non-vegan friendly brands made them. These cruelty-free strips are made with coconut oil, sage oil, and lemon peel oil, and they can help whiten teeth in just 30 minutes without causing sensitivity!
The Vegan Beauty Box is available as a monthly subscription, which means that once you sign up, a box of new goodies gets delivered to your door every month.