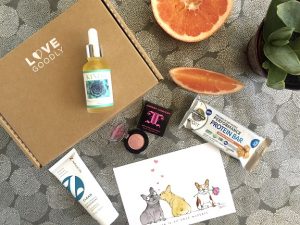 It's Love Goodly time!  I received my August/September box a few weeks ago and I'm excited to share it with you guys.  If you haven't read my Love Goodly reviews yet, you can find them all here on Chic Vegan. Love Goodly is a subscription box that allows you to sample amazing products that are cruelty-free, environmentally friendly, and just all around good for you!  They also partner with Farm Sanctuary and each box purchased supports this awesome group.
Let's get to the good stuff!
KINDri Organic Beauty Oil – I love love love using oil on my face because I have fewer breakouts, less discoloration, and my skin has never been smoother.  I know a lot of people shy away from rubbing oil on their face because most of the time we're trying to get RID of the oil.  Trust me, you want to use oil on your skin.  It is much better than the harsh cleansers we typically find in stores.  This beauty oil is a combination of argan, pumpkin prickly pear, carrot, grape seed, sweet almond, sunflower, and pink grapefruit oil.  It goes on light and has a nice citrus smell which is a great pick me up.  I've also used it a few times as a makeup remover and it works wonderfully.  Two thumbs up!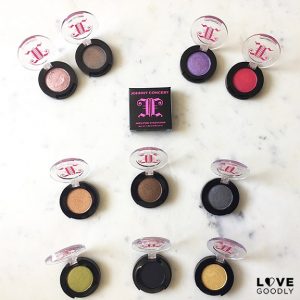 Johnny Concert Glamour Eyeshadow – Speaking of makeup, I got the Static shade of Johnny Concert eyeshadow in this box.  While I don't typically use metallic shades, this is a fun addition to my makeup.  I like that it is made of botanical ingredients because conventional eye makeup usually makes my eyes itch.  While I'm no makeup artist, this eyeshadow goes on well and it lasts pretty much all day without touchups.
Red & Howling Custom Frenchie Print – Ok, prepare your cute-o-meter because this print is adorable.  Red & Howling created this print exclusively for Love Goodly and I have already framed it and displayed!  I'm also excited to pick out another print with the discount code!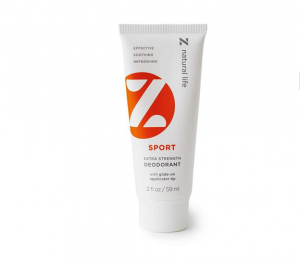 Z Natural Life Deodorant – I jumped on the natural deodorant train a few years ago when I noticed my regular brand was making my armpits itch.  Not fun or cute.  It took me A LONG time to find a natural deodorant that worked and finally found that with Schmidt's, so I was a little skeptical to try Z Natural Life.  I was pleasantly surprised!  I like the roll-on applicator tip and the fact that the deodorant dried quickly and didn't stain my shirt (which can happen with natural deodorant).  It also lasted all day, and I tested it out on a particularly hot and muggy day so it definitely holds up.  I'm glad I now have two brands I can trust.
Garden of Life Plant-Based Protein Bar – It is ridiculously hard to find a good protein bar let a lone a good plant-based protein bar.  Most are loaded with sugar and less than stellar ingredients which is why I was really excited when I read the label of Garden of Life's bar.  I had the Sea Salted Caramel bar and it had 20g of protein and only 8g of sugar.  The taste wasn't bad but the texture was a little off.  It was slightly chalky and I definitely had to have some water nearby.  Maybe it was just the flavor I had?  I'm not sure but I did like the crunch pea crisps throughout.  While I might not stock up on these bars, it's nice to know there is a brand out there with good amounts of protein, low sugar, and no funny ingredients.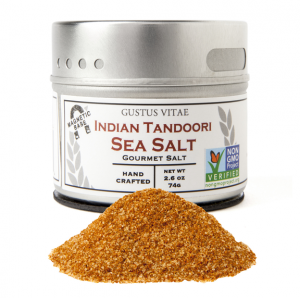 Gustus Vitae Seasonings & Spices – I am all about herbs and spices.  Seriously, they are some of the simplest ways to up the flavor of any dish without a ton of calories or junk.  I'm spoiled here in Chicago with easy access to The Spice House, which is where I get the majority of my spices.  This box included a code for a free seasoning or spice from Gustus Vitae and I chose the Indian Tandoori Sea Salt and it is awesome!  I went back and got the Taste of California blend and it is equally awesome.  I've been putting both these on all my roasted vegetables, grains, and pretty much anything else I can sprinkle them on.  All their spices and seasonings are vegan and gluten-free so stock up!
Each of Love Goodly's boxes features $80+ worth of samples and products but you only pay $29.95 for each box.  That is a pretty great deal and this way you can test out products before you spend a ton of money on something you don't really like.  Plus you support businesses doing good work and organizations like Farm Sanctuary.  Until next box!