The amazing Julie from one of my new favorite sites, The Alkaline Sisters, has graciously agreed to share with us one of her simple yet delectable recipes, as well as a brief intro on what an alkaline diet is all about!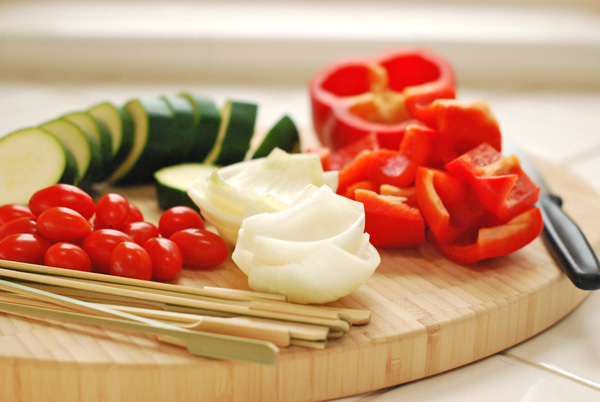 When you visit the party buffet during the holidays it's so nice to find something healthy to choose amongst the other holiday goodies, don't you think? Thus, I opted to create something very simple that is not too lathered in sauce nor too rich to eat.  Good ole veggies are fancied up on a skewer and simply roasted with garlic for a few tasty, healthy bites accompanied by a yummy raw dip. It's easy to prepare in advance and then pop in the oven for a warm snack as your guests arrive or roast them a little ahead and serve at room temp.  Either way, they are delicious and they look festive in red, green and white.  Enjoy.
Mini Roasted Veggie Skewers w/ Raw Garlicky Basil Dip
yield: approx 12 skewers, 6″ long, approx 2 cups of dip
1 sweet white onion, quartered, layers separated, larger ones cut again if needed, total of 24 pieces
2 red peppers cut into 1″ square pieces, total of 12 pieces
3 slender zucchini sliced into 1/2 inch thick rounds, total of 24 slices
12 cherry tomatoes
3 cloves garlic crushed
1/4 cup olive oil
sea salt
12 skewers 6″ long
for the garlicky basil dip
1 cup zucchini, diced
2 cloves garlic, roughly chopped
1/2 cup extra virgin olive oil
16 basil leaves & stems
1/2 cup raw pistachio nuts
1/2 tsp sea salt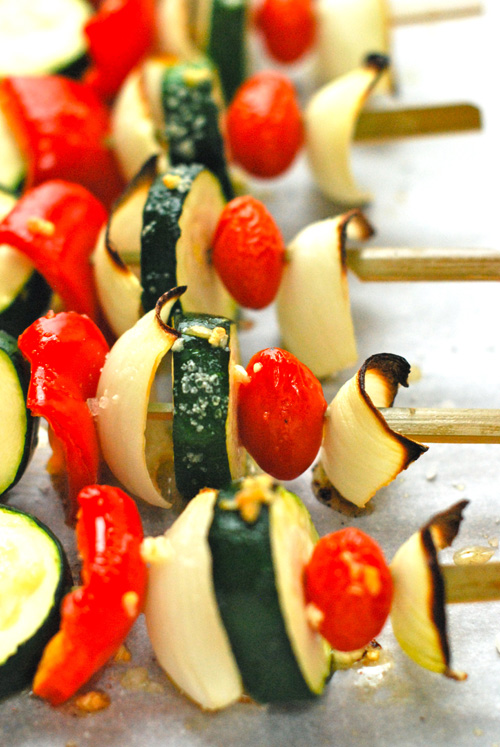 Method
Pre heat oven to 400F.  Combine garlic and oil and set aside.  Thread veggies onto skewers in a uniform pattern and lay on two parchment lined baking sheets.  Be sure to place the cherry tomatoes between 2 veggies so they don't slide off the end after roasting. Baste well with garlic oil being sure to spread the garlic bits onto the veggies.  Sprinkle generously with sea salt.  Roast for 15-18 minutes.  Remove from oven and arrange on serving platter.
While veggies are roasting, place all dip ingredients into a high speed blender or food processor and combine until creamy and smooth.  If needed for consistency, add a dribble more olive oil.  Spoon into a serving bowl.  Serve aside veggie skewers as the dip.  Do provide napkins, as guests may use fingers to wiggle the veggies off the skewer.
Any left overs are divine the next day.  Enjoy.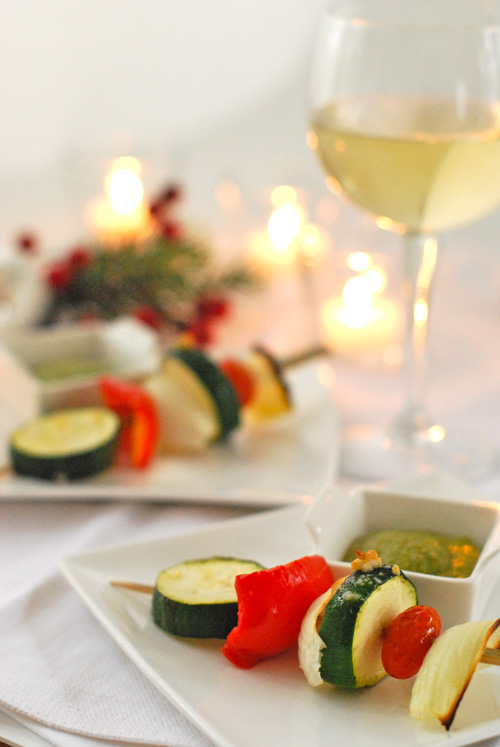 What is Alkaline anyway?
You may wonder "what the hey" is an alkaline lifestyle? It's pretty simple, really.  Essentially the goal is to bring your body's pH- acid versus alkaline – into balance by consuming a higher volume of alkaline foods and fluids.  Ideally 70% to 80% of each daily meal should be alkaline foods combined with 2-4 liters of alkalizing water w/ super greens in your water through the day.  Super hydrating daily with water & greens is very energizing and flushes unwanted toxins and is a super way to flush fat cells too. The 70-80% portion for alkaline foods is basically vegetables, mostly raw-some warmed, either whole or juiced and low sugar fruits.  The 20%-30% balance can be made up of cool or cooked foods such as whole grains, seeds, nuts, legumes, proteins and the sweeter fruits. The least processed food possible is key. In a nutshell, one could easily transition to this lifestyle diet just by increasing their raw greens or gently warmed veggies to 70-80% on your plate at lunch and dinner and fresh veggie juice in the morning.
An Alkaline balanced body is healthy, vibrant, and energetic, free of sickness and disease. An Acidic body is one that is degenerating, breaking down, showing symptoms of ill health from the simplest form being a cold or a rash all the way to diabetes, heart disease, and cancer. High levels of stress, negative thoughts, lack of exercise and poor shallow breathing (which most of us do all day long) all play a key role in this lifestyle and are acid forming.  Changing your diet will improve your pH and reduce your symptoms but only to a point, where you might plateau and need to manage and balance these other pieces of the puzzle to reach optimal health.
There's no doubt about it, change what you eat and the way you live to more alkaline choices and your symptoms will diminish and slowly disappear.  I am living proof and so are many others who have even reversed cancer and are living a vibrant life, well into their late nineties with very little degeneration.  For further reading I recommend picking up a soft cover copy for under $10 of the pH Miracle by Dr. Robert O. Young. As a scientist with over 40 years of research, exploring and uncovering,  he shares the steps to gain control of your health again.  A food chart to help guide you, showing the value of alkalinity or acidity, is right here.  Good luck and cheers to a healthy holiday season and a healthy New Year!
Thank you, Mandi for inviting me to share a recipe and a little info about living an alkaline lifestyle.  My passion is to 'inspire a healthy lifestyle' so it's such a delight to be here, sharing with your loyal readers.
No – Thank YOU, Julie!  Be sure to check out The Alkaline Sisters for some more alkaline goodness from Julie and her sister Yvonne.