Tampa's booming, with population and businesses exploding. During a recent visit, old-time Tampa dwellers told me they could hardly recognize their city, and are surprised that it's suddenly become hip. With an influx of new people and new ideas, more restaurants are remembering us vegans. If you're looking for a getaway that combines sunshine, beach access and big city amenities, Tampa provides all that and plenty of good vegan food. Here are a few places to eat when you're in town.
Bamboozle
Local Vietnamese chain Bamboozle has vegan pho, vegan tofu lemongrass banh mi sandwiches, and, get this, three types of vegan fresh rolls – avocado, veggie and tofu. I got one of each roll. Turns out they make each roll fresh! Impressive. And they gave me three different vegan dipping sauces.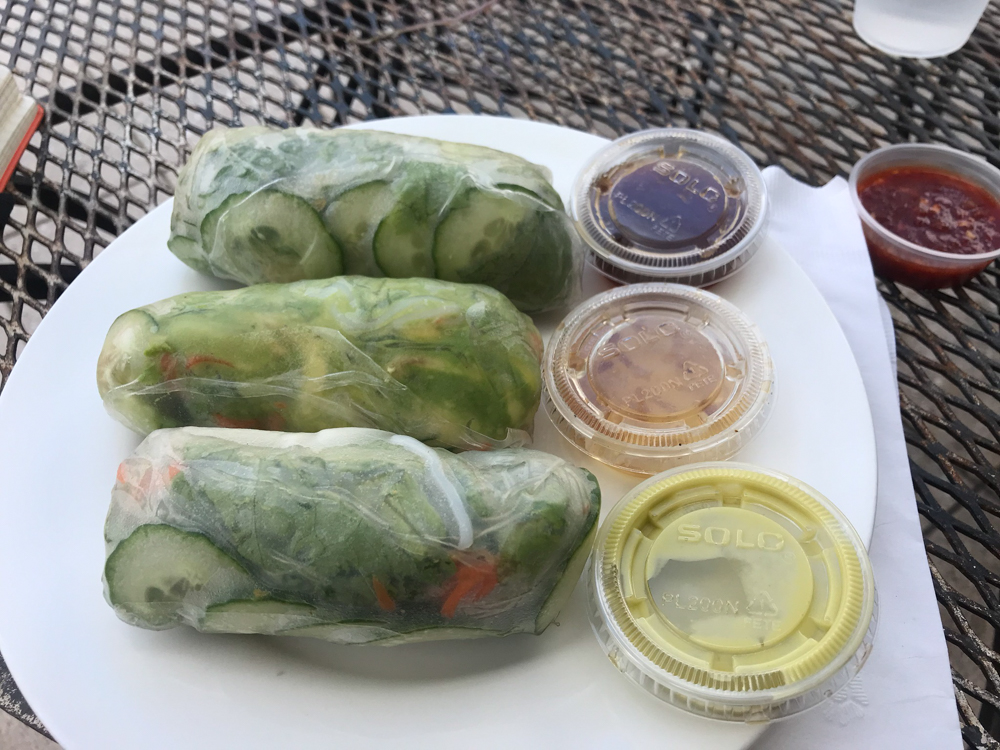 Dixie Dharma
I lucked out by being in town the week  Dixie Dharma debuted in Tampa. The Orlando-based vegan spot now serves its vegan takes on Southern classics inside Armature Works, a beautifully renovated streetcar barn that houses a public food market. General Manager Ashley Simmons and Sous Chef Gustavo Vasquez temporarily relocated from Orlando to launch the Tampa branch. Gustavo, who worked for Disney and Universal Studios before his work life took a vegan turn, loves that Dixie Dharma makes everything in-house. "This is a scratch kitchen so it's really fun to work here," he told me as he took a well-deserved coffee break.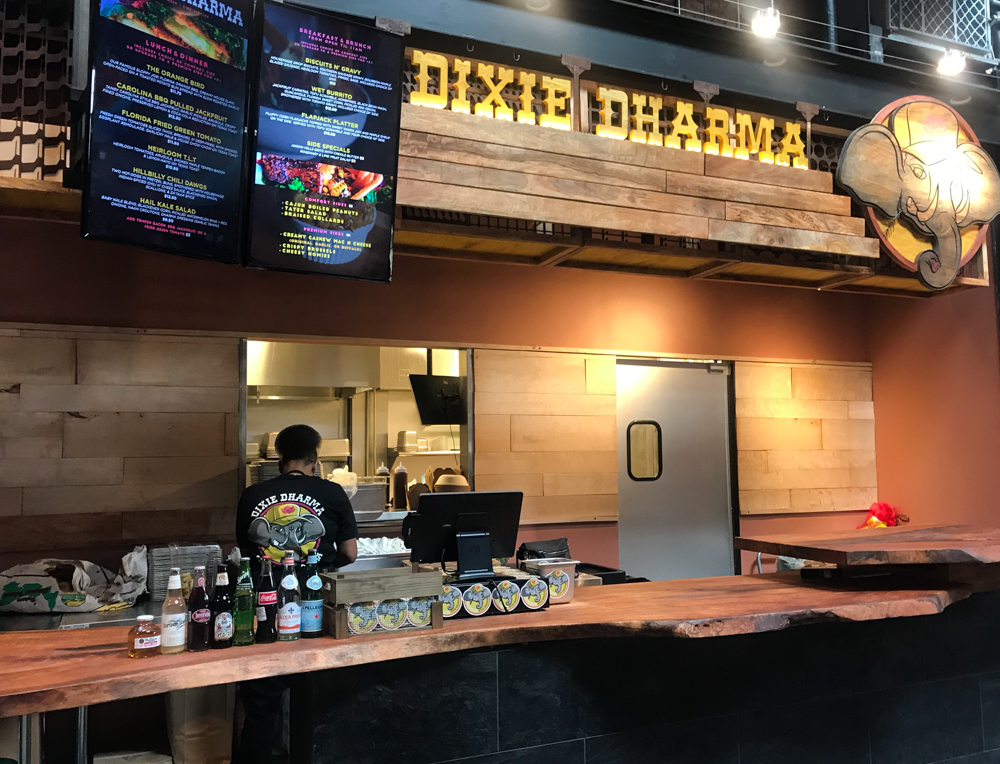 Ashley says their orange bird – a sloppy joe with orange barbecue sauce and house slaw served on a toasted potato bun – is the top seller in Orlando. "It's known worldwide," she said. "Our chili dogs are one of the up and coming very popular items. And then our Carolina jackfruit is totally a top contender as well." When I visited on day three of Dixie Dharma's stint in Tampa, the jackfruit was a top seller. I can vouch for its goodness. So far, Ashley says, Tampa is embracing DD. "They're all smiles and they tell us how great the food was, and the next day they come back with more people."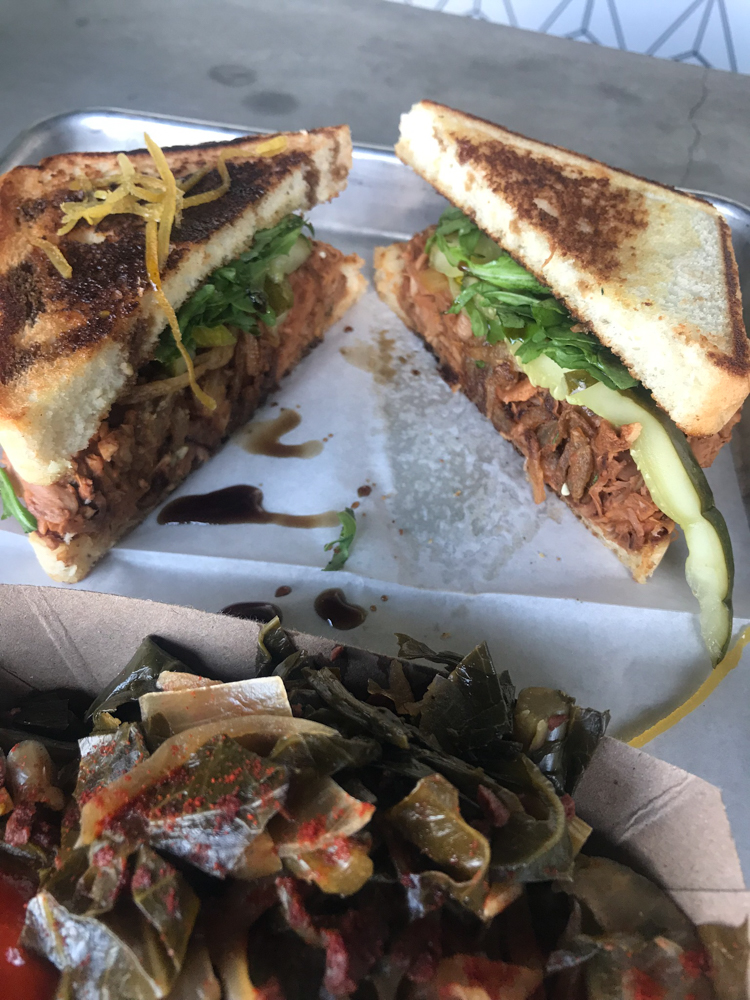 Fresh Kitchen
A bowl specialist, the local Fresh Kitchen chain lets you customize your own. For example, if you pick a Four Bowl you get to choose two bases, one veggie, one protein and one sauce. A six bowl gets you two bases, two proteins, two veggies and one sauce. Vegan hot base items include cauliflower potato mash and brown rice, cold bases include kale slaw and sweet potato noodles. For the veggie options, you can get roasted mushrooms, braised lentils, roasted sweet potatoes and/or sesame green beans. The only vegan protein is teriyaki tofu. Vegan items are all clearly marked. It took me a couple of minutes to make sense of all this, but suffice it to say you can get a fast and healthy vegan lunch here for about 10 bucks, with lots of choices. The patio has darling pink tables and is dog-friendly.
Taco Dirty
Taco Dirty is owned by the same restaurateur as Fresh Kitchen, and has a similar customization concept. But this time the bowls and plates let you choose combinations of bases, vegs, proteins, sauces and "Mexi things." Mexi things of interest to vegans include lime jalapeno sour crema and vegan cauli queso. I didn't get to try Taco Dirty this visit, but it will be on the top of my list for next time I'm in Tampa.
Columbia Restaurant
Founded in the 1880s, Ybor City was nicknamed "Cigar City" because of its 50 years of cigar-rolling supremacy. This Tampa neighborhood northeast of downtown is still full of gorgeous historic buildings dating back to the late 19th century. Since the '90s it's seen a renaissance as an entertainment and nightlife district. But the Columbia Restaurant predates gentrification. Known as Florida's oldest restaurant, it opened in 1905 as a place cigar workers went for Cuban coffee and sandwiches. Incredibly, it's still owned by the fourth generation of the Hernandez/Gonzmart family, who continue to expand the empire. The Columbia restaurant and gift shop now fills a city block, boasting 15 different dining rooms, each decorated with oil paintings, heavy wooden doors and, best of all, thousands of handmade tiles.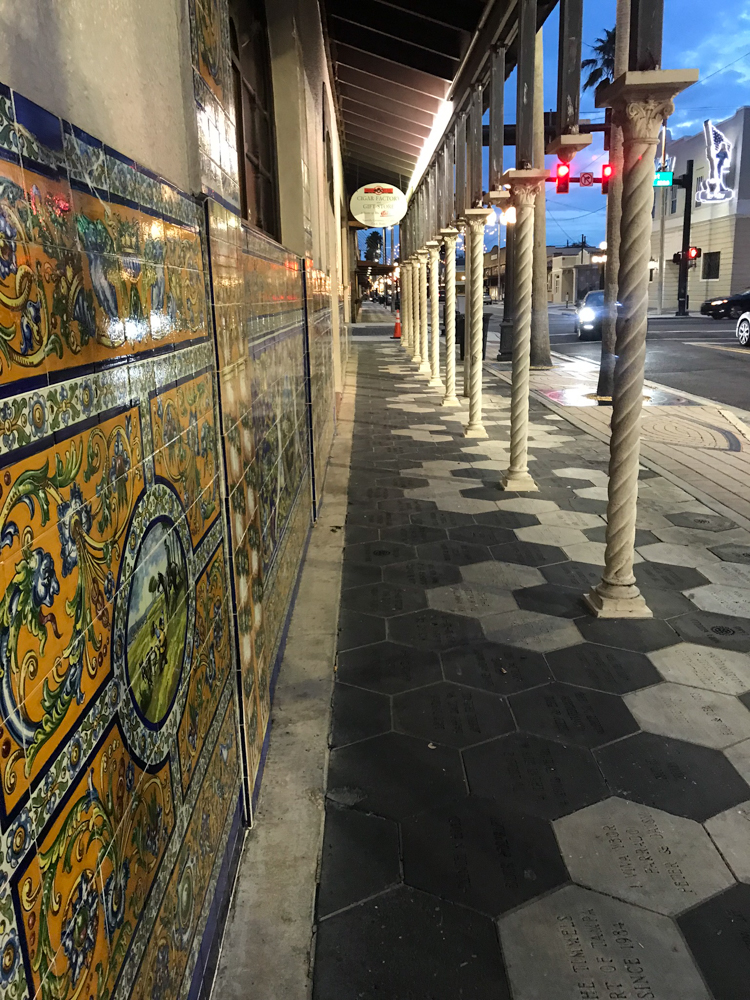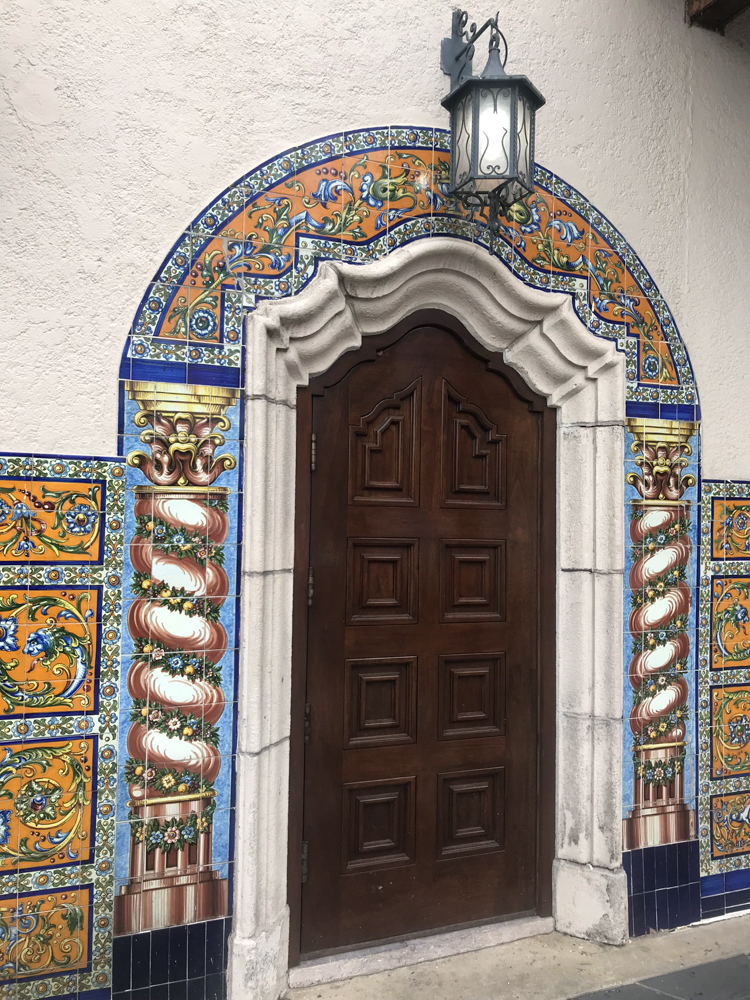 The Columbia has quite a few vegetarian dishes marked on the menu. A few can be adapted for vegans, including eggplant Riojana, which is what I ordered. The chef breads four big medallions of eggplant in ground plantain crumbs, fries them and ladles on a tomato-based Rioja sauce with garlic, capers, green olives and red wine. Vegetarian paella and a black bean, rice and tomato dish are the other two veg mains. It's well worth visiting for the history, art and atmosphere, as well as the Spanish food.
Ulele
Another Gonzmart family production, Ulele turned an old water works building into a historic fine dining restaurant right on the Hillsborough River. By revitalizing a derelict stretch of Tampa's riverfront, Ulele has brought new life to the Tampa Heights neighborhood and inspired other businesses to follow suit. Named for a young Native American princess, the menu uses indigenous flavors and ingredients. Ulele has won accolades for its vegetarian dishes, especially the Portobello mushroom stuffed with vegetables. This usually has manchego cheese, but you can order it without.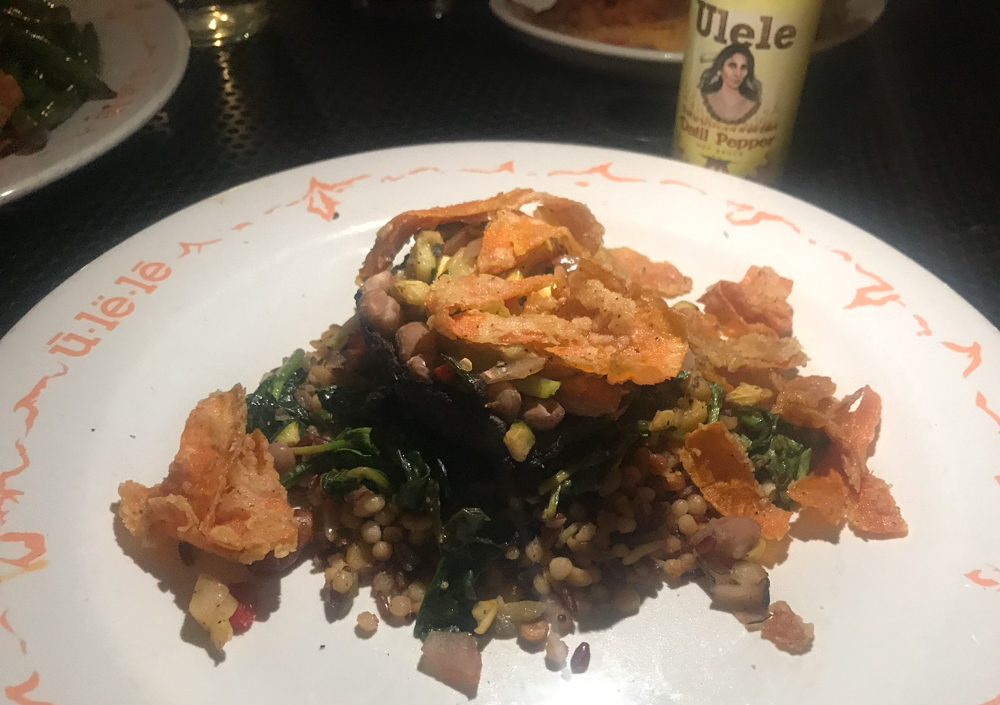 The okra fries are thin-sliced, non-slimy, delicious and vegan. The native sauté is a vegan stir fry, and the carrot ribbons are vegan if you skip the aioli. Sit outside and catch the sunset.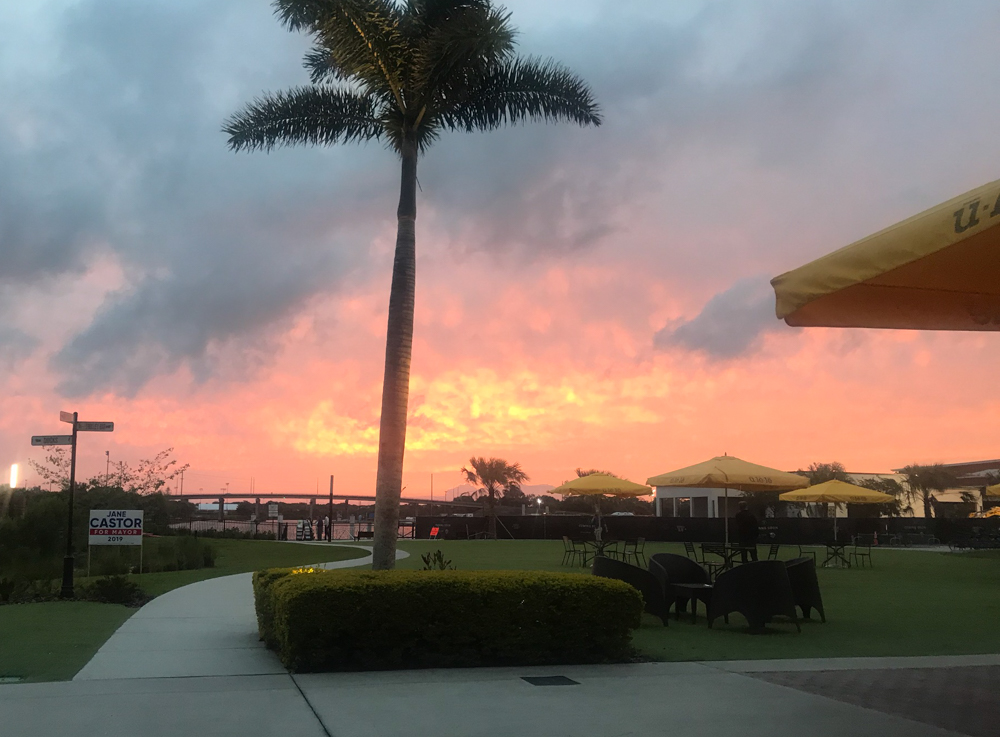 Sweet Soul SoHo
If there's vegan ice cream in a city, I consider it my job to find it. Sweet Soul SoHo is Tampa's place for vegan soft serve, acai bowls and smoothies. I went straight for the brownie sundae—a generous bowl of soft serve topped with chocolate granola, cacao nibs, brownie chunks and your choice of drizzle. In my case, peanut butter. It was way more than I needed to eat, but eat it I did.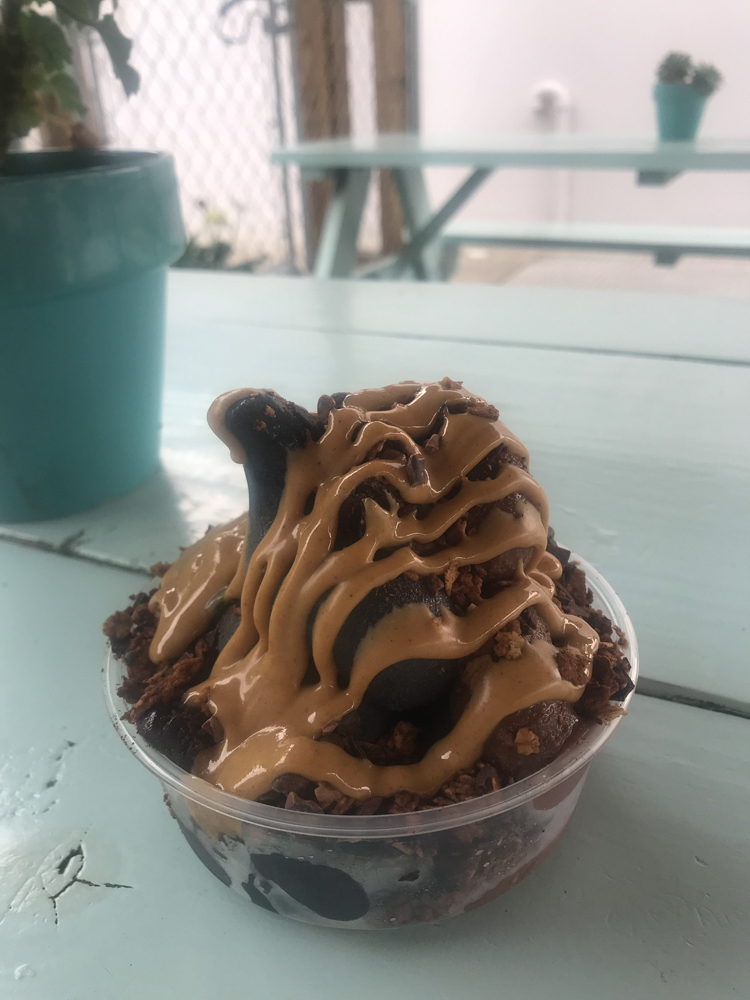 Owner and Tampa native Taylor Winter left med school to follow her dream of opening Sweet Soul. "Everything here has a nutritional benefit," she told me when I asked her about the vanilla bean charcoal soft serve that is, well, the color of charcoal. It was the only time my vanilla has ever been darker than my chocolate. "The charcoal doesn't add flavor, but it adds a detox benefit," she said. At first she worried that kids might be leery of dark gray ice cream. "But they think it's cool." Indeed, I saw one little guy dig right in without hesitation. The other two flavors when I visited were matcha and coconut algae. I was put off by the latter, but Taylor convinced me to try a sample. It's made with Blue Majik algae and is an incredible ice blue color. Sure enough, all delicious coconut, no algae taste.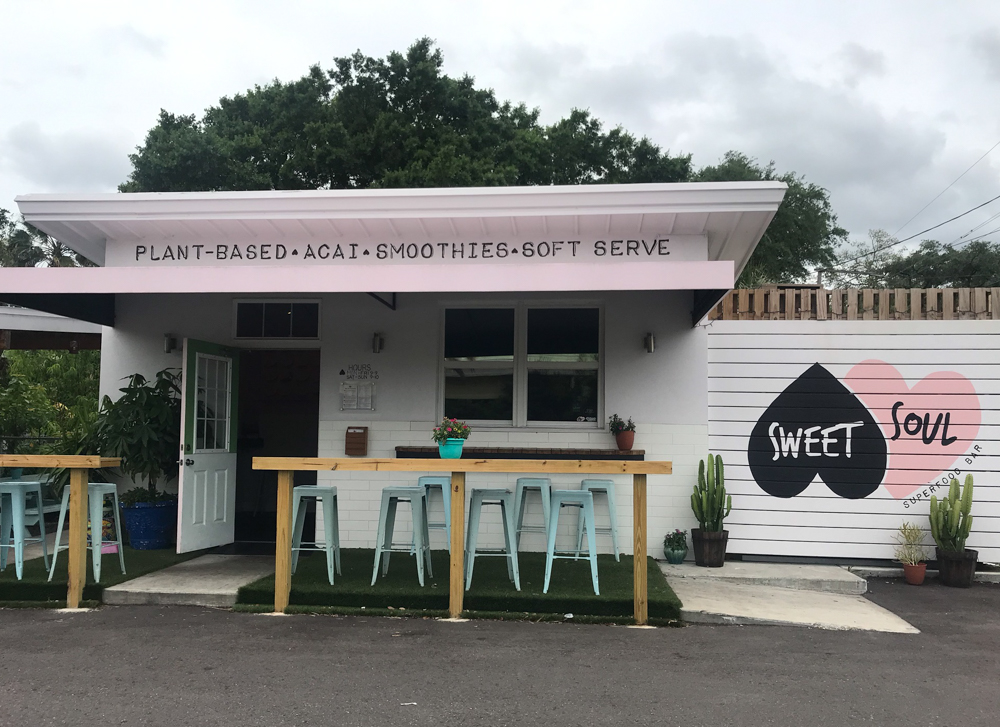 Sweet Soul is extremely family-oriented, and even has a garden aimed at inspiring kids. "There's no farms in South Tampa," Taylor explains. She encourages kids to water, plant and dig. Phyllis the rooster oversees the garden.