Banff National Park in Alberta, Canada is so scenic you might feel like you've been inserted into a nature show–not like you could just fly to Calgary, take a bus and then be standing right there surrounded by peaks. In late March, it's still a snowy paradise of icy trails, frozen lakes and rivers. The bears are just waking up.
The park covers more than 2,500 square miles of mountainous terrain. Most of that is wilderness, with nary an ounce of tofu in sight. The town of Banff Springs (population 7,584) has the densest concentration of tofu per square mile, so I recommend vegan travelers head there to fuel up.
Nourish Bistro, Banff Springs
If you're only going out for one meal while visiting Banff National Park, support Nourish, the local vegetarian restaurant. Most items on their menu can be made vegan. Nourish's mushroom ravioli with vegan cream came highly recommended, but I was desperate for vegetables and so ordered the falafel salad. It was huge, with excellent greens, cucumbers, tomatoes, beets, tofu feta, red pepper hummus and, of course, falafel. I also ordered bread with butter oil, which is a locally blended oil that's vegan but tastes like butter, made down the street at the Evoolution oil store. Nourish is a popular spot and seems to draw a veg and non-veg clientele. It's on the upscale side of veg, with entrée prices in the $20-$30 range.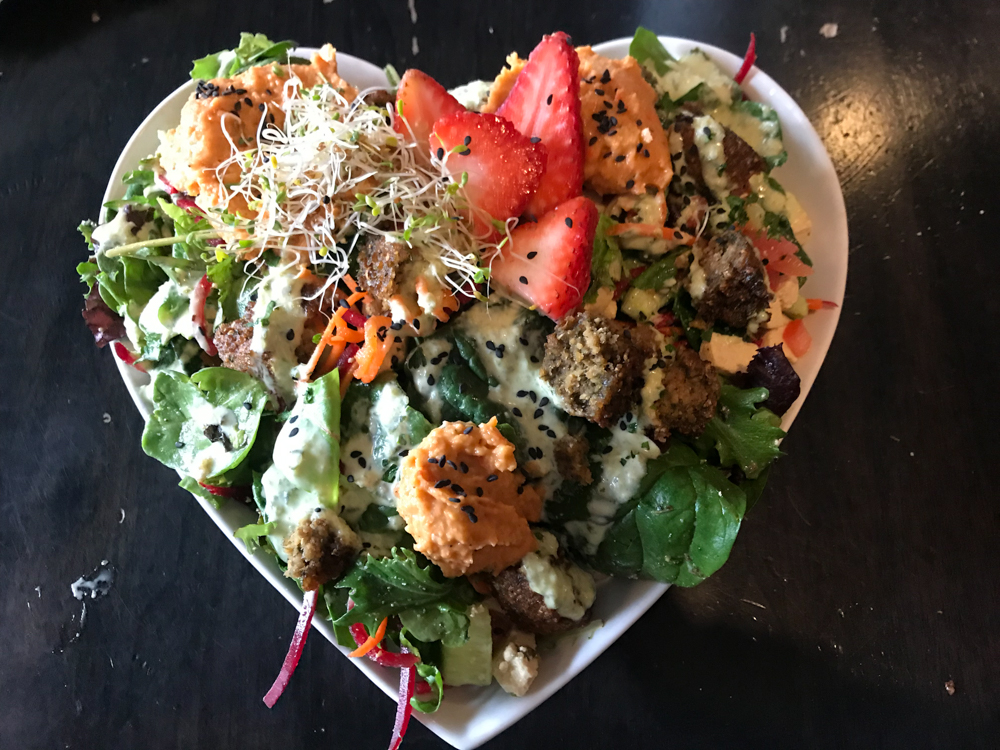 Nesters, Banff Springs
Nesters, part of a British Columbia grocery chain, has a surprising amount of vegan food. If you're driving through the park and plan on camping or staying at remote lodgings, stock up here. Get your boxes of Daiya mac and cheese and high-end bars of dark chocolate for dessert.
Indian Curry House, Banff Springs
One of several Indian restaurants in town, I opted for Indian Curry House because of its specialization on South Indian food. Nothing like a big Mysore masala dosa with a view of the mountains. Plus it has all your standbys, like eggplant bharta and chana masala. I went at the off-time of five p.m. and had the restaurant practically to myself.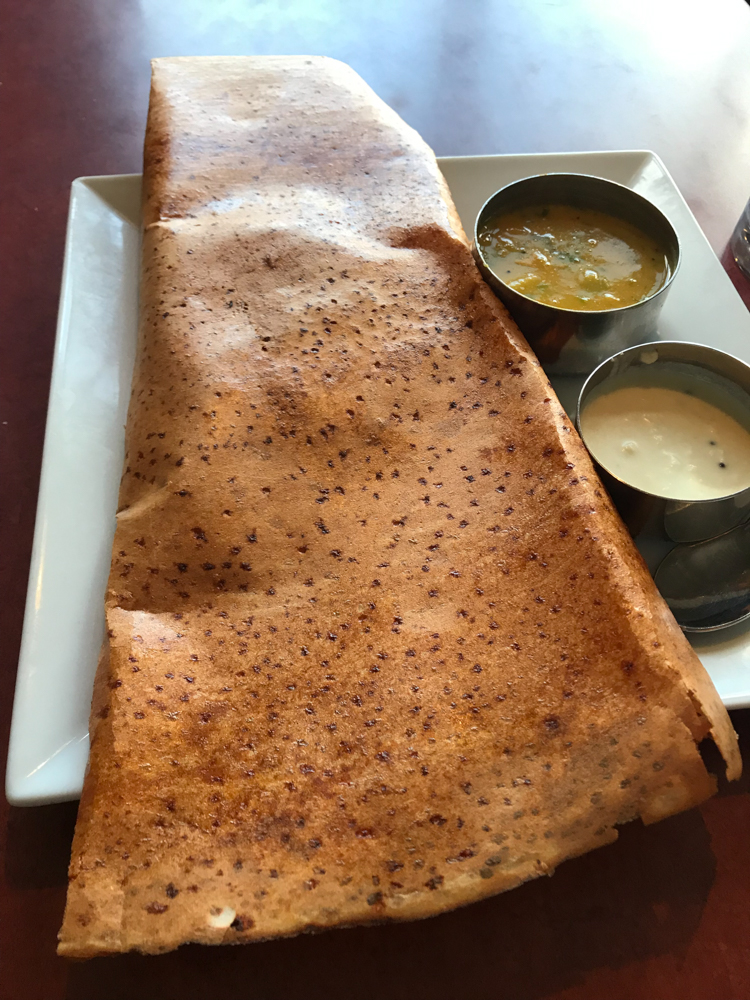 Fairmont Banff Springs
Many Banff Springs visitors stop at the "Castle in the Rockies" even if they're staying elsewhere. One of the great hotels built by 19th century railroad barons, the Fairmont Banff Springs is still fabulous and deserves a look. I stayed at this enormous property for two nights and never did see it all. Have a wander and check out the King Arthur style details. Stock, the Fairmont's market/café has a few vegan snacks, juices and excellent chocolates. The espresso bar makes a good soy cappuccino. If you're there for breakfast, the Vermilion Room buffet's vegan items include potatoes, grilled tomatoes, house-made bread, fruit and mashed avocado.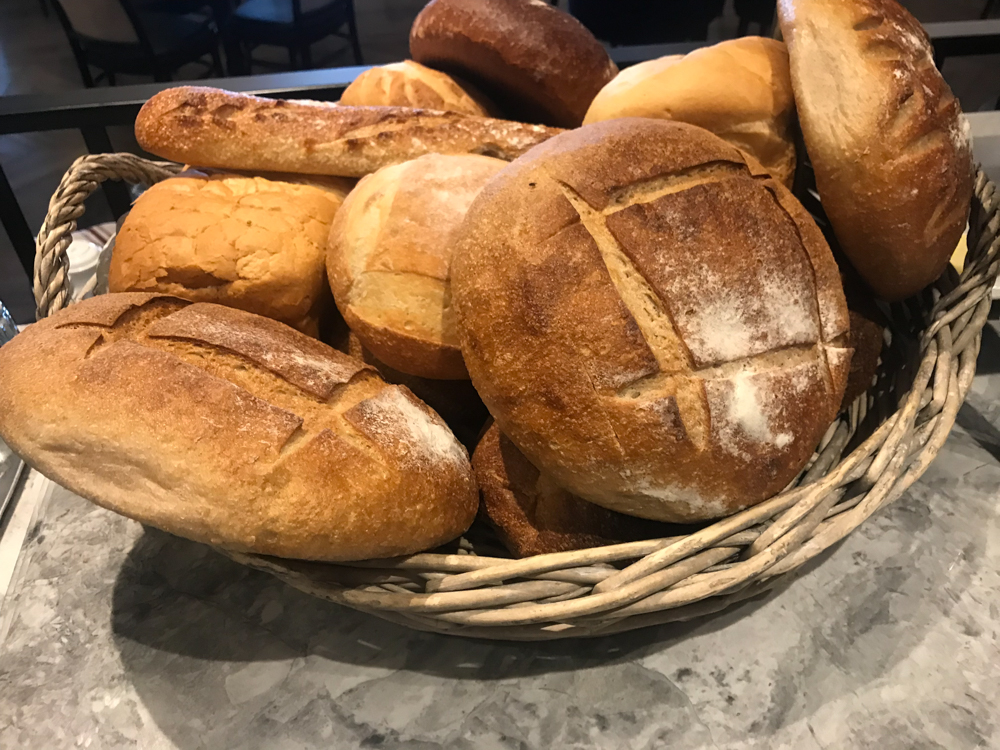 Fairmont Lake Louise
The famously teal waters of Lake Louise are about a 45-minute drive from Banff Springs. There's a small village a few kilometers from the lake, but your best bet is another Fairmont property, the Chateau Lake Louise. It's also the best place to stay if you want to wake up and wander straight out to the lake. The chateau's on-site restaurants operate trans fat-free kitchens and include organic local produce when possible. I was there for a wellness retreat, for which there was special vegan food at every meal, beautifully presented.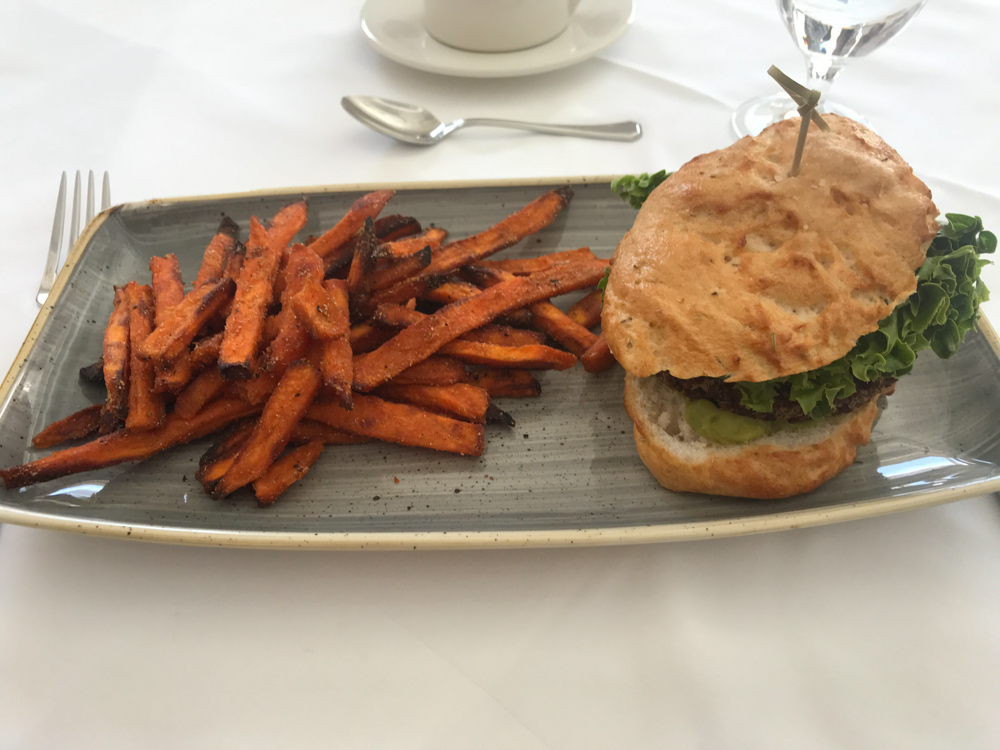 Even if you're there as a regular visitor, the Fairmont Lake Louise is nice to vegans. The breakfast buffet at the Poppy Brasserie offers good stuff like potatoes, blistered cherry tomatoes, avocado, fresh fruit, bread and peanut butter. I especially appreciated how pitchers of soy and almond milk were set out on the buffet, so I didn't even have to ask. The Lakeview Restaurant makes a vegan tomato coconut soup and a vegan wrap with tomato rice pilaf, white beans, lemon and basil, pickled shallots, black olive hummus, and cucumber. I ran up quite a tab at the deli, which is open 24/7 to make soy cappuccinos.
As always, when venturing into the wilderness, pack your veg protein bars. But make sure to sample a couple of the local veg-friendly eateries while visiting Banff National Park.