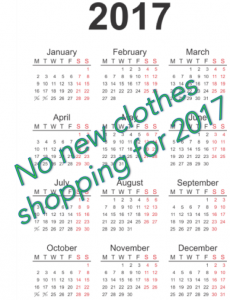 Whatever the day or month or day, making a stylish resolution is always a good idea, don't you think?
Lucky for you, today is your best day to feel more stylish, inwardly and outwardly, while committing to kinder, more ethically focused fashion choices.
With this in mind, I'm offering 5 fashion shopping resolution ideas; take your pick as which inspires and fits you best!
Stop the shop – 

Join me as I venture into 2017 committed not to buy any new clothing in this year. You can set your own perimeters, for instance like: does that include underwear, footwear and accessories? Be realistic but remember to challenge yourself and push your limits!

Swap the shop – 

Exude style and individualism by giving fast-fashion stores a miss in preference to swapping items and buying gorgeous pieces found at thrift, charity and vintage stores.
Michelle, a 43-year old, and recent newcomer to watching The True Cost documentary, said, "I'm now committed to buying previously-loved pieces. These fun, unique finds are sure to connect me to my creativity and compassion for others."
Localise the shop – 

In South Africa we have a saying that goes, "Local is Lekker" (Lekker is the Afrikaans word, meaning 'cool' or 'nice'). Pledge your allegiance to locally produced fashion by supporting only your local fashion industry in 2017. Easily done by purchasing from designers, tailors, independent retailers, and markets that can vouch for their commitment to fair labour and environmental practices!

Click the shop – 

Online shopping can be addictive when done thoughtlessly, yet purchasing from sustainable brands can really refocus your sense of style, ethical standing and selection discernment. Look out for sustainably focused online retailers who offer luxurious ethically produced pieces in animal-free fibers, with focus on fabrics like organic cotton, linen, tencel and upcycled materials.

Sell at the shop – 

I can really recommend this money generating resolution! The reason I'm able to commitment of 'Stop the Shop' this year, is by having sold my unwanted, ill-fitting, out-of-date, impulse-buys and never-worn, items via second hand stores. By witling down my wardrobe, and making money to boot, I've honed my wardrobe pieces to those I know can confidentially take me through 2017, stylishly.
So, which stylish resolution will make your action list?
If these 5 ideas all sound too daunting a start, remember becoming a more discerning shopper is a journey, not a destination. Because of this mantra, it's important to begin, whether that's in baby steps, like doing it for a month, or setting your own parameters.
Either way today presents a lovely opportunity to examine our ethics and revise our shopping habits to better suit our ideals for living.
Remember, whichever commitment you choose, and for whatever time period you select, you're sure to save money and time. Yet the biggest benefit will indeed leave you feeling liberated, and empowered in knowing that you're supporting a more sustainable fashion industry!
I'd love to hear your related thoughts, 2017 resolution ideas and comments.