Everyone's wild for greens these days! And with spring around the corner, ramping up your intake of leafy greens will make you feel cleaner and ready to leave those heavy (albeit comforting) winter meals behind.
Once you get into the leafy greens habit, it's hard to stop. And why would you? Greens are one of the most nutrient-rich food groupon the planet, boasting a multitude of benefits.
They're one of the best sources of Vitamin K, essential to bone health, and are abundant in vitamins A, B (especially folic acid) and C. Greens also provide a wealth of antioxidants and chlorophyll, are protective against cancers, and are anti-inflammatory. The hardier greens, like kale, chard, and collards, are superb sources of highly absorbable calcium, a perk that's especially valuable to vegans.
All of these are great reasons to eat more greens, aside from the fact that they're delicious, versatile, and add interest to all manner of preparations.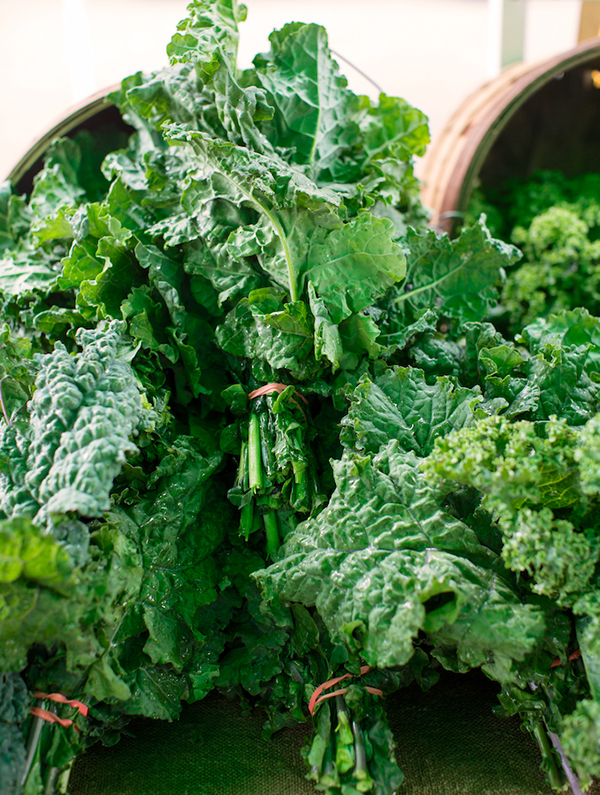 Here are a handful of ways to enjoy them every day:
Use greens in smoothies and juices.

 Some greens are better for this purpose than others. Spinach tastes so mild in smoothies and juices that your taste buds barely know it's there. Kale and collards are a bit more assertive but add a very mild green flavor to smoothies and juices. To make either juices or smoothies, a big handful or two of spinach or one or two good-size kale or collard leaves per servings is about right. Greens blend well with bananas, apples, berries, and pears. You'll need a high-speed blender (like Vita-Mix or BlendTec) to break kale and collards down smoothly; a regular blender is sufficient for spinach.
Use "massaged" raw kale in salads. Strip rinsed and dried kale leaves from their stems and chop into bite-size pieces. Place the cut kale into a serving bowl. Rub a little olive oil into your palm, then massage the kale for 45 seconds to a minute. It will soften up and turn bright green. To this, you can add all manner of other veggies and fruits, and dress any way you'd like. A simple formula that I've been enjoying for years: add dried cranberries, toasted or raw cashew pieces, vegan mayonnaise, and a little lemon juice. It's downright addictive. Massaged kale goes well with avocado, apples, pears, napa or red cabbage, carrots, pumpkin seeds, walnuts … what you combine it with is limited only to what happens to be in your fridge. It can be dressed in ordinary vinaigrette, sesame-ginger dressing, tahini dressing, and the aforementioned vegan mayo.
Add hardy greens to stir-fries. The best greens to use for this purpose are lacinato kale, collards, or chard. Strip the leaves from the stems (you can slice the stems from the kale and chard very thinly and use them again. Stack a few leaves atop one another and roll up snugly from a narrow end. Slice very thinly. This will make long, thin ribbons; cut them once or twice across to shorten. Add toward the end of your veggie stir-fries, as the greens cook down quickly. They blend well with all manner of veggies that you'd usually use in stir-fries—broccoli, cauliflower, carrots, celery, bok choy (itself a leafy green), asparagus, green beans, etc.
Use plenty of leafy spring greens in salads. Granted, this isn't a revolutionary idea, but look beyond lettuce to create invigorating warm-season salads. Use lots of peppery watercress (a nutritional superstar), baby bok choy, tender dandelion greens, tatsoi, and mizuna (the latter two are Japanese greens that have become increasingly available at farm markets and CSAs). Combine with baby green and sprouts, plus your favorite salad veggies and fruits, for cleansing (and clean-tasting) salads.
Learn to love the bitter greens. Add variety to your greens repertoire by getting to know escarole, broccoli rabe, and mustard greens. These greens mellow out considerably with gentle braising or when incorporated into soups and stews. The basics: Heat a little olive oil in a large steep-sided skillet or stir-fry pan; sauté as much chopped garlic and/or shallots as you'd like. Add washed and chopped greens, stir quickly to coat with the oil, then add about 1/4 cup water or vegetable stock. Cover and cook until tender and wilted down, about 5 minutes. Traditional additions to this kind of braise are raisins and toasted pine nuts, plus salt and pepper and if you'd like, a little apple cider vinegar.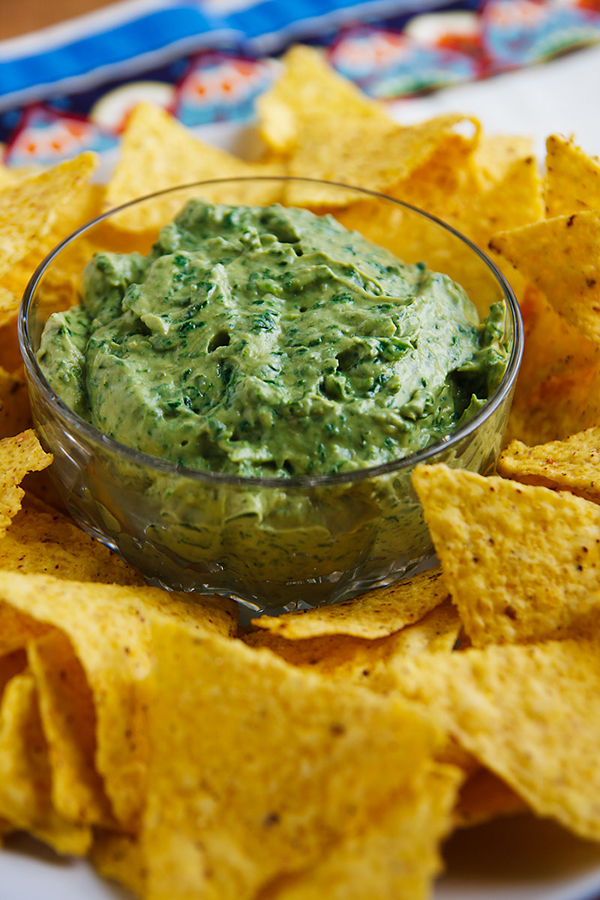 Very Green Avocado-Tahini Dip
Kind of a marriage of guacamole and hummus, and infused with a good amount of tender greens, this rich dip makes its own unique statement. In my many demos about leafy greens, I always make this recipe, and it's absolutely inhaled by the audience! Serve with tortilla chips, fresh pita, pita chips, raw veggies, or a combination.
Makes about 1 1/2 cups

Ingredients
3 to 4

ounces

baby spinach or arugula, or a combination

1

large ripe avocado, peeled and diced

1/3

cup

tahini, sesame paste

Juice of 1 lemon

1/2

teaspoon

ground cumin

2

tablespoons

minced fresh parsley, cilantro, or dill

Salt and freshly ground pepper to taste
Instructions
Rinse the greens and place in a large skillet or saucepan. With just the water clinging to the leaves, cook until just wilted down. Remove from the heat.

Place all the ingredients in the container of a food processor, and process until smooth. Add 1/4 water, as needed, to achieve a medium-thick consistency. Transfer to a serving bowl. Keep covered until ready to serve.

Serve at once as suggested in the headnote. Store any leftovers in an airtight container in the refrigerator for up to two days.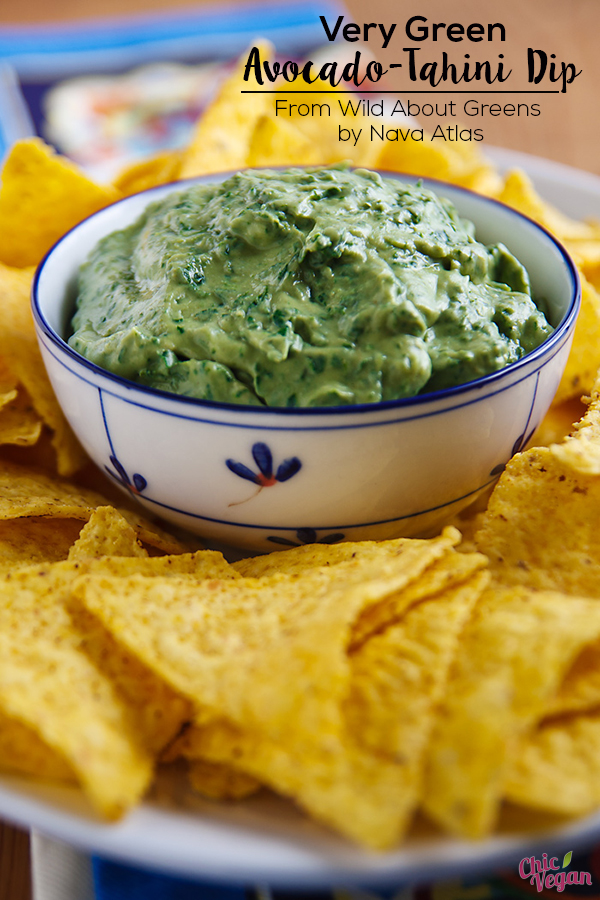 Greens photos by Hannah Kaminsky. Recipe photos by Susan Voisin.