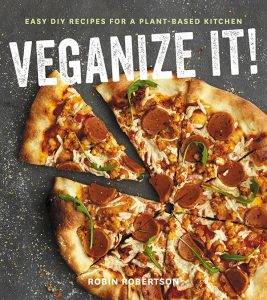 It's pretty easy to find vegan versions of foods such as milk, cheese, butter, mayo, sausage, and bacon these days, but that wasn't always the case. It used to be that if you hand a hankering for tasty dairy-free cheese or hearty seitan, you had to make it yourself. Robin Robertson went vegan in late 80s, and while she was pretty happy with cooking with vegetables, grains, beans, and nuts, she did find herself craving foods like pasta Alfredo and BLTs. So what's a chef to do? She made vegan versions at home, of course! And we're now in for a treat, because Robin has compiled all of her DIY recipes in her new cookbook Veganize It!
The benefits to making your own vegan staples at home are that you can control the ingredients they contain and that you'll save money in doing so. With Veganize It!, you can make your own milks, cheeses, bacon, burgers, sausages, butter, and even Worcestershire sauce.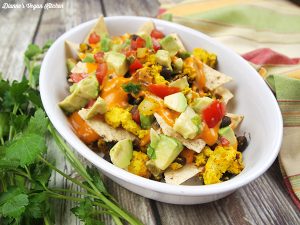 Robin starts the book with some basics, including a list of items to keep stocked in your pantry and a list of equipment that can be handy to have in the kitchen. The recipes in Veganize It! are categorized into type, so there's a chapter for dairy-free milks, sauces, and cheeses, and another one for plant-based "meats," such as a Best Bean Burgers, Mamas Meatballs, and Baked Seitan Roast. There's also a chapter dedicated to "seafood," a vegan "charcuterie" which is loaded with vegan versions of smoked meats, ad a section full of vegetable "steaks." Robin's also included a chapter for condiments and sauces, one for flour-based foods such as crackers and pastas, and another sweets.
The recipes Veganize It! include DIY basics as well as recipes to use them in. So once you've made Smoky Queso Sauce, you can pour it over Breakfast Nachos. After you've made your own milk, butter, and sour cream, you can use them in Mashed Potatoes with Sour Cream and Chives. You won't find recipes for things like hummus and salsa in Veganize It!, as they're already vegan, and this book is dedicated to vegan versions of foods that are traditionally animal-based. Some of my favorite recipes so far have been the Bacon-Topped Mac and Cheese, the Roasted Cauliflower Piccata, and the Creamy Cashew Mayo.
If you love to cook, are into DIY, want to save money, or are just interested in eating less meat, then Veganize It! is for you!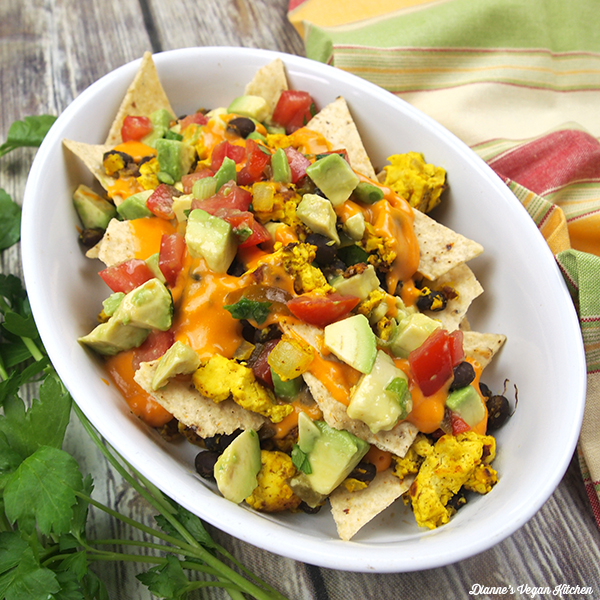 Breakfast Nachos
Nachos for breakfast is a fun way to start the day. Make the queso sauce in advance and the nachos will come together quickly.
Ingredients
1 tablespoon olive oil
1 small yellow onion, minced
2 garlic cloves, minced
3 scallions, chopped
12 ounces extra-firm tofu, drained and diced
½ teaspoon salt
2 tablespoons nutritional yeast
½ teaspoon ground cumin
1⁄4 teaspoon turmeric
1 ½ cups cooked or 1 (15-ounce) can black beans, drained and rinsed
1 large tomato, diced
1 jalapeno, seeded and minced
¼ cup chopped cilantro, plus more for garnish (optional)
1 tablespoon fresh lime juice
1 ripe avocado, peeled, pitted, and diced
1 recipe Smoky Queso Sauce (below), kept warm
1 (13-ounce) bag restaurant-style tortilla chips
Instructions
Heat the oil in a large nonstick skillet over medium-high heat. Add the onion and cook for 3 minutes, then add the garlic and scallions and cook 2 minutes longer. Add the tofu and salt, and cook, stirring, for 5 minutes. Stir in the nutritional yeast, cumin, and turmeric. Taste and adjust the seasonings if needed. Stir in the beans, cover, and keep warm.
In a medium bowl, combine the tomato, jalapeno, cilantro, and lime juice. Season with salt to taste and mix well. Gently stir in the avocado.
To assemble, spoon a thin layer of the sauce on the bottom of a large plate. Place half of the chips on top of the sauce. Spoon half of the sauce on top of the chips, followed by half of the tofu and beans, and then half of the salsa. Top with the remaining chips and repeat with the remaining ingredients. Serve immediately, garnished with additional cilantro, if using.
Notes
Text excerpted from VEGANIZE IT! © 2017 by Robin Robertson. Reproduced by permission of Houghton Mifflin Harcourt. All rights reserved.
Smoky Queso Sauce
This easy-cheesy sauce is great for nachos or folded into cooked pasta for a zesty mac and cheese. If chopped pimientos are unavailable, you can substitute 3 tablespoons chopped roasted red bell pepper.
Ingredients
1 (2-ounce) jar chopped pimientos, drained
1 teaspoon canned chipotle chiles in adobo sauce
⅓ cup nutritional yeast
3 tablespoons cornstarch
½ teaspoon smoked paprika
½ teaspoon mustard powder
½ teaspoon onion powder
½ teaspoon garlic powder
1 teaspoon salt
1 tablespoon olive oil
2 teaspoons fresh lemon juice
2 teaspoons rice vinegar
1 ½ cups plain unsweetened almond milk or water
Instructions
Combine all the ingredients in a blender and blend until smooth.
Transfer to a saucepan and cook over medium heat, stirring constantly, until thickened, about 5 minutes. Taste and adjust the seasonings, if needed. Use as desired.
Review reprinted with permission from
Dianne's Vegan Kitchen