I was tooling around in the kitchen making versions of chickpea bacon, but multiple people told me these taste like BBQ chickpeas instead of bacon. No loss, eh? These are absolutely fantastic for snacking on. You may want to make a double batch, as these are super addictive! They make a great salad topping.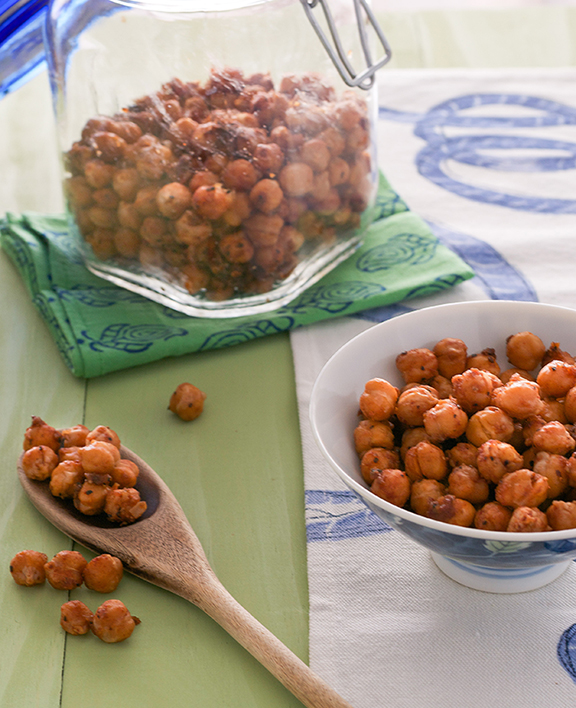 BBQ Roasted Chickpea Snack
Makes 4 servings
Ingredients:
1 tablespoon liquid smoke
1/2 teaspoon toasted sesame oil
3/4 teaspoon ground black pepper
1/2 teaspoon smoked paprika
1/2 teaspoon nutritional yeast
1/2 tablespoons pure maple syrup
1 1/2 teaspoons dry sherry
1 tablespoon tamari or Bragg Liquid Aminos
1/4 teaspoon onion powder
1/8 teaspoon garlic powder
1 (15.5-ounce) can chickpeas, drained, well rinsed and then blotted dry with a clean kitchen towel
Preparation: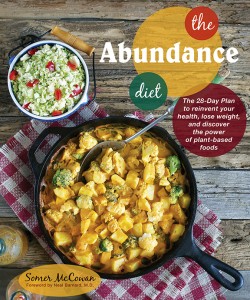 Preheat the oven to 450°F. In a medium bowl, stir together the liquid smoke, sesame oil, black pepper, smoked paprika, nutritional yeast, maple syrup, sherry, tamari, onion powder, and garlic powder. This is your marinade. Add the chickpeas to the marinade and stir to coat.
Transfer the chickpeas and marinade into an 8×8-inch baking dish lined with parchment paper. Bake the chickpeas for 15 to 20 minutes, stirring once or twice. The chickpeas will get crispier as they cool. Store in a lidded container in the refrigerator. These are even better, if possible, on the second day.
Recipe from The Abundance Diet, © 2015 by Somer McCowan. Photo by Ann Oliverio. Used by permission from Vegan Heritage Press LLC.