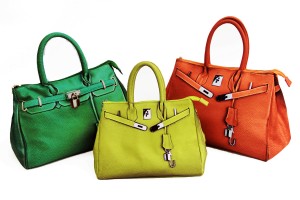 Choices for eco-smart, cruelty-free bags used to limited to just hemp and canvas, but not anymore! With a commitment to saving the environment, The Underground Chic is making fashionable handbags that are made from recycled plastic bottles, proving that it's possible to be eco-friendly and fashionable.
Based in NYC, The Underground Chic's founders noticed that there was a lack of companies supplying sustainable yet fashionable handbags, and they decided to fill the void. They have found their niche by providing affordable style alternatives that are cruelty-free, vegan, reduce the environmental impact and recycle the earth's natural resources creatively, intelligently and responsibly.
The Underground Chic's 'Birkin' style handbags look good on anyone's arm without the back-breaking price tag. All of their bags are made 100% RPET, which is a polyester made from recycled plastic bottles. It may appear that these bags are made out of leather and are covered in metal hardware, but on closer inspection you'll see that the texture and most of the details are actually printed on the bags.
My Samantha bag is lightweight and roomy, with enough space for all of the items that I usually carry around, including my camera. (Because what food and fashion blogger leaves the house without her camera?) My laptop would surely fit inside too, if I needed to do any blogging on the go. Inside there are pockets for my iPhone and keys, satisfying my need to be organized at all times. There's a detachable shoulder strap, so that I can carry it over the shoulder or by hand.
The Underground Chic's bags come in a variety of sizes, from large handbags to small cosmetic bags, and they're available in bright, cheery, fashion forward colors such as Citrus, Grassy Green, Nautical Blue, and Turquoise.
The Underground Chic takes being an eco-conscious company seriously and they feel it is their responsibility to contribute towards protecting and respecting our environment. They have partnered with Trees for the Future, and for every handbag or cosmetic bag purchased a tree is planted. How's that for eco-friendly?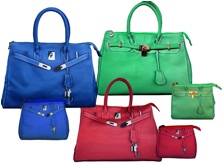 The Underground Chic bags are available at www.theundergroundchic.com and retail for $32-$125, however, Chic Vegan readers will receive a 20% discount when they enter the coupon code chicvegan at check out. Discount expires December 31, 2013. The Underground Chic handbags make holiday gifts, so start your shopping now!