With NFL playoff season in full swing, lots of us are making plans to get together with friends to watch the Puppy Bowl Big Game. While the menu at gatherings like this typically consists of pizza, wings, and jalapeno poppers, vegans need not miss out on all the fun! Why not bring along a fun, football-themed treat to share?
Enter The Perfect Football Party Pie.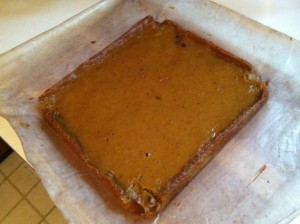 This pie is so super-easy to make!  All you need to do is combine your favorite recipe for a vegan graham cracker crust and your favorite recipe for a vegan pumpkin pie filling.  I snagged both from this recipe for Pumpkin Pie Squares with Graham Cracker Crust from Angela Liddon's blog, Oh She Glows.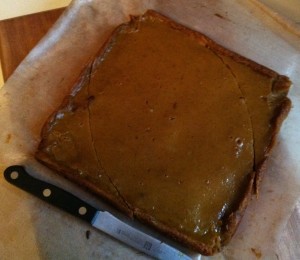 Bake your pie filling on top of your crust, and after it has cooled and set (be warned that this likely will require it to be chilled overnight), carefully remove it from the pan and set it on top of a piece of parchment paper on a sturdy cutting board.
Next, slowly and carefully cut off two of the corners in sort of a rounded boomerang shape until you have a football! 
For the laces, you can use storebought vegan whipped topping, or make coconut whipped cream like I did, and just pipe it right on there! I followed the method described in this tutorial for Coconut Whipped Cream, also by Angela Liddon.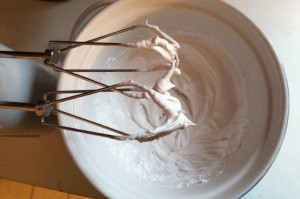 I can assure you, it's worth the effort!  But if vegan whipped cream is not in the cards, I bet storebought vanilla frosting would also work.  I recommend serving any excess whipped cream in a bowl alongside the pie so that people can add more as desired to individual slices.
One note: I had trouble finding vegan graham crackers (i.e., ones made without honey) and didn't feel like (or really have time for) making my own, so I actually ended up going with a vanilla cookie crust instead.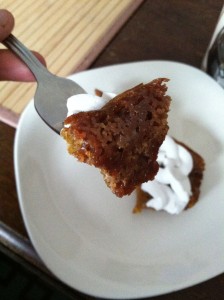 All I did was sub in Mi-Del Vanilla Snaps for the graham crackers in the recipe. The flavor and texture went perfectly with the filling! I bet chocolate or ginger cookies would taste great too.
This really is a dish that will be appreciated by a mixed crowd. I brought it to a tailgate for a playoff game last weekend and it was a huge hit with everyone, regardless of dietary preference.  So enjoy, and happy viewing!