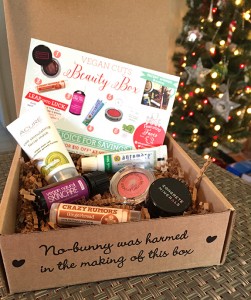 January can be a bit of a bummer. The holidays are over, it's super cold outside, and the sun sets before your evening commute even begins. Those winter woes can be cured with a Vegan Cuts Beauty Box subscription. Since you never know what you're going to find inside the box, it almost feels like Christmas all year round!
The Vegan Cuts Beauty Box is a subscription service that delivers a box of 4 to 7 sample size (or sometimes even full-sized!) beauty products to your door every month. It's a great way to try new-to-you cruelty free skincare products and cosmetics without spending a lot of money. If you like what you've tried, you can purchase the full-sized counterpart from the Vegan Cuts Marketplace.
My December Beauty Box arrived right before Christmas, and it really did feel like a gift, as I was thrilled with all of its contents!
The December Vegan Cuts Beauty Box Contained: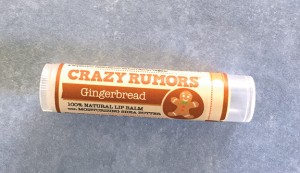 Crazy Rumors Gingerbread Lip Balm – I think Crazy Rumor is my favorite brand of vegan lip balm. These balms made with 100% natural ingredients like macadamia oil and shea butter, because who wants to put nasty chemicals on their lips? I love that they come in so many delicious flavors, too. They don't taste "fake" at all, and this gingerbread balm will keep me thinking about Christmas for months to come!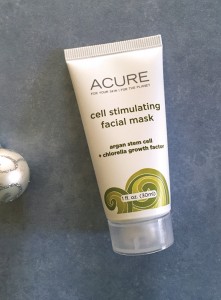 Acure Cell Stimulation Facial Mask – I was introduced to Acure through the Beauty Box a few years ago when I received an amazing smelling shampoo sample, and I've been a fan of the brand ever since. This facial mask is formulated to regenerate, repair, firm and soften the skin. It contains French Green Clay to draw out impurities, as well as Moroccan Argan Oil, CoQ10 and Seabuckthorn Oil to moisturize.
Auromère Ayurvedic Toothpaste – I will admit that I originally wasn't too thrilled with the idea of ayurvedic toothpaste. I thought it might taste like fennel or coriander, but I was wrong, as it has a pleasant mint flavor. This toothpaste is made 23 different botanicals, such as neem, Indian licorice root, and pomegranate rind, and is formulated to freshen breath and leave teeth squeaky clean.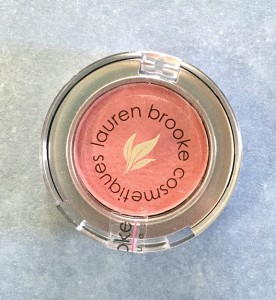 Lauren Brook Cosmetiques Pressed Cheek Color – I was running dangerously low on blush, so I was really happy to find this the Beauty Box this month. The color, which is called "Sweet Sixteen", is perfect for my skin tone, and the powder glides on smoothly and evenly. It may sound trivial, but I also love that this comes in a round compact, as my last one was in a square container, and I ended up wasting a lot of the powder that was in the corners, since my blush brush couldn't get into such small spaces. This also stays put and doesn't rub off, like my previous blush did.
Concrete Minerals Eye Shadow – This loose powder is super soft and highly pigmented. Unlike other mineral makeup brands, it doesn't contain any nasty preservatives like parabens or cheap fillers like talc and bismuth oxychloride. I received a color called "Smut" which is a dark shimmery bronze-like color with pink-purple undertones. It seemed too dark for my pale skin when I first opened it, and I originally thought that I'd give it to a friend. After reading other reviews online, however, I decided to give it a try. I'm so glad I didn't give it away, because it's fabulous! It doesn't look too dark at all, and it complements my blue-green eyes very nicely. After seeing it in action, I think it would probably look good with just about any skin tone and eye color.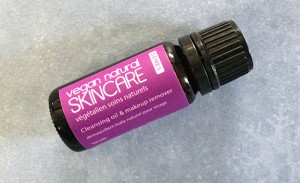 Demes Cleansing Oil and Makeup Remover – It may seem counterintuitive to wash your face with oil, but when you think about how harsh cleansers can strip the skin of its natural oils, it begins to make sense. In this cleansing oil, olive and castor oils are blended with essential oils to remove makeup and gently cleanse the skin. While this oil didn't remove all of my waterproof liquid eyeliner, it did cleanse the rest of my face very nicely, leaving it feeling soft and moisturized.
The Vegan Cuts Beauty Box is available as a monthly subscription, which means that once you sign up, a box of new goodies gets delivered to your door every month. If you like the samples in your box, you can order their full-sized counterpart from the Vegan Cuts Marketplace.