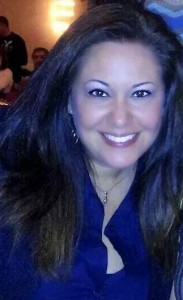 Chic Vegan contributor Adrienne Borgersen is the beauty and the brains behind It Factor Image Consulting, where she specializes in eco-chic and vegan fashion for men and women.
Chic Vegan – How long have you been a vegan?
Adrienne Borgersen – January 1, 2014 will be my 6-year "veganversary."
CV – Who or what inspired you to make the change to a vegan lifestyle? 
AB – My inspiration was always the animals.  I grew up like most other people in this country never making the connection between loving my pet animals and eating others.  I never was taught or considered that animals used for food, sport or entertainment suffered.   After college in the 80s, when I began to spend more time in Manhattan, rather than my native Queens, NY, I met people who were vegetarians, and I became exposed to the notion that all animals deserve to live.  So I stopped eating meat. 
My parents were concerned about my health, but knowing they raised a stubborn, independent thinker they kept an eye on me and let me figure it out for myself.  I lived as a vegetarian on and off for about 20 years.  I'm not sure I even knew or understood what a "vegan" was until late 2007, when I picked up the book Skinny Bitch.  There I learned about the horrific dairy and egg industries.  I became a dietary vegan the following New Year's Day.  I'm sure it's the only New Year's resolution I ever kept.   That year, I connected everything else about clothing, beauty products, sports, entertainment and animal testing and became truly immersed in the vegan lifestyle.  I feel like I woke up!
CV –  If you could give someone who's thinking of going vegan advice, what would you say?
AB – This has happened quite a few times recently, because I post a lot about the animal and health aspects of veganism on Facebook.  Some friends scoff or ignore or downright fight me on it, but many ask questions and some want to try being vegan.  It's very encouraging!  I always tell them to take it slowly. The natural (never mind artificial) hormones in animal products are addictive.  Therefore eliminating meat, dairy and eggs can be like overcoming an addiction.  It is a physical and psychological transformation.  If you're lucky, it's emotional, too!  I agree with Kathy Freston in that it's better to ease into the transition so it sticks.  
I recommend reading books like Skinny Bitch, The Food Revolution, The China Study and Main Street Vegan.  I also recommend trying Meatless Monday, 21-Day Vegan Kickstart , and now there is the 5-Day Ghost-Free Journey.  Then I make myself available to answer any question they may have, at any time.   One of the reasons I decided to get certified as a Vegan Lifestyle Coach & Educator is to be sure I could correctly answer anyone's questions.
CV –  Let's talk beauty. What's your favorite cruelty-free product?
AB – Oh, I have so many favorites!  First, I'll give you my best tip:  the best beauty products are organic coconut oil and apple cider vinegar.  No chemicals, no animal testing, no indecipherable and expensive ingredients. The oil works as a deep conditioner for your hair, tames frizzies and is a great facial moisturizer.  It absorbs quickly, doesn't clog your pores and doesn't leave any residue or scent.  It makes your skin glow.  Oil pulling keeps your teeth white, germs in your mouth at bay.  The vinegar also cleans, conditions and softens your hair, and works great as an astringent. 
My personal favorite commercial product is tarte's skinny smolderEYES Amazonian clay waterproof eyeliner in Onyx.  It goes on smooth, it's really dark and it doesn't smudge.  It's very rock and roll.  This eyeliner is part of tarte's vegan-friendly collection and has the cruelty-free bunny seal of approval, which also rocks!
CV –  Where are the best vegan bargains?
AB – There are bargains everywhere!  Aside from coconut oil and apple cider vinegar, NYX and e.l.f. makeup are both cruelty-free brands and super cheap.  For fashion finds, visit vintage stores, consignment shops, flea markets, eBay & Etsy.  Stores like Burlington Coat Factory, Loehmann's and TJ Maxx carry discount designer clothing in synthetics, cotton, linen and polyfill options, but you have to visit often and dig through the racks.  For food, every supermarket carries rice, beans, fruits, vegetables, herbs and spices – all vegan and all cheap!    
Online, I love veganchic.com for shoes.  They've revamped recently to include discounts on some of my favorite designers like Olsenhaus, Cri de Couer and Mink.
The best vegan bargain of all…be healthy on a vegan diet and save on doctor bills!