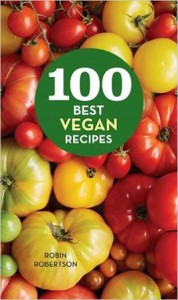 I don't know how she does it, but Robin Robertson has written yet another cookbook! 100 Best Vegan Recipes is her newest book, and it contains 90 of her favorite recipes from the best selling 1,000 Vegan Recipes along 10 that are brand new.
For those who are new to vegan cooking, 100 Best Vegan Recipes is a good book to have on hand. In it, Robin gives six steps to transitioning to a vegan diet, as well as tips on healthy eating. She also gives tips on how to simplify the cooking process, as well as lots of for those who might know their way around the kitchen. There's advice on stocking your vegan pantry, as well.
For those who are vegan cooking veterans, 100 Best Vegan Recipes offers 100 recipes to add to your repertoire. There are recipes for everything from snacks and appetizers to lunches, salads, and main dishes. All of the recipes use fresh, whole-food ingredients that are easy to find in just about any grocery store. I've made a few dishes from 100 Best Vegan Recipes, and I had almost all of the ingredients for each one on hand in my pantry already. All of them were quick and easy to make, and all were super tasty!
I'm going to have to admit that books like 1,000 Vegan Recipes kind of intimidate me, because there are just too many choices, so I'm glad that Robin has pared things down and given us her favorites in 100 Best Vegan Recipes. This is a perfect go-to book for those nights when you don't have much time to cook or when you're not sure what to make for dinner.
I have a copy of 100 Best Vegan Recipes for one lucky winner. Be sure to enter the giveaway after the recipe!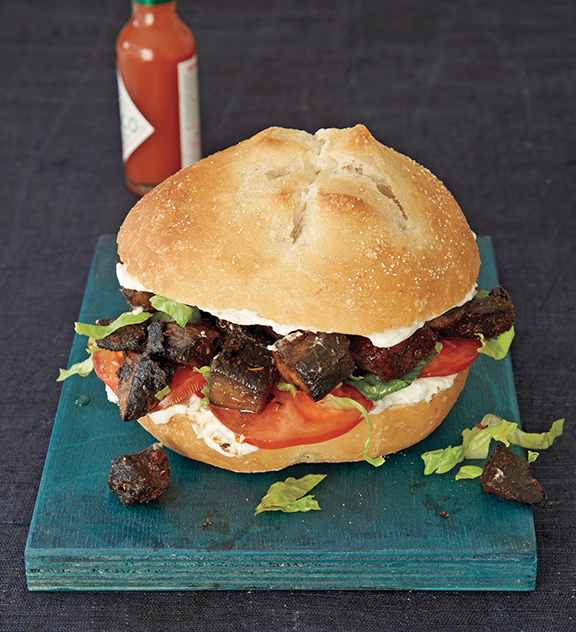 Portobello Po'boys
Serves 4
Juicy chunks of portobello mushrooms replace the traditional oysters in this flavorful interpretation of the Southern classic. Leave the Tabasco bottle on the table for anyone who wants an extra splash.
Ingredients
3 tablespoons olive oil
4 portobello mushroom caps, cut into 1- to 2-inch pieces
1/2 teaspoon Cajun seasoning blend
Salt and freshly ground black pepper
4 crusty sandwich rolls
Vegan mayonnaise, for spreading
4 tomato slices
1 1/2 cups shredded romaine lettuce
Tabasco sauce, for serving

Preparation
Heat the oil in a large skillet over medium heat. Add the mushroom pieces and cook until browned and softened, about 8 minutes. Add the Cajun seasoning blend and salt and pepper to taste.
Spread the rolls with mayonnaise. Place a tomato slice on the bottom of each roll, and top each with some of the shredded lettuce. Arrange the mushroom pieces on top, sprinkle with Tabasco, and top with the roll tops.
Excerpted from 100 BEST VEGAN RECIPES, © 2016 by Robin Robertson. Used with permission of Houghton Mifflin Harcourt. All rights reserved. Photo ©Lucy Schaeffer.
We have a copy of 100 Best Vegan Recipes for one lucky winner! Follow the instructions below to enter. Contest ends at midnight eastern time on May 15th, Good luck!
Review reprinted with permission from Dianne's Vegan Kitchen.