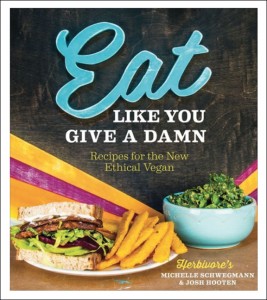 Entrepreneurs and ethical vegans Michelle Schwegmann and Josh Hooten first satisfied their passion for saving animals by designing and selling a successful line of clothing that promoted cruelty-free ethics: Herbivore. Inspiring people to eat like they give a damn, Michelle and Josh share over 100 recipes for their favorite everyday vegan dishes, which they've tucked into Eat Like You Give a Damn, a book that reflects their art and ethics. Their recipe list is anchored with a panoply of comfort foods, such as hot soups and chili, mac 'n'cheese, and sweet potato fries, all served up with a touch of whimsy. An Elvis Quesadilla with Maple-Yogurt Drizzle crosses paths with Praise Seitan Vegan Roast and Oma's Full of Beans. Roasted Beet Burgers sidle up to Only-Kale-Can-Save-Us-Now Salad and Pesto-Parmesan Corn on the Cob. With ample helpings of sass and heart, the authors intersperse their recipes with treatises on why vegan and how vegan. In addition, the authors provide support for vegan parents of vegan children and anyone who wants to indulge in the meat- and cheese-based foods they grew up loving, without sacrificing any animals to enjoy them.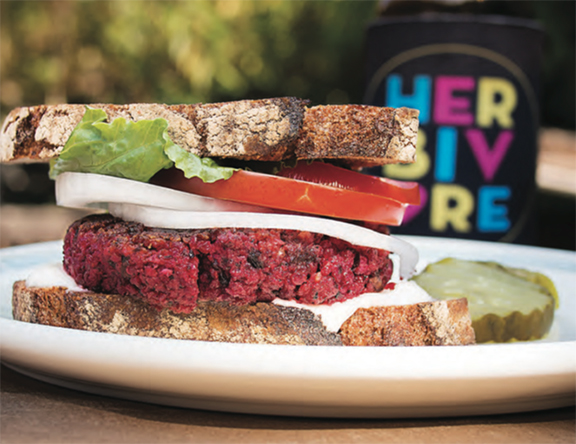 Roasted Beet Burgers
Everything about these burgers is delicious. We've fine-tuned them that way through months of enjoyable recipe testing. Roasting the vegetables and tofu makes them taste incredible, and beets make the meatiest-looking veggie burger ever. There is no need to chop the vegetables uniformly or in small pieces, because you'll be using a food processor to make the ground "meat," so the prep work is super easy.
Ingredients
2 cups quartered crimini mushrooms
1 1/2 cups coarsely chopped beet (see tip)
1/3 cup coarsely chopped onion
4 large cloves garlic, coarsely chopped
1 pound super-firm or extra-firm tofu, drained and pressed
2 tablespoons olive oil
2 tablespoons reduced-sodium tamari
2 teaspoons dried thyme
1 cup cooked quinoa, farro, or brown rice
1/4 cup nutritional yeast flakes 1/2 teaspoon salt
1/4 teaspoon freshly ground black pepper
Preparation
Preheat the oven to 400 degrees F. Line a baking sheet with parchment paper.
Put the mushrooms, beet, onion, and garlic in a large bowl. Using your hands, crumble the tofu into the bowl, making sure to break up the pieces well, and stir to combine. Add the oil, tamari, and thyme and mix well. Spread the mixture on the lined baking sheet so it covers the whole sheet. Bake for 20 minutes. Stir and spread out the mixture again. Bake for 25 minutes longer, until the beet is tender and easily pierced with a fork. Remove from the oven and let cool slightly.
Transfer to a food processor. Add the quinoa, nutritional yeast, salt, and pepper. Pulse eight to ten times, stopping occasionally
to scrape down the work bowl, until all the ingredients are well chopped and stick together. Return the mixture to the large bowl. Form into 6 patties, putting each patty on waxed paper as it's shaped.
Mist a large skillet (cast iron if you have one) with cooking spray and heat over medium heat. When hot, cook the patties until crispy (in batches, if necessary), about 5 minutes per side.
Tip: Use a beet about the size of a baseball. Scrub it well so you can leave the skin on.
Recipe and photos from Eat Like You Give a Damn by Michelle Schwegmann and Josh Hooten. ©2015 Michelle Schwegmann and Josh Hooten. Used by permission from Book Publishing Company.