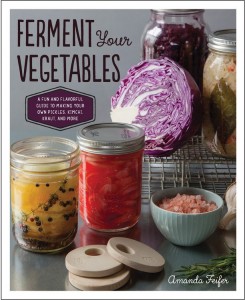 Fermenting vegetables seems like both a fun thing to do and a daunting task. Will it get moldy? Will I ruin it? Will it kill me? It's something I've wanted to learn how to do for a while, but it seems scary and difficult. Fortunately I now have Ferment Your Vegetables by Amanda Feifer to teach me the ropes.
In Ferment Your Vegetables, author Amanda Feifer explains exactly what fermentation is and how it differs from culturing. She also explains why you should ferment your veggies: for health benefits, to increased flavor, and to prevent food spoilage. She also explains how safe fermented foods are, setting aside my unease about the process.
Amanda explains just how easy fermenting is – you just need to know a few basics and you need a few pieces of equipment. She shares her tips for successful fermentation, as well as some things to expect. There's also a section on troubleshooting that includes frequently asked questions about fermenting.
The fermenting recipes section starts out with very easy, can't-mess-this-up, recipes for pickles, and then it goes into kraut, kimchi, sauces, salsas and condiments, and it ends with kvass, which is a fermented beverage. I love that recipes to use your fermented veggies are included alongside the fermenting instructions. Not sure what to do with your Curried Cauliflower Pickles? Make Curried Cauliflower Picnic Salad! Most of the recipes are vegan, and those that aren't can be easily veganized.
The final section of the book has instructions on how to ferment larger batches of veggies in crocks, as well as how to ferment without salt.
In Ferment Your Vegetables, Amanda Feifer takes the scariness out of fermenting, and shows just how fun and easy it really is. This book is perfect for those who've wanted to learn how to safely preserve their food, as well as veteran fermenters who are looking for new ideas and recipes.

Carrot Cake Kraut
A few years ago, I started referring to some of my krauts as "dessert krauts." Some find that funny until, that is, they devour the kraut in question. The concept of dessert kraut may not be fully intuitive, but somehow, it works. Abandon sugar cravings, all ye who make this kraut.
Ingredients
1 3/4 pounds (790 g) cabbage
2 carrots
1 tablespoon (18 g)­ kosher salt
1 inch (2.5 cm) piece of ginger, unpeeled and grated
1 teaspoon (2.5 g) ground cinnamon
½ teaspoon (1 g) ground nutmeg
½ cup (55 g) pecans,coarsely chopped
1/4 cup (35 g) unsweetened raisins
Preparation
Remove any unattractive or wilted outer leaves from the cabbage. Cut out the core. Shred the cabbage into 1/4-inch (0.5 cm) wide strips and grate the carrots. Place both in a large bowl, add salt, and toss and squeeze until the cabbage has a sheen of moisture on it.
Gently massage and squeeze the cabbage, or let it sit for a bit, to make the work easier, until there is a visible puddle of water in the bottom of the bowl.
Add the ginger, cinnamon, nutmeg, pecans, and raisins and continue to massage, mixing them in as you go, until the cabbage pieces stay in a clump when squeezed.
Press the mixture into a clean quart (1 L) jar using the top of your fist and your fingers to pack it along the sides and bottom. Stop packing when the jar is full to 2 inches (5 cm) below the rim. If you need more space, press down on the cabbage in the jar and tilt the jar to pour the cabbage liquid back into the bowl.
Pour the liquid from the bowl into the jar to cover the cabbage. Leave at least 1 inch (2.5 cm) of headspace at the top of the jar. Using your preferred method weight the veggies down and cover your jar.
Allow to ferment at room temperature for 2 to 4 weeks. Check weekly to make sure that the brine is still covering the cabbage. If it isn't, press down on the weight to raise the brine level.
Once you're happy with the acidity, remove the weight, secure the lid, and place the jar in the fridge.
Yield: 1 quart (900 g)
Recipe from Ferment Your Vegetables by Amanda Feifer c/o Fair Winds Press, an imprint of Quarto Publishing Group