October is a month that combines all the best fall has to offer–beautiful foliage, crisp (but not yet cold) days, football, pumpkin spiced everything, and of course, Halloween!
Who doesn't love Halloween?  I mean, how often do adults actually have a chance to dress up, eat sweets, and act like kids for a day?  And, contrary to popular belief, Halloween is a very easy holiday to enjoy as a vegan!   Here are some tricks and treats to celebrate this holiday the vegan way.
For trick-or-treaters
To please those adorable imps at your door, you're probably going to have to resort to some sort of commercially-prepared handout, as their parents are unlikely to accept your handmade vegan truffles (as delicious as they are!).
Unfortunately, the majority of supermarket and drugstore offerings this time of year always seem to center on  "fun-sized" sweets of the milk chocolate persuasion.  As a vegan, it's a safe bet that you don't want to subsidize the dairy industry by giving out these products to children who come to your door.
The good news is that there are a number of "accidentally vegan" commercial candies available!  These include classics like Smarties, Airheads taffy, Dots, Dum Dums, Jolly Ranchers, Now and Laters, Skittles, Sour Patch Kids, Swedish Fish, and Twizzlers.  If you have a little extra cash you could even spring for vegan chocolate bars or Justin's Dark Chocolate Peanut Butter Cups. (For a comprehensive list of commercial candies that are free of animal ingredients, check out this website.)
Trick-or-treaters might also appreciate other fun snack foods (like pretzels or chips) or sweet treats like mini-Oreo packs, Nutter Butter bites, Cracker Jacks, Teddy Grahams (the chocolate and cinnamon varieties are vegan), or Back to Nature chocolate chunk cookies, or even healthier fare like Luna bars or Clif bars.  Don't be afraid to think outside the box.  They're just happy to be getting free sweets!
For Halloween parties
Cupcakes and cookies are always a welcome addition to any bash, so if you are hosting or attending a Halloween party, this is where you can get a little creative!  The Internet  (especially Pinterest!) is absolutely packed with ingenious and adorable ideas, but here's one you can start with:
Spooky Skull Cakes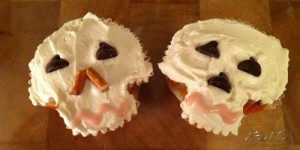 Start by mixing up a batch of your favorite vegan vanilla cupcake recipe.  I chose Golden Vanilla Cupcakes from Vegan Cupcakes Take Over the World by Isa Chandra Moskowitz and Terry Hope Romero (recipe printed here).
To make the skull shape, place cupcake liners in the tin as usual.  Fill each liner with a small amount of batter (less than 1/4 full) in order to weight it down a little.  Then, use small dried beans (such as navy beans, shown) to push in each side of the lower half of the cupcake liner, like so: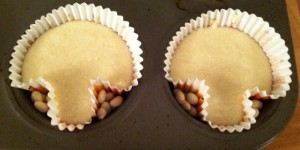 You probably don't need more than 5-6 beans per side.  Also, be careful not to drop any dried beans into the batter!
Once shaped, fill the liners the rest of the way with batter and bake as usual.  After the cupcakes are completely cooled, frost them with your favorite vegan icing (homemade or storebought).  I made Fluffy Buttercream Frosting, also from Vegan Cupcakes Take Over the World.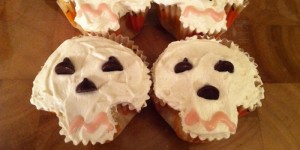 Make the faces out of whatever your heart desires!  I used pretzels and chocolate chips for the eyes and nose, but nuts, dried fruits, or other vegan candies would also do the trick.  To make the mouths, I just mixed a teaspoon of pomegranate juice with 2 tablespoons of confectioners' sugar and piped it right on.
Super-simple, and delicious too!  These went over great at the office and I am confident that they'd be a hit at a Halloween bash as well.
Happy Vegan Halloween!