I am the author of three vegan cookbooks, mother to three children, guardian to three cats, and wife to one husband. Over the past year I have been contemplating, and even reducing and refusing, plastic in my life, and over the course of this time it has dawned on me how difficult it is to be vegan and plastic-free.
Take for instance our protein choices – tofu, seitan and beans. We can certainly purchase dry beans from the bulk section of our grocery store, but how many grocery stores sell gmo-free tofu that isn't packaged in plastic containers? Seitan we can purchase prepared – packaged in plastic – or make our own – using vital wheat gluten that comes packaged in plastic bags. I don't know about you, but I am not looking forward to making my own gluten flour from bulk-purchased whole wheat flour.
Then there is nondairy milk, all packaged in cartons that are coated with plastic. Bread comes sliced and ready to eat out of plastic bags and nondairy cheese is more often than not packaged in plastic as well. Cans come lined with plastic, pasta is in plastic and even leafy greens are contained in plastic boxes, wrapped in plastic bags or bound with ties made of plastic.
But why even avoid plastic in the first place? After all, there is a reason why it is so much a part of our lives. In fact, plastic is everywhere and in almost everything. How did this happen? A little more than 100 years ago we had practically no plastic in our lives, now, as it turns out, we are so surrounded by plastic that each and every one of us actually has plastic contained inside of us. We are, to some extent, made of plastic.
Why adopt a plastic-free lifestyle? Mostly for the same reasons you are vegan (or should be!) For the health of yourself, your family, the animals and your planet. Simple enough, right? While you should be doing your due diligence in researching this topic via well-known published books (Plastic Free or Plastic: A Toxic Love Story) or videos (Bag It, Plastic Planet, Plastic Paradise and many more!) here are a few reasons to get you started.
Yourself.
Endocrine Disruptors, just to name one disturbing result/product that comes via eating/drinking from and, possibly, wearing plastics. Bisphenol A is something most of us have heard of by now, but it isn't the only endocrine disruptor in plastics. There are many more because of the way plastics are made to give them their specific characteristic nature such as flexibility and thickness. Endocrine disruptors are hormone altering chemicals. And that is just the tip of the iceberg.
Your Family.
See above.
The Animals.
In addition to the above, which also affects all the animals everywhere because of the ubiquitousness of plastics, certain animals see plastic as food. Since it is not, they die. The albatross on Midway is just one tiny example.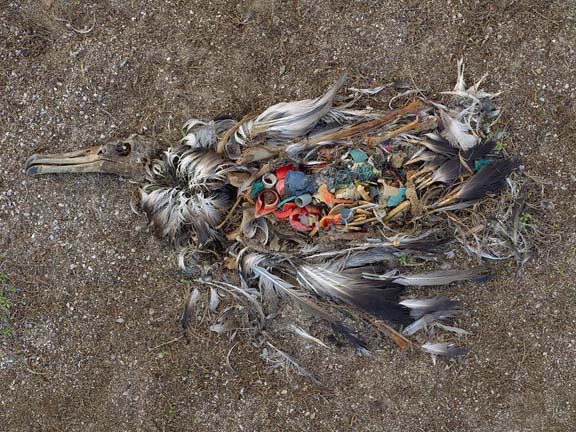 Your Planet.
Plastic doesn't just go away. It goes somewhere, and that somewhere is planet earth. I need not tell you that the earth is finite and because we are producing 300 million tons of plastic each year, and because the plastic hangs around for god knows how long, we are in a deep pile of plastic shit.
Here are more plastic statistics you always wanted to know, but were afraid to ask.
Feeling overwhelmed?
Of course the list does go on and on, with seemingly no relief in sight, but that's not what this series is about. It is about a journey that I hope you will consider taking with me on a quest to becoming as plastic-free as we can be. And just like the journey to veganism, it can be an all-at-once, instant deal or a trek through many obstacles on the way to accomplishing as much as we possibly can. The goal isn't perfection, but to do the best we possibly can do; to aim and reach the limit of that possibility and then look beyond the horizon and do even more.
This week's assignment: mindfulness. Be aware of every plastic item you touch over the next seven days. That computer board you are typing at, the television screen you watch, the straw you drink from, the phone you talk on, the bag you hold, the clothes you wear, you get the picture. I could offer a different assignment: don't touch anything plastic for a single day, but that just won't be possible, so instead, let's practice awareness of the sheer amount of plastic that surrounds just ourselves.