This potato soup is hearty, comforting, super easy to make, and loaded with all your favorite potato bar fixings. Eat it when there's a chill in the air, and you'll feel warm and cozy.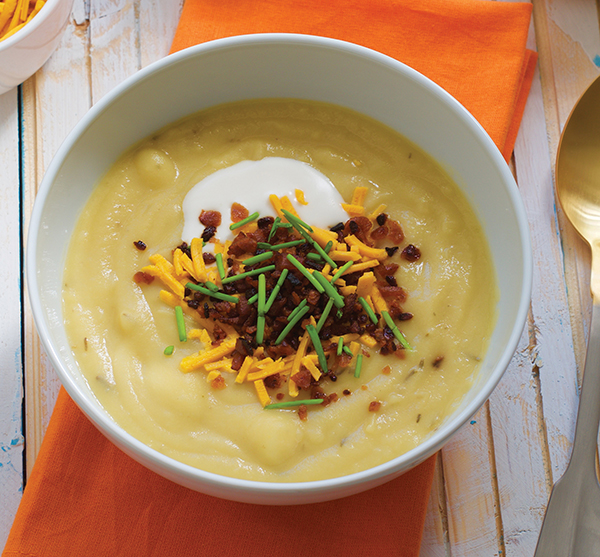 Loaded Baked Potato Soup with Vegan Bacon
Makes 4 servings
Ingredients
2 tablespoons olive oil
1 medium onion, finely chopped
2 cloves garlic, minced
4 russet potatoes (2 pounds), peeled and cut into 3/4-inch dice
2 cups vegetable broth
2 cups plain unsweetened almond or soy milk
1 teaspoon dried rosemary
Salt and ground black pepper, to taste
For serving
Vegan sour cream
Fresh chives, chopped
Vegan shredded cheddar cheese
Cooked chopped vegan bacon or Baconish Bits (recipe follows)
Heat the oil in a large pot over medium-high heat. Add the onion and garlic and sauté for 5 minutes, or until softened. Add the potatoes, broth, almond or soy milk, and rosemary. Bring the soup to a boil, then reduce to a simmer and cook for about 30 minutes, or until the potatoes are easily pierced with a fork.
Use an immersion blender to puree the soup to the desired consistency. It doesn't have to be completely smooth; personally, I like to leave a few chunks of potato for texture. If you don't have an immersion blender, you can ladle about half of the soup into a regular blender to puree, then transfer it back to the pot. Season with salt and pepper to taste.
To serve, divide the soup evenly into four bowls. Add a dollop of vegan sour cream and a sprinkle of fresh chives, vegan cheddar, and bacon to each serving.
Baconish Bits
Makes about 1 cup
It's fairly easy to find accidentally vegan bacon bits at the grocery store, but they may contain preservatives and other questionable ingredients. These bits are easy to make yourself, healthier, and taste so much better than the store-bought kind.
Ingredients
1/4 cup boiling water
2 tablespoons tamari
1 tablespoon maple syrup
1 tablespoon liquid smoke
1 teaspoon ketchup
1/2 teaspoon garlic powder
1/2 teaspoon onion powder
1 cup texturized vegetable protein (TVP)
2 tablespoons safflower or other neutral-tasting vegetable oil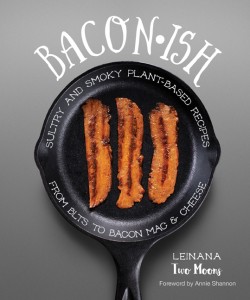 Preparation
In a medium bowl, whisk together the boiling water, tamari, maple syrup, liquid smoke, ketchup, garlic powder, and onion powder. Mix in the TVP and stir until it is evenly coated.
Heat the oil in a large skillet (preferably cast iron). Add the TVP and cook until it is dry, dark brown, and crispy, 8 to 10 minutes. Stir frequently to prevent burning. Remove the skillet from the heat and allow the TVP to cool. Store Baconish Bits in an airtight container about 1 week.

Recipes from Baconish © 2016 by Leinana Two Moons. Used with permission from Vegan Heritage Press.)