It's a common misconception that it's too expensive to be vegan. Your meat-loving family insists their grocery bill would shoot through the roof if they dare try. Just the other day a friend of mine sent me a Facebook message asking how I kept my grocery costs down as a vegan mother of two. There's this fictitious belief that a secret weapon lies hidden, prohibiting you from seeing and taking advantage of wonderful, nutritious, affordable food. I'm here to tell you that secret: the fruit and vegetables aren't the problem, it's the meat.
The produce section is the first part of the store I shop from because that's where half my money is spent. During my recent trip I jotted down some of the prices and even I surprised myself at how cheap this food was: $1.50 per lb of apples ($2.99 for organic), $1 per cucumber, $0.67 per lb of bananas, $2.49 per head of broccoli, $1.45 per asparagus bunch, $2.43 per lb of grapes, $1.83 per lb of snow peas, $0.43 per kiwi (or $4.99 for a box), $1-$3 per large pineapple, $1.64 per lb of oranges, 3lb bag of onions for $1.86, $0.80 per lb of russet potatoes… and the list goes on! By the end my cart was filled with an array of fruits and vegetables and it added up to roughly $47. That's a bargain!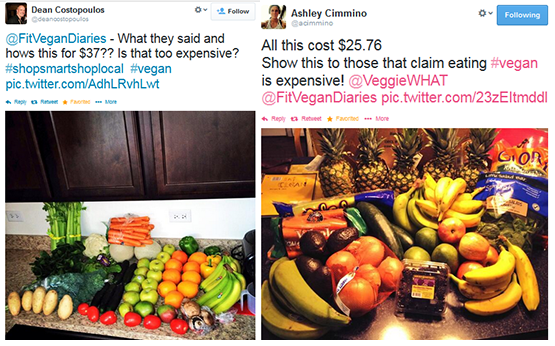 But that's not all. My budget allows $100 per week so I used the rest to buy a few boxes of brown rice (roughly $1.50 per box), whole wheat pasta ($0.97 per box), a few cans of beans ($0.80 per can), non-dairy milk (we prefer rice milk at $4.50 for a half gallon), non-dairy coffee creamer (So Delicious brand, roughly $3), all-natural peanut butter ($5 for 2 cans), and two loafs of whole wheat bread ($4 for two). After purchasing these amazing foods, I can't imagine tacking on the price of meat and dairy to this already nutritionally fulfilling trip. Quite frankly, I couldn't afford to.
So where do people get their theory that vegan is expensive? There's a couple reasons: purchasing faux meats and cheeses, processed foods, TV dinners, and buying foods they think they should be eating and not what they actually would enjoy (or eat). However, the big ingredient to this myth is being uninformed. In today's society, vegan diets — or more importantly, plant-based diets — are the minority when you look at our eating habits as a whole. It takes a bit of time and priority to really benefit from what a well-balanced vegan diet has to offer. Not to mention you're saving ten fold by preventing a plethora of food-related illnesses such as heart disease, diabetes, high blood pressure, high cholesterol, high triglyceride levels… the list goes on. That's why it's crucial to invest in your health with food rather than the healthcare system.

So what are some great tips for making a vegan diet affordable? Here's what I suggest:
Don't feel you have to buy organic when it comes to produce. If you have the cash, great! But there's no all-or-nothing approach when it comes to buying nutritious food
Buy in bulk. If you have a local wholesales, utilize their bulk prices for the good of your budget. You'll spent less than if you bought in small increments every week
Take advantage of your local farmer's markets and co-ops. These businesses exist to give you the best products at the cheapest prices. Some even deliver produce right to your door at prices cheaper than your grocery store
Get informed. Look up vegan recipes to try and familiarize yourself with typical vegan ingredients and entrees. It's just like learning to drive a car – it's unfamiliar at first but you'll be a pro in no time
Lay off the animal-free meats and cheeses. If you're transitioning into vegan, it's okay to indulge in these tasty alternatives but they can be pricey. If this extra expense isn't in your budget, it's best to avoid it all together and indulge in cheaper, healthier stuff
Drink water. This seems like a no brainer but purchasing juices, sodas, and even non-dairy milks can add up. I only purchase one container of non-dairy milk to accompany my children's breakfast, otherwise we drink water for the rest of the day.
What other budget-saving tips do you have for vegan living?

Featured image courtesy of Creative Commons