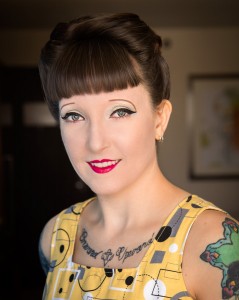 Stephanie Strowbridge is the author of the new vegan cookbook I Like Toast. She's also a hair designer and makeup artist. I met Stephanie the way most of us meet these days – online, first through Instagram and then later we became Facebook friends. I've always enjoyed the photos of the retro hair and makeup looks that she creates, and I wish she lived closer so she could give my hair a good styling. Stephanie and I recently chatted, and we talked about veganism, heath, and, of course, toast.
Chic Vegan: What motivated you to become vegan? Was it an overnight switch or more gradual shift?
Stephanie Strowbridge: I stopped consuming red meat and pork when my mom stopped making me eat it because I never liked it. I didn't like the taste or the smell. As I grew up I started to remove other animal sourced foods from my eating as well. I was vegetarian through my 20's. Ultimately what became the deciding factor for me to progress to vegan eating was a health scare. In 2008 I had pre-cancerous cells removed. When I began to look into my eating habits deeper and the products I was using on my body and in my household I knew it was time for a bigger change. "I believe that when we know better, we do better." I know that is a quote from someone famous but I cant remember who, haha! My very first book purchase after my surgery was, Anticancer: A New Way of Life by David Servan-Schreiber, MD, PhD. I recommend it for vegans and non-vegans. It was a life changer for me. My very first vegan book purchase was How it All Vegan by Sarah Kramer and Tanya Barnard. As a family we decided to make a change and cut out all animal sourced products from our diet and our household. Once we began to inform ourselves about certain practices, sustainability, health, and compassionate living we could no longer continue to support those things that felt a complete conflict with the people we wanted to be and the world we wanted to live in. We not only stopped eating dairy ( that was all that was left in our diets as vegetarians), we stopped purchasing products from companies that test on animals, stopped purchasing leather shoes and belts, stopped purchasing household products full of chemicals, and made sure that whenever we made a purchase we felt that it was a good choice for all.
CV: When people learn that you are vegan, what is the #1 question they ask and what is your response?
SS: I learned about a year and a half ago that I feel better when I cut out soy and gluten, especially soy. So, not only do I eat vegan but I also eat soy-free and gluten-free as much as possible. When people learn this about me I am always asked, "What do you eat then"?! It makes me chuckle! In reality I eat a lot. I love food! I eat plant based, I eat as clean as possible, I eat unprocessed food, I don't eat fake food, and I cook. The protein question gets asked a lot but I'm starting to think that is just a fad thing, like a copycat question. It's an eye-roll question really. Whether your vegan or not, people need to know their protein sources for themselves. When the public gets told by media what their protein sources are, we don't look into it for ourselves and so there is so much misinformation on protein.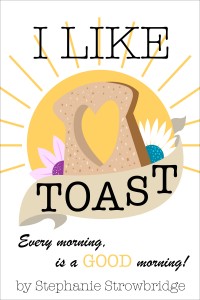 CV: Tell me a little bit about your new cookbook I Like Toast and what inspired you to write it.
SS: I Like Toast is a nutshell of my own journey. I was finding that I really was never present in my mornings, always just trying to get through it. I would eat the same breakfast every morning because it was "easy". Just grab the usual. I am not a morning person and I didn't even give this part of my day a chance to be good. I just knew "I hated mornings". Which is crazy! It is the fresh start I need, the beginning of something new, our "send-off". Once I began to see how not having a morning routine that included encouragement and support was affecting my entire day, I could see that I needed to pay attention to my mornings. I asked myself what I needed. It's a simple question we all need to ask ourselves. Close your eyes, ask yourself "What do I NEED right now"?!
I set up my mornings based on what I personally need for self-care. This is different for every person. For me, this also included my breakfast choices. Breakfast can get boring and routine. We just grab a box of cereal and poor some milk on it… call it good. Or, if we are waking up late and in a rush we just grab coffee. Once we break free from the monotonous routine, mornings can become something great! Breakfast doesn't have to be boring and it doesn't have to take a long time to make. We can get our kid excited about mornings, which on school mornings can be difficult. By changing our routines and our mindset around mornings and breakfast we can have a great start to a great day.
CV: Do you have a favorite toast recipe?
SS: I do eat toast most mornings, but not all. My favorite way to eat toast is: almond butter with hemp seeds, coconut flakes, and cacao nibs sprinkled on top and then topped with slice banana and berries.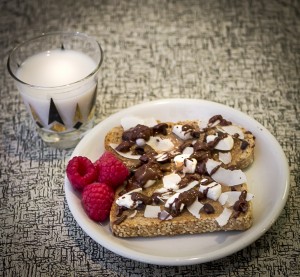 CV: In I Like Toast you suggest that readers create supportive morning routines for themselves. What's your morning routine like?
SS: My routine changes due to factors like early work schedule, son's school schedule, or summer. Right now we are in the school year so my son and I wake up at 6am. I start my morning with cuddling and feeding our cats, it helps me to take a moment to wake up a little! I make lemon water every morning and drink a glass before I eat. I have decorative lights (they change each fall/winter) that I turn on morning and night because it's so dark and I like to add light elements. I make breakfast for us and then my son's lunch. Once I return from dropping him at school I like to sit with a cup of hot green tea and eat 2 squares of dark chocolate.
One thing that I know about myself is that I cannot have a rushed morning if I work that day. If I have an early call or appointment I need to give myself time, even if that means waking up at 5am. I need to be able to take my time, listen to music, eat breakfast at my own pace, and double check all my packed bags. If I don't have this, I will fall apart and my anxiety kicks in to high gear.
CV: Do you have any advice for aspiring cookbook authors who don't know where to start?
SS: Don't be intimidated by the thought of writing a book. Its easy to feel overwhelmed or doubt yourself, but don't! Your book doesn't have to be perfect or the best, it just needs to be out and available. Don't wait for the "perfect" time because there may not be one. I think now is a perfect time!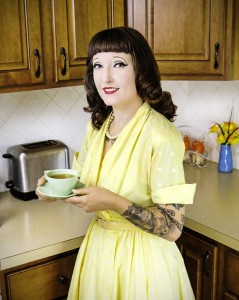 CV: You're also a hair and makeup artist. Are there are any vegan beauty products you love that Chic Vegan readers should know about?
SS: I do have my go-to products when I am working. I always highly recommend Onesta Hair Care. I use their products on all my heads of hair, including my own. They have the best hairspray. For men's hair, I like to use Hanz de Fuko. My husband and son love these products.
A non professional product line that I like to use on myself at home is Desert Essence. I do love their products! I also use ACURE Organics face wash and moisturizer.
CV: What is your favorite vegan indulgence?
SS: I have two favorites for this! I LOVE making homemade vegan veggie pizza! I also, love the new dark chocolate peanut butter cups by THEO Chocolate. I just want to mention something if I may, since I am a huge chocolate lover. Whether you choose vegan chocolate or not please make sure that your cocoa/cacao purchases are Fair Trade Certified!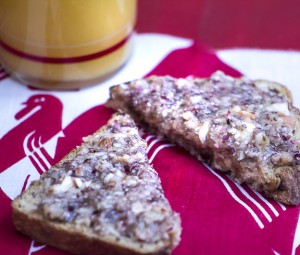 CV: What vegan product could you not live without?
SS:  My Sami's Bakery Millet & Flax Bread…….for my toast! 🙂
CV: In your wildest dreams what will your life look like in 5 years?
SS: I just want my family to be happy and healthy! I try not to project too far into the future because life takes us places we don't expect. Also, in 5 years my son will be 17 years old, holy cow! Haha! I look forward to life's pleasant surprises, new friends, new work, and new adventures.