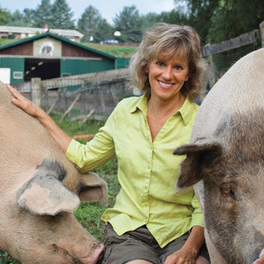 Kathy Stevens is the Founder and Director of Catskill Animal Sanctuary. She spent her childhood on a Virginia horse farm and moved to Boston for graduate school. After a decade of teaching high school English, she was asked to head a charter school. Instead, one year later, she opened CAS, one of the country's leading havens for farm animals and a center for raising public awareness of their sentience and their suffering.
I first met Kathy at the NYC Vegetarian Food Festival in 2011 and I was blown away by her unwavering love and compassion for animals. Since then, Kathy has become a hero of mine, and she graciously gave me and the MeetUp group I run a personalized guided tour around CAS last year. I was amazed that Kathy knew every single animal's name, where they came from, who their friends were, and in some cases what their favorite snacks are. Her energy is contagious and her compassion extends to everyone around her. Kathy's spirit shines through in her books Where the Blind Horse Sings and Animal Camp, and I can't recommend them to animal rights activists enough.
CHIC VEGAN – WHAT MOTIVATED YOU TO BECOME VEGAN? WAS IT AN OVERNIGHT SWITCH OR MORE GRADUAL SHIFT?
Kathy Stevens – I had been vegetarian and largely vegan for many years, initially for health reasons and than out of concern for our animal friends. But like so many, I just didn't know about the wretched egg and dairy industries. Once I learned about the horrors of our food production system, that was it–going vegan was really easy–struggle-free and life-affirming.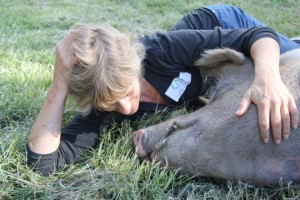 CV – WHAT INSPIRED YOU TO OPEN CATSKILL ANIMAL SANCTUARY? WAS THERE A PARTICULAR ANIMAL INVOLVED OR AN A-HA MOMENT?
KS – It was a total ah-hah moment! I had been offered a job as the principal of a Boston-area charter high school, but it was a media and technology high school–not my strong suit, not my interest. When I turned down the job, I found myself thinking, "Now that was an interesting choice–what the heck do you want to do with the rest of your life?!" I did some real soul-searching, trying to discover a way to combine my two passions–animals and education. As soon as I stumbled upon animal sanctuaries, I also saw that no one was doing the educational part of the work in the way I thought it should be done. So that was it–CAS was born.
CV – FROM THE BEGINNING OF THE SANCTUARY TO NOW, WHAT HAVE YOU LEARNED ABOUT ANIMALS THAT HAS SURPRISED YOU?
KS – How individual they are, how forgiving and resilient they are, how friendships often have very little to do with species and more to do with what honestly sometimes almost feels like a deep spiritual connection between animals, or a kind of quiet reverence. I've learned how remarkably well and clearly they communicate if we simply stop and pay attention. Mostly, what they've taught me is what I say all the time: in the ways that truly matter, we are all the same.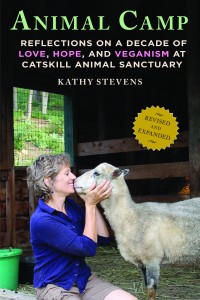 CV – A REVISED AND EXPANDED VERSION OF YOUR BOOK ANIMAL CAMP WAS JUST RELEASED. TELL ME A LITTLE BIT ABOUT THE BOOK AND WHAT MOTIVATED YOU TO REVISE IT.
KS – Sure–thanks for asking! The hardcover was published in 2010, three years after my first book, Where the Blind Horse Sings. (Both books are still in print.) When my publisher said he wanted to do a paperback, I responded "Oh NO!" (Nice…) The book was three years old–so much has happened in America's attitudes toward veganism, and so much has happened at Catskill Animal Sanctuary in the last 3 years! I wanted the paperback to be current. So the publisher gave me the green light to remove ten chapters, write ten new ones, add new photos, a new resource section, a new cover–even a new subtitle that I really love: Reflections on a Decade of Love, Hope, and Veganism at Catskill Animal Sanctuary. We're excited about the "new revised" book!
CV – WHAT'S A DAY IN YOUR LIFE LIKE AT CAS?
KS – As the director, one of my responsibilities is to have my finger on the pulse of the entire organization, so I'm doing dozens of things in a given day, and thankfully, no day is ever the same. Yesterday, for instance, was a day of meetings. I went to the main barn to meet a new rescue–a little duck found in a dumpster, and then had five meetings. The first was with our farm manager to finalize a plan for pasture rotation; the second was with our buildings manager about the front porch he's replacing on our 200-year-old guest house; the third was with our chef to approve the selection of vegan cooking classes we're offering for the summer season. At noon, I had a phone meeting with the principal of the first vegetarian public school in the country and Amie Hamlin of New York Coalition for Healthy Schools to finalize details for a field trip to Catskill Animal Sanctuary, and the last was with our adoption coordinator discuss some concerns she has about a prospective home for goats. Between meetings, I fielded a phone call about an emergency rescue, taped an interview with the wonderful Jasmin Singer and Mariann Sullivan of Our Hen House, responded to 40 or so e-mails, updated my Facebook status, and planned a Board meeting. As I walked from meeting to meeting, I kissed lots of free-range sheep, stole a quick cuddle with Nadine the pig and one with our sweet old broiler rooster Hank, and spent a couple quiet moments with Noah, a dear old horse whose rescue is told in the new book. Today is entirely different. My to do list includes completing your interview questions, interview questions from Mercy For Animals, beginning my next Huffington Post blog, planning the program for the student visit next month, and confirming AMAZING speakers for our fall event — along with kissing animals, of course. That's part of my job every day!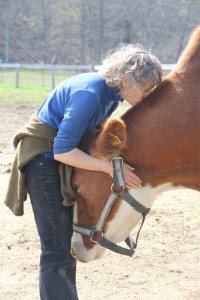 CV – HAS LIVING WITH SO MANY ANIMALS CHANGED YOU AT ALL?
KS – Absolutely. I used to say I loved animals. It's deeper than that now. I have a reverence for them. A deeper understanding of who they are drives me to do all that we can, as quickly as we can, to create more vegans.
CV – DO YOU EVER GET DISCOURAGED BY ALL OF THE ANIMAL ABUSE YOU SEE?
KS – No. Not at all. I stay focused on the positive change I see every day, and on the beauty, hilarity, love and quiet strength of the animals I live with. That's the stuff that fuels me and keeps me in this work for the long haul.
CV – WHAT ADVICE WOULD YOU GIVE TO PEOPLE WHO WANT TO HELP ANIMALS BUT DON'T WHERE TO START?
KS – Assess your strengths, and offer those. Animal non-profits of all stripes, but particularly smaller ones like CAS, need all sorts of help and often lack the budget to staff for all their needs. Do you write? edit video? are you a web master or a programmer? do you love research? do you have carpentry skills? landscaping? gardening? do you enjoy hard physical work? These are just some of the volunteer opportunities we have at Catskill Animal Sanctuary, for instance, and we're just one organization! Find some organizations whose mission truly speaks most deeply to you and volunteer your time. If you're responsible and reliable and have a positive attitude, opportunities will often present themselves once you're there.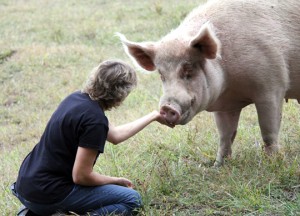 CV – WHAT DO YOU LIKE TO DO WHEN YOU'RE NOT WORKING AT THE SANCTUARY?
KS – Take my dog Chumbley for long hikes all around the region, paddleboard, go to the gym, read, write, have dinner with friends.
CV – IN YOUR WILDEST DREAMS WHAT WILL YOUR LIFE LOOK LIKE IN 5 YEARS?
KS – In my wildest dreams?? OK: I'll answer that very question…my dreams are pretty wild!! In five years, my name is as well known as J.K. Rowling's name, but my series of books is not about a boy named Harry Potter who has magical powers…it's about the magic of animals, and inspires the world to stop eating them. The funds from the books are used to fund non-profits making real change for animals. That's my wildest dream.
Photos courtesy of Catskill Animal Sanctuary.